Every online retailer wants to generate more revenue, there are absolutely no exceptions here.
Some concentrate on driving more traffic to their website. Others continuously expand their product line, or test new marketing channels in search for the one that works best for their target audience.
In fact, most business owners are so obsessed with the idea of constantly generating new sales, they forget they can increase their revenue simply by getting their customers to spend more with each order.
If you, too, want to increase the average order value on your store, you're in the right place. Read this blog post to learn how to calculate and further increase it at hardly any cost.
How to calculate average order value (AOV)
As a store owner you probably spend quite a bit of your time monitoring the performance of your business. The total revenue, customer acquisition cost, conversion rates, and other metrics help you understand how well your store is doing.
But can you tell how much your customers spend on average? Or to put it differently, do you know how much money to expect from every customer who's browsing your store?
If you're not calculating your store's average order value yet, you should definitely start. This metric is one of the best indicators of your customers' shopping habits. Besides, it can help you measure the success of different marketing and sales strategies. Last but not least, once you know the average order value on your store, you have a better idea of how to further increase it.
Convinced? Let's get to calculating then.
Average order value formula #1 – Revenue/Purchases
In this basic method, you divide the total revenue by the number of purchases in your store.
For example, if your total revenue for the year was $146,000 and you had 1,700 successful transactions, your AOV is around $85.
Keep in mind this formula only shows your AOV in relation to overall revenue. If you want to know how much profit from each order on average, you need to add one more value to the formula – costs.
Average order value formula #2 – (Revenue – Costs) / Purchases
In a more advanced formula, you take your store's revenue, subtract the costs of running the business, and then divide that by the number of purchases in your store.
Your costs should include all your business expenses:
fees and subscriptions

advertising and marketing

salaries and employee benefits

office equipment and supplies

any other fees you pay to run your business.
So, let's incorporate $65,000 of business expenses in the formula used in the previous example. Now your AOV would come out as $47.


Now that you know your average order value, let's see how you can increase it.
1. Encourage purchases with special offers
Rewarding customers who decide to spend more is a common practice used to generate more revenue. The idea behind this strategy is simple. You present your customers with an opportunity to save which influences them to add more items to their cart.
Most commonly, stores offer various discounts or loyalty points for customers who spend more. Another popular variation of this strategy is offering free shipping for orders above a certain cart value.
It will come as no surprise to you that 9 out of 10 shoppers say that free shipping is the number one incentive to shop online more. Moreover, they prefer free shipping to same or next-day shipping!
2. Sell products in bundles
Most customers love online stores with a wide range of products to offer. But sometimes a great number of options can get overwhelming. That's why, to make a decision to buy a lot easier and quicker, consider bundling products that work together well.
This task shouldn't be that difficult because as a store owner you probably know which products are complementary. Or you can check out the most popular product combos from your customers' purchases.
By creating product bundles not only are you helping your customers make a wise purchase, You're also getting an opportunity to increase the value of each order.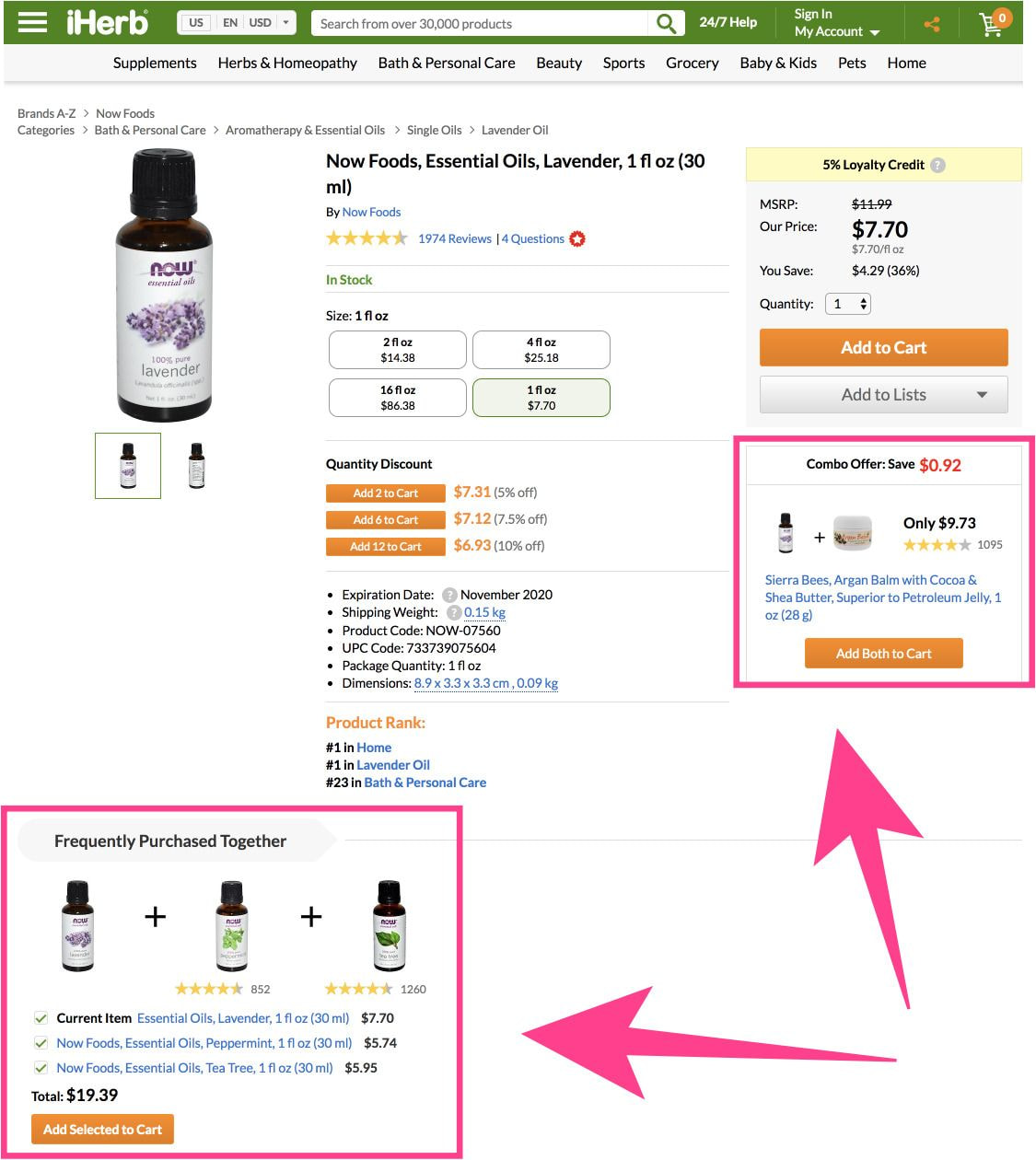 Offer a free product that comes with a bundle. This is a popular way to increase order value for customers who simply can't resist the idea of freebie.
Keep in mind that bundling products will only work if you make the offer relevant to customer's needs and interests. I always recommend bundling products around your best-sellers as these products have already earned the trust of your customers.