Guidelines - Custom Printed Dresses
Want to make a statement? Our custom, all-over-printed, fitted dress is for you! Each dress is hand-cut and sewn after sublimating to ensure a true all-over print. Your artwork is sublimated using the same process as our handmade all-over leggings, resulting in bold, crisp colors that won't fade.
You can get a unique custom dress in 2-7 business days. Our average is 3 days.
Print sizes
In order to print high quality prints, we need high quality print files. So here are Printful's print file design guidelines.
All print files must be scaled to print size. Graphics that do not meet our guidelines might not be printed correctly.
Exact placement cannot be guaranteed.
Exact pattern alginment on seams cannot be guaranteed.
Making a seamless image that goes from front to back is not possible.
This item is cut and sewn after printing and sublimating.
Best when designed with patterns and full bleed images.
Text placement will not be precise.
Price includes full print.
Any space without graphics prints out white.
Top stitching can be either black or white thread.
If you want a custom logo on your dress, you need to create and submit a separate logo print file. The logo template is found in the downloadable dress template below. 
Logo is printed on a white background, so white graphics won't be visible. 
Matching your design on both sides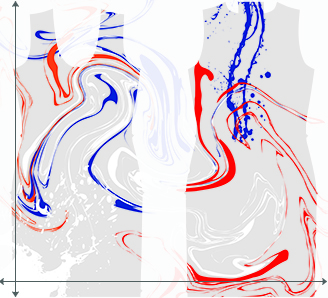 All file formats are sized at 46.5" x 40" for dresses. The logo is sized 2"x1".
Maintain dimensions when saving and uploading to Printful.
Download dress template
---
Must follow print file guides
File formats
Please submit your files in JPG, PNG or PSD format/at least 150 dpi.

File dimensions & uploading
Please maintain dimensions when saving and uploading to Printful.
Remove guidelines when saving image-based file (.JPG or .PNG).

Outline your fonts
All fonts in the print files should be converted to outlines so you don't have to send over the font files. See this tutorial on how fonts affect your print files and how to format them.
Custom logo
To add your logo to the dress tag, create a separate print file for your logo and submit it along with your dress print file. The logo template is found in the downloadable dress template folder.