---
Print file guidelines
In order to print high quality prints, we need high quality print files. So here are Printful's print file design guidelines.
All print files must be scaled to print size. Graphics that do not meet our guidelines might not be printed correctly.
LA Apparel and Liberty tote bags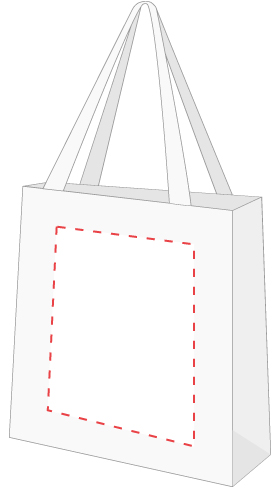 Download template
Max print area - 10" × 10"
For important text or graphics, keep within this area
Color
All colors should be in RGB. See this tutorial on how to change color mode. 

We don't print white color on natural totes because the ink does not adhere well to the material. If your graphic includes white, it will not print. If you're printing on a black tote, white colors will print as normal. 

File format
Please submit your files in PNG or PSD format/at least 150 dpi.
Fonts
Outline your fonts. All fonts in the print files should be converted to outlines so you don't have to send over the font files. See this tutorial on how fonts affect your print files and how to format them.
Background
Backgrounds must be transparent. All colors that appear in the artwork will be printed.