3. Dropbox
Dropbox uses gamification so their customers will refer friends and family to the platform. The incentive? More storage space. It's a win-win for everyone involved: Dropbox gains leads and the customer gets more space for their files.
4. Teleflora
Florist Teleflora gamified their store using a loyalty program that offers points for comments, user reviews, posting on social media, and answering questions from other customers.
When customers gain more points, they're awarded coveted badges that label them as an influencer. To increase engagement, they include a leaderboard as an element of competition.
As a result of their loyalty program, Teleflora's referral traffic increased by 105% and their conversion rate improved by 92%.
Now that you have an idea of what ecommerce gamification looks like in action, let's take a look at some add-ons you can use for your store.
Gamification apps for ecommerce
If you're looking to gamify your website, here are some apps you can try out:
One of the simplest gamification techniques is to add a spin-to-win pop-up on your website. It works like this: when visitors come to your store, they're met with a spinning wheel of various prizes. They spin the wheel to win a discount, bonus gift, or any prize of your choosing. While your customers get access to sweet bonus prizes (20% off anyone?), you're able to collect email addresses from those who play.
You can then use these email addresses for all of your email marketing needs. OptinSpin even connects with email marketing services like MailChimp and Remarkety so your email marketing campaign process is easier and faster.
In terms of the prizes themselves, WooCommerce uses default coupons so you can link your coupons in the wheel; this way customers can use them instantly or later. All they need to do is check their email address for the discount!
The app is fully customizable. Change the wheel style, background, font colors, and font sizes so they match your branding. To go the extra mile, you can add your brand logo.
Price: $99 
If you're not a WooCommerce user, no worries! Use other spin-to-win apps such as Spin To Win for Shopify.
Used in over 40,000 stores, Smile.io's loyalty program gives your customers discounts and rewards.
With their loyalty points program, your customers earn points for tasks and events like creating an account, celebrating a birthday, placing an order, referring friends and family, leaving a review, or joining your VIP program.
To reward your customers for referring their friends and family to your brand, with Smile.io, choose between offering a percentage discount, dollar discount, free product, or free shipping. The more people your customers refer to your brand, the more perks they get!
The Smile.io VIP program rewards customers for joining, and for the length of time they've been shopping with your brand. For entry rewards, choose between offering a dollar discount, percentage discount, free product, or accelerated points earning. As for loyalty perks, select between giving your customers gifts, contest entries, invites to special events and sales, or create your own reward.
You can even avoid cart abandonment by using Smile.io's add-on to invite customers back to the site.
Smile.io also integrates with apps like Klaviyo, Mailchimp, Omnisend, and more.
Price: $0–$599, depending on the package you choose
3. Sales Countdown Timer for Woocommerce
Maximize your sales campaigns by using Woocommerce's Sales Countdown Timer, which displays sales timers as banners.
The clock can display when sales end and also tell customers how much stock is left. Before your sales, you can also announce an upcoming sale in the banner.
Within the add-on, choose which type of sale you want to run by selecting from before product price, after product price, before sale flash badges, and more. Customize your banner to match your brand fonts and colors.
Price: $0 for their free program, $19 flat fee for their premium plan
This Countdown Sales Timer is available to Shopify users.
Ever wanted to make your own video game? With Gamify's Shopify add-on you can! Using the Gamify add-on, you can keep customers engaged by selecting from Gamify's library of games, customize the games, add them to your site, and watch your store flourish. The add-on is responsive on both desktop and mobile.
The add-on features mini-games that capture user data to be featured on leaderboards. From there, you can use this data to reward your engaged customers with incentives, promotions, and rewards.
Price: Free for up to 50 plays, and unlimited plays for $7.99/month
If you're a Magento user looking to add a game to your site, try out their eCommerce Gamification Suite for Magento 1.
6. Scratch and Win Promotions for Ecwid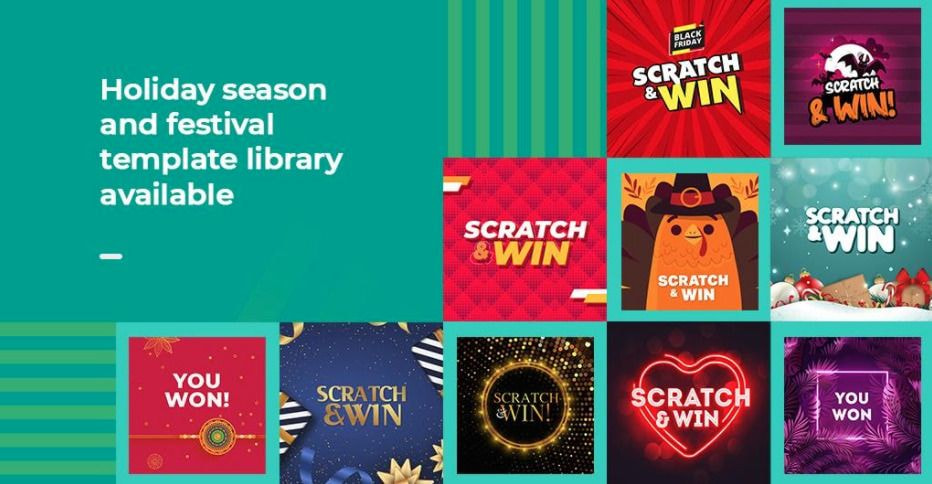 Spruce up your site with a virtual scratch card from Scratch and Win Promotions. When customers visit your site, they'll be prompted to fill in a form in exchange for their chance to win a prize with your scratch-off. In order to play again, visitors have to refer a friend, which can expand your reach even more.
Customize your scratch-and-win by switching up the design and layout of your card from a wide variety of templates from their library. From there, display your scratch cards on your website, Facebook page, and Tumblr, and start generating leads!
Price: Free up to 50 leads, paid packages start at $15/month
Scratch and Win by Apps Mav is available for Shopify. BigCommerce users can use the BigCommerce add-on of the same name.