VAT applies to goods and services that are bought and sold for use or consumption in the European Union. It's a consumption tax that's added to goods and services at every stage of the supply chain. 
If you sell in the EU and are based in the US, you'll always need to register and remit VAT. If you sell to customers in the EU and are located in the EU, you have to register for a VAT ID and charge VAT only if your sales reach a certain threshold.
The format, reporting criteria, and filing deadlines depend on the country that you register your business in. You'll have to fire VAT returns on either a monthly or quarterly basis. 
Set up your store's taxes in three steps 

Use our step-by-step guide to understand your tax obligations, learn how to find professional tax advice, and set up taxes on your storefront.
Goods and Services Tax (GST)
GST applies to goods sold to Australian and New Zealand consumers by foreign online retailers. The tax is 10% in Australia and 15% in New Zealand, and is due to all goods valued at less than 1,000 AUD or NZD.
If you are not a resident of Australia or New Zealand, you should keep an eye on your sales threshold to Australia and New Zealand. 
If you're an Australian resident, you can become GST exempt:
Marketplaces like Etsy, eBay, Amazon, and Wish already charge GST on orders going to Australia. GST only has to be collected once, so that means Printful won't collect GST if your marketplace already does.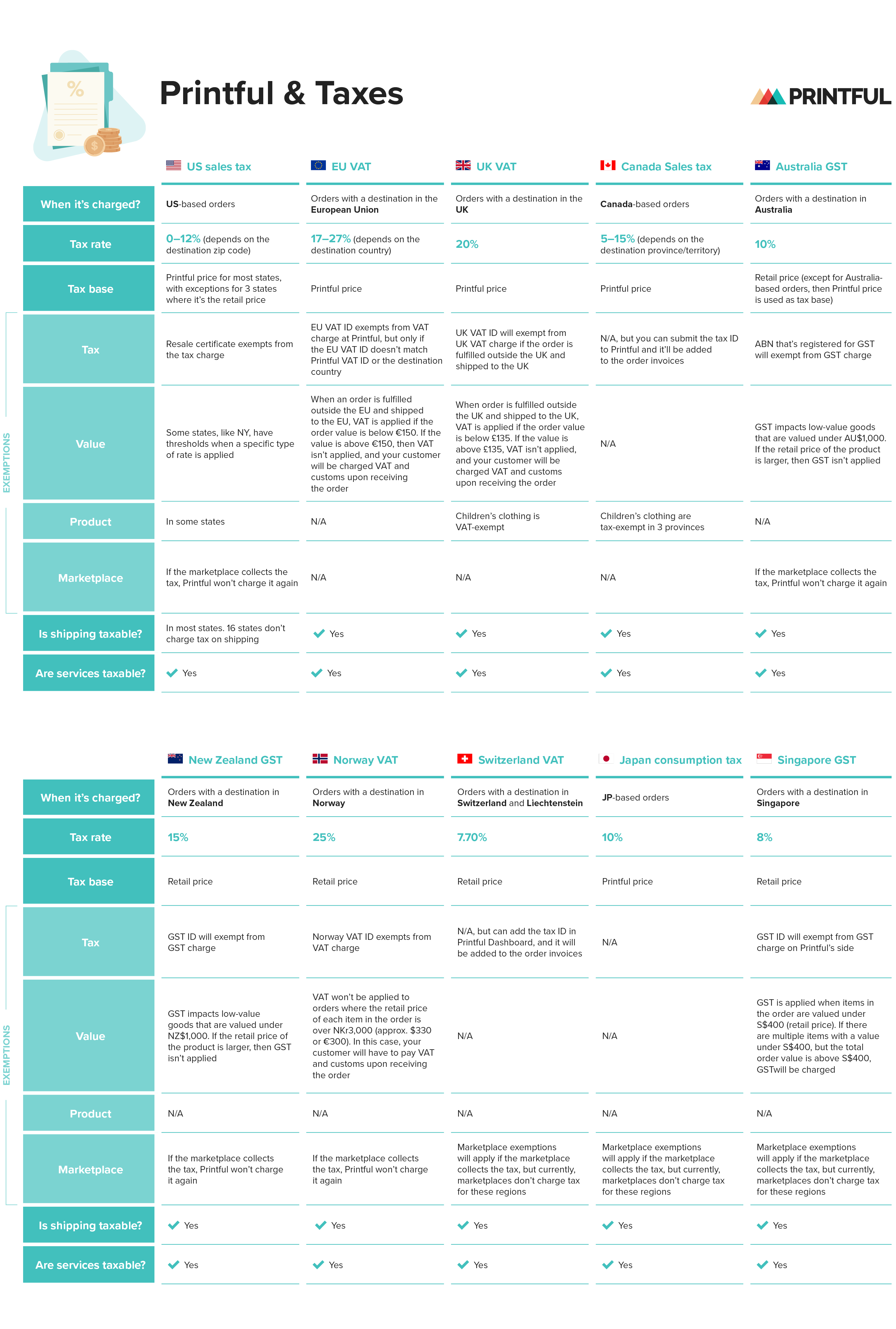 To download this infographic as a PDF file, click here. Source: Printful. 
Business taxes
Below are some of the other taxes you should look into as a business owner based in the US.
Income tax 
When you're an employee, your employer will withhold income tax from your paychecks. When you're a self-employed business owner, you'll likely have to pay quarterly estimated tax and then file your annual return.
Some states may also require you pay income tax at the state level.
Self-employment (SE) tax 
This is a social security and Medicare tax primarily for those who work for themselves, like sole proprietorships. SE tax contributes to your coverage under the social security system.
Employment taxes
When you have employees, there are extra taxes you need to pay and forms to file, such as:
Social security and Medicare taxes
Federal income tax withholding
Federal unemployment (FUTA) tax
1099 forms
There are several 1099 forms you may be eligible to file, but the most common in ecommerce is the 1099-MISC. This is needed if you paid an independent contractor more than $600 during the tax year.
Talk to a professional about what you're liable to file for yourself and your employees. This guide from the IRS will also help you understand your tax responsibilities as a business owner.
Step 5: Get your bookkeeping up and running
It's important that your books are up-to-date and organized. This gives you an accurate view of your income and expenses, and it'll come in handy in case of an audit. Plus, if your books aren't accurate, you run the risk of giving incorrect info to the IRS, which goes without saying, isn't a good thing.
You can hire a professional or use online accounting software to do your bookkeeping. And if you have the time and feel confident enough to do it yourself, that's always an option, too!
Step 6: Keep track of tax deadlines
These are some of the deadlines you should keep in mind for filing your taxes. They're US-only deadlines, so research other countries where you're liable to pay. For more tax deadlines, take a look at the IRS tax calendar.
To download this infographic as a PDF file, click here. Source: Printful. 
Sales tax
States require sellers to pay at intervals (usually monthly, quarterly, or annually), and every state is different. You'll be assigned sales tax filing due dates when you apply for your sales tax permit at your state's department of revenue.
Annual tax return due dates
February 28, 2022—1099 MISC for 2021 tax year
April 15, 2022—Federal individual income tax return for Y2021 (For Tax Year January 1, 2021–December 31, 2021)
March 15, 2022—Income Tax Return for an S Corporation (Form 1120-S) (For Tax Year January 1, 2021–December 31, 2021)
April 15, 2022—Income Tax Return for Corporation Form 1120 (For Tax Year January 1, 2021–December 31, 2021)
Estimated tax payments due dates
April 15, 2021—for Q1 2021 (January 1–March 31)
June 15, 2021—for Q2 2021 (April 1–May 31)
September 15, 2021—for Q3 2021 (June 1–August 31)
January 15, 2022—for Q4 (September 1–December 31)
VAT
Most VAT returns are filed on either a monthly or quarterly basis. Deadlines differ from country to country. For example, in Germany, monthly or quarterly VAT filing is due on the 10th of the month following the previous period's end.
GST
GST reports are filed annually, quarterly or monthly, and are usually required on the 28th of the following month. You need to file:
Monthly: If your GST turnover is $20 million or more.
Quarterly: If your GST turnover is less than $20 million, and you weren't told that you must report monthly.
Annually: If you are voluntarily registered for GST. That is, you are registered for GST, and your GST turnover is under $75,000 ($150,000 for not-for-profit bodies).
Step 7: Consult a professional
We don't mean to sound like a broken record, but always talk to a professional to make sure your business is in tip-top shape!
If you're operating from a country other than the US, then look up their requirements, too, as they'll definitely be different.
Remember that your online store is a business, so hold it to that standard! Register your business, apply for the permits you need, and file your taxes.
This article was originally published in January 2018; it has since been updated.