Create your own t-shirts with your brand name or favorite design
Sell personalized t-shirts on your online store or order them for yourself
Drop ship t-shirts worldwide under your own brand
Want to start your online business or order t-shirts for yourself?
Whether you're an aspiring business owner or someone who's looking for ways to personalize their wardrobe, we've got all you need.
Starting a business
You're an independent artist, content creator, or influencer
Ordering a custom t-shirt
I want to print a custom t-shirt for myself
Print-on-demand services for any business type
Pick a shirt
Pick your desired t-shirt style and color
Create your design
Create your design in our easy-to-use Design Maker. Position it on the shirt and let us do the rest.
Receive your products
Collect your custom t-shirts for yourself or sell them online.
The best place to print and drop ship t-shirts
We offer the highest quality t-shirt printing
We make sure to print the highest quality products with every order—before printing and shipping, every product is carefully inspected for any possible defects. Read more about Printful service quality.
Wide selection of products and options
Get the exact t-shirt style and design you want—choose from our large product catalog.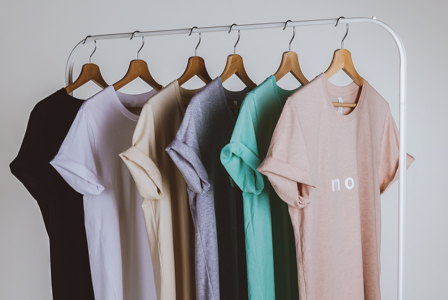 Bulk t-shirt printing discounts
Ordering t-shirts for an event or a large group? Get a discount for any orders with 25+ items. Find out more in our bulk discount guide.
Printful's a no middleman company and here's why
Using a no-middlemen-company
| Pros | Cons |
| --- | --- |
| The quality standards are set and checked by the same company | Slow new product additions due to the suppliers |
| Fulfillment process is controlled in-house | |
| Quality products for standard prices without middleman fees | |
| Easy to forecast fulfillment, shipping times | |
| Fast communication with customer service | |
| Positive environmental impact by reducing logistic resources | |
| Ability to control your pricing structures | |
Using a middleman in business
| Pros | Cons |
| --- | --- |
| Assistance in the market | Commission fees and costs of distribution |
| | High prices to cover the cost of fulfillment processes |
| | Long customer service waiting time |
| | Additional costs for stock holding (materials, components) |
| | Less control over brand presentation and experience |
Frequently asked questions
No, we don't charge you any monthly or startup fees. The cost of fulfillment is included in our product price—we profit once you order your shirt or make a sale on your store.
Yes, we ship worldwide! You can send your custom t-shirt anywhere you like.
This depends on each order and the amount of products, shipping destination, and shipping method. Here's a useful guide on our shipping rates.
We use industry-leading inventory, such as Kornit series printers, to bring you the best printed apparel results. Read more to find out details about our product quality.
While we do offer special discounts for bulk orders, we have no minimums when it comes to order volume. So you can order a single t-shirt for yourself or as a sample order.
No worries—we have a talented team of graphic designers that can help your idea become a ready-to-print design.