Streetwear clothing brand logos
Streetwear clothing brand logos embody the spirit and attitude of the brand. They aim to create a visual identity that's instantly recognizable to capture the attention and loyalty of their target audience.
A common characteristic of streetwear clothing logos is their bold and edgy aesthetic. Streetwear logos often feature strong, eye-catching typography, unique letterforms, and unconventional design elements. They tend to embrace minimalism or go for designs that reflect urban culture, street art, and graffiti. Streetwear clothing logos frequently have vibrant and contrasting colors to add an energetic and dynamic feel. 
These clothing logos share a distinct urban-inspired style that sets them apart from traditional fashion branding. Examining streetwear brand logos will help you unearth the origins, inspirations, and messages they convey—and help you design an authentic clothing logo for your own business.
1. BAPE
BAPE (A Bathing Ape) is a Japanese streetwear brand established in 1993.
Source:  A Bathing Ape
About the logo
The brand's founder, Nigo, drew inspiration from the movie Planet of the Apes and the Japanese idiom "A bathing ape in lukewarm water" (the phrase is used to describe somebody who overindulges) to create the BAPE name and logo.
The BAPE logo is playful, straightforward, and memorable. The founder chose an abstract symbol of an ape's head in yellow and brown to tell the brand's story. Yellow tends to represent clarity, happiness, and freshness, while brown evokes reliability, security, and honesty. The ape signifies confidence, fearlessness, and independence.
Takeaway
Taking inspiration from personal connections can lead you to a unique, creative logo idea.
2. Golf Wang
Golf Wang (commonly shortened to Golf) is an American streetwear brand founded in 2011 by American musician Tyler, the Creator.
About the logo
The Creator is known for his artistic and unconventional style, and the Golf Wang logo reflects that aesthetic. The Golf Wang logo exudes a sense of fun, youthfulness, and creativity. It features the word "Golf" on a yellow contrasting background. The typography is bold, geometric, and without serifs. (Serifs are small, decorative strokes or lines added to the ends of the main strokes of letters in typography.) And the letters are written in vibrant colors, each in a different color.
Takeaway
When designing a logo, select colors and fonts that align with your brand's vibe and attitude. If you want to make a personal branding statement, incorporate elements that reflect your artistic style and personality.
3. Palace
Palace is a London-based skateboarding and clothing brand established in 2009.
Source: Palace
About the logo
One of the founders had a clear idea of how the brand logo should look: huge, visible, and recognizable. He turned to a graphic designer named Fergus "Fergadelic" Purcell who was inspired by the iconic Penrose triangle. The Penrose triangle is also known as the impossible triangle, first painted by Swedish artist Oscar Reutersvärd. The graphic designer was fascinated by the fact that the triangle creates an optical illusion of infinite shape. So the Tri-Ferg was born, with the Palace lettering on each side of the figure.
Since 2009, the logo has remained unchanged but revisited and reimagined for collaborations and collections. The Tri-Ferg has decorated Palace skateboards, clothes, home accessories, brand stores, and pop-ups.
Takeaway
To make a timeless and versatile logo, create a design that can be adjusted to fit collaborations and different design themes.
4. Stüssy
Stüssy is a streetwear brand with laidback, free-spirited branding. 
Source: Stüssy
About the logo
The Stüssy logo is handwritten by the founder Shawn Stüssy. Although sort of tricky to read, it has become an iconic symbol for the brand. Since the company's original product was associated with extreme sports (surfing), the logo has sharp, angular, and jerky lines. Along the edges, the lines create wavy ripples that resemble waves. These are the actual black marker traces that were used to make the prototype of the logo. The smart use of typography connects with the streetwear products they sell.
Takeaway
Choose the right typography to create a logo that reflects your brand's aesthetic and resonates with your target audience.
5. Off-White™
Off-White™ is an apparel, accessories, footwear, and homeware brand established in 2013 by Virgil Abloh.
Source: Off-White
About the logo
Off-White™ has a single logo along with a few icons. The logo features the brand name and a TM symbol that's used with trademarks that are not yet registered. The font is clean, minimalistic, and easy to read.
Virgil Abloh has been accused of plagiarism many times, though, for both the brand name and some of its well-known symbols (arrows and stripes). The brand logo and its symbols look like signs in the Glasgow airport designed for the British Railway system. Alternatively, this branding could come from a font called Rail Alphabet, a version of which is called off-white. It's believed that Virgil Abloh and the Off-White™ team drew inspiration from these elements to create the brand logo.
Takeaway
When finding inspiration from existing designs, it's important to interpret them in your own unique way. If you're not sure about the originality of your clothing logo design, conduct research and check for similar registered designs to avoid any issues.
Sports and athleisure clothing brand logos
Sports and athleisure fashion brand logos reflect the energetic and dynamic nature of the industry. The logos are clean, streamlined, and straightforward. 
Many logos incorporate abstract symbols or icons that represent movement, speed, or strength. They often have bold, strong typography to convey power, energy, and athleticism that resonates with the fitness community. Bright and vibrant colors, like reds, blues, and yellows, are commonly used in sports and athleisure logos to evoke energy, enthusiasm, and excitement.
If you have an activewear brand or you're starting a fitness clothing line, it's useful to look at similar brands in the fashion industry and analyze their logos.
6. The North Face
The North Face is one of the leading US outdoor brands founded in 1968.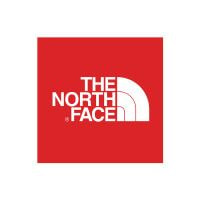 Source: The North Face
About the logo
For the first 3 years, The North Face didn't have a distinctive logo. It was only in 1971 that David Alcorn, a designer from California, came up with the emblem that has been with the company ever since.
The North Face logo features the brand's name in simple, easy-to-read sans serif font. The graphic is made of 3 arched lines which stand for the Half Dome mountain peak in California. The Half Dome is located in Yosemite National Park, California, and holds significance for outdoor enthusiasts and climbers. This detail connects to the brand's mantra "Never stop exploring" and its target audience of adventure enthusiasts. Originally, the logo was in black and white. In 2010, the color palette was changed to red and white, representing physical energy and courage.
Takeaway
Incorporate elements that resonate with and are recognized by your target audience.
7. Patagonia
Patagonia is an American outerwear and sportswear brand created by mountaineer Yvon Shuinar in 1973.
Source: Patagonia
About the logo
Patagonia has had only one logo: the company name written in lowercase letters with slight serifs. It's been combined with different graphics over the years which shows its versatility and timelessness.
Originally, the Patagonia logo had an element of the South American landscape—Mount Fitz Roy. Around the landscape there were inscriptions like "built to endure," "Patagonia," and "since 1973." Later on, additional simpler logos were developed. They had a mountain in black or blue, and one version featured a background with blue, violet, and orange stripes, resembling a sunset.
Takeaway
Use symbolic elements in your logo to communicate your brand's values and mission.
8. Fila
Fila is a sportswear company with Italian roots that started in 1911. A family-owned company that once was a textile manufacturer in the Alps, the brand now offers sportswear, sneakers, and tennis apparel worldwide.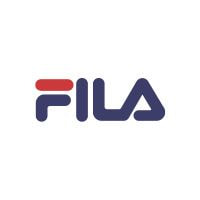 Source: FILA
About the logo
The current Fila logo was introduced in the 1980s. Fila was named after its founders, whose surnames were Fila. The logo consists of letters drawn specifically for Fila—with thick lines and round edges, the logo shows the dynamics and active movement the brand stands for. The main colors of the Fila brand and logo are red and blue, which are associated with energy and reliability. 
Takeaway
Consider colors and font styles commonly used in your industry for your logo design to effectively communicate what your brand sells.
9. Lululemon
Lululemon is a sportswear retailer from Canada founded in 1998.
Source: lululemon
About the logo
The logo of lululemon features a stylized "A" resembling the Greek letter Omega, which is a nod to the company's originally-intended name: "Athletically Hip." The wordmark of lululemon is written in sleek lowercase letters, making it welcoming and friendly. The logo emblem is small and simple enough to be easily printed on apparel and accessories which is important for any trendy sportswear company.
The retailer's branding has a combination of red and white that reflects passion and power. The black letters in the logo add a touch of professionalism to balance the bright symbol and make it more serious. 
Takeaway
Think about where you'll be placing your logo. Does it need to be printed, seen from afar, or be easily noticeable on clothing? Take these things into consideration when designing it.
10. Gymshark
Gymshark is a British sportswear company. It began as a startup and in 2020 achieved Unicorn status when its value exceeded a billion dollars.
Source: Gymshark
About the logo
The original Gymshak logo was a circle emblem with a muscular shark graphic. Once Gymshark became popular, the logo needed a reboot.
They hired an experienced logo designer, Martin Williams, to create a minimal-yet-powerful visual sign. It consists of the brand's name with a sharp-nosed shark's head. The shark on the logo reflects its shark-like approach to marketing. The shark is also the embodiment of anger, aggression, and danger which is associated with sports excitement. The letters in the Gymshark logo are bold and capitalized, without serifs.
Takeaway
The evolution of a business can prompt changes in branding, including the logo, so stay flexible.
Luxury clothing brand logos
When it comes to luxury fashion houses, their logos hold the key to their rich heritage and captivating brand stories. Luxury fashion logos carry a sense of history, sophistication, and timeless elegance. They represent the legacy and craftsmanship of the fashion houses they belong to. Beyond mere designs, these logos have become synonymous with luxury, status, and impeccable style.
Symbolism and brand story are integral to luxury fashion logos. Some brands have embraced transformations while others have remained faithful to their original designs. When exploring luxury fashion logos, we'll focus on their origins. Discovering their stories can help you gain ideas on how to create your own clothing logo.
11. Louis Vuitton
Louis Vuitton was originally founded in 1854. It's one of the oldest fashion houses still in operation today. When Louis Vuitton passed away, his son Georges inherited the fashion brand. He created the "LV" monogram in honor of his father.
Source: Louis Vuitton
About the logo
The monogram is surrounded by different motifs, each symbolizing something important for the brand: the four-point star represents fortune, the four-petal flower represents joy, and the diamond-shaped four-point star represents passion.
George Vuitton trademarked the symbol and set one of the first examples of branding in fashion. The Louis Vuitton logo has changed many times since then, with every new creative director trying to give it a new spin.
Takeaway
Reflect your brand's history and values in your clothing logo design.
12. Chanel
Chanel is a French luxury fashion house founded in 1910 by Gabrielle "Coco" Chanel.
Source: Chanel
About the logo
The logo of the fashion house Chanel is instantly recognizable. It's bold, elegant, unapologetic, and sophisticated. The Chanel logo truly reflects Coco's philosophy of "less is more."
The logo features two "Cs" mirroring each other in a black, simple, and strong font style. During Coco's time, black was unconventional for social or fashion purposes. It was reserved primarily for mourning and religious attire. However, Coco introduced the "Little Black Dress," forever associating the color with the brand and challenging societal norms.
There are several stories about the Chanel logo. The double C is commonly known to stand for Coco Chanel. The interlocking design is also reminiscent of the stained-glass windows in the Cistercian abbey where she grew up. The two Cs might also suggest "Chanel and Capel," named after the love of her life. 
Remarkably, the original design from 1921 remains untouched. The monogram has since become synonymous with the brand. This is a profound testament to the timeless appeal of Chanel's design aesthetic and image.
Takeaway
Never underestimate the power of simplicity in logo design. Simplicity is timeless, versatile, and adaptable.
13. Versace
Gianni Versace, the founder of the fashion house, was called a creative genius and founded the brand in 1978. Versace is known for its bold, glamorous, and extravagant designs with vibrant colors, intricate patterns, and luxurious materials. 
Source: Versace
About the logo
Originally, Gianni Versace used his name as the logo until 1993. That year, Versace redesigned the logo and introduced the iconic image of the Greek goddess Medusa, which is now globally recognized. He chose Medusa to represent the brand due to his interest in Greek mythology. Because of her beauty, Medusa was cursed by Athena and had a look that could turn people into stone.
Versace wanted to evoke the irresistible allure that Medusa possessed. She represented Versace's target audience—people with a powerful aura, reminiscent of Greek gods, and embodying ethereal qualities. The unapologetic nature of Medusa's gaze mirrored Versace's design philosophy of celebrating excess, indulgence, femininity, and sensuality. He envisioned his garments to have a sense of attraction that would reflect beauty and shock. 
Takeaway
Incorporate symbolism and storytelling into your logo to evoke emotions and create a deeper connection with your audience.
14. Hermès
Founded in 1837, Hermès is the oldest luxury brand in the world still in operation today. But its logo was crafted and revealed around the 1940s.
Source: Hermes
About the logo
The Hermès logo was supposedly inspired by a painting done by the French artist Alfred de Dreux titled "Le Duc Attele, Groom a L'Attente." The horse in the logo takes center stage, overpowering the human figure. It symbolizes the company's original mission of crafting goods for use with horses (saddles, bridles, and others). While sometimes accompanied by the company name and headquarters, the logo often stands alone.
The brand's colors, orange and black, have evolved to hold great significance and are rooted in practicality. The orange hue originates from the brand's boxes, chosen due to material scarcity during World War II. These colors are integral to the identity of Hermès as a brand.
Takeaway
Attention to detail and precise execution is crucial to design a timeless logo.
15. Ralph Lauren
Ralph Lauren is a luxury brand often known for their iconic polo shirts. Ralph Lauren, the founder, was inspired by his love of polo and refined, classic American fashion to create a lifestyle brand that captures that.
Source: Ralph Lauren
About the logo
The Ralph Lauren logo features a stylized polo player on horseback. It's connected to Ralph Lauren's passion for and the brand's association with the sport of polo. When attending his first polo match, Lauren found inspiration in the leather, horses, ponytails, enormous hats, and wealthy people he saw during the match.
Although he was inspired by polo and American fashion, Lauren didn't personally design the logo. It was created by Rene Lacoste, a renowned tennis player. The initial version of the logo featuring a polo player was introduced in the mid-1970s. 
The logo design is classic, elegant, and timeless. Ralph Lauren explains: "To me, the polo player has elegance and imagination. It embodies sophisticated luxury and a timeless style."
Ralph Lauren's logo is among the few symbols that have kept its visual mark the same for decades. However, the brand uses different variations of its logo depending on its products.
Takeaway
Use visual storytelling to communicate the essence of your brand and create a lasting impression.