Let's look at the numbers and trends of mobile commerce: 
An estimated 5 billion people own a mobile device, and over half of these connections are smartphones
From that number, over 230 million owners are in the US 
Around 100 million US consumers own tablets
Around 79% of smartphone users have made at least one purchase on their phone in the last 6 months
During the 2019 holiday season, mobile commerce accounted for 60% of online shopping traffic and 40% of sales
It's predicted that m-commerce sales will reach $284 billion by 2020—45% of the total US ecommerce market
Benefits and drawbacks of m-commerce
The biggest advantage mobile commerce has over ecommerce is accessibility. Our phone is with us way more often than our laptop, so customers can shop whenever and wherever they are—even while standing in a checkout line at a brick and mortar store. 
The five biggest benefits of mobile commerce for business owners are:
A better shopping experience
A website fully optimized for mobile shopping or a mobile app gives customers a fast and convenient shopping experience, straight on their phone—better than what they might get in person.
Built-in exclusivity
If you have a shopping app, you can offer customers exclusive in-app deals. Retailers like H&M and Asos often use this tactic to push people to shop and better their app downloads. Plus, you can give app users exclusive access to sales and new collections!
Quick buy
Social media apps like Instagram, Facebook, Twitter, and Pinterest have recently introduced buy buttons that let customers shop without leaving the app.
Some retailers are also offering one-click checkout options, where you enter your payment details once, and the website remembers it for easier purchases in the future.
Better connection with customers
Mobile commerce allows sending push notifications straight to your customers' phone, which is with them at most times. Push notifications can inform shoppers about new product launches, promotions, and more. For example, the Asos shopping app (can you guess from this article that I'm a huge fan?) sends you a push notification each time an item you're interested in is back in stock in your size. 
Growth potential
This year alone, ecommerce sales are expected to grow by a whopping 19%. Mobile commerce is part of this growth, comprising over a quarter of total ecommerce sales in 2019. That's more than double since 2015.
However, for every pro, there's a con. Here are some challenges you may experience when optimizing your business for mobile.
Optimization never stops
Developing and managing your mobile presence is a constant work in progress, especially for recently formed businesses. Technology never stops. And to offer the best possible mobile experience for your customers,  you'll need to keep track of developments and changes in mobile technologies and find ways to implement them in your own business. 
Safety concerns from users
According to Forbes, last holiday season, 75% of online shopping was done on a mobile device but only around 40% converted to a sale. While bad customer usability plays a role in this gap, users are more concerned about their privacy when making a purchase on a mobile device. 
Make sure you are PCI (short for Payment Card Industry Data Security Standard) compliant and work with a payment processor that monitors fraudulent activity. You also want to ensure that you know exactly how many of your business partners access and use consumer data. To put your customers at ease about the safety of your website, create an FAQ where you answer their concerns. 
Improve the mobile experience for your business with these 5 tips
Now that you understand the power and potential of mobile commerce, here are a few things you should consider when optimizing your business for mobile.
Check out Google's free Mobile-Friendly Test   
In mere seconds, this free tool allows you to test how easily a visitor can use your page on a mobile device. Enter your website's  URL, and Google will analyze whether or not your website is mobile-friendly. The test can identify usability errors like incompatible plugins,  small font sizes, and others. You also get a list of tips on how to improve your website and make it more mobile -friendly.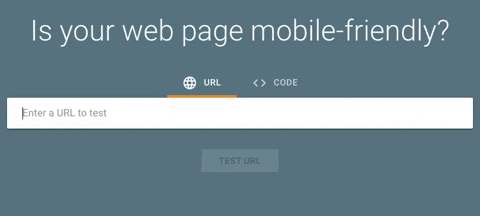 Create a mobile version of your current site… 
Conversion platforms like Duda Mobile allow you to easily build a mobile version of your website (not to be confused with a mobile app). Just keep in mind that having both desktop and mobile versions of your site means having to tend to two separate websites. So make sure both versions are updated accordingly, as users may get frustrated if they find less content available on the desktop version versus the mobile. 
…or use plugins to modify your existing site for mobile
Popular content management systems (CMS) like WordPress, Joomla, and Drupal all have built-in solutions to make your website mobile-friendly without needing two separate versions. 
WordPress' WPtouch plugin, for example, will automatically add a custom mobile theme for your mobile visitors of your WordPress website. It will instantly enable a mobile-friendly version of your website that passes Google's Mobile-Friendly Test, and will ensure your SEO rankings are in good shape.
Improve load time
App or site loading speed should be one of your top priorities when optimizing your business for mobile. High page speed betters user experience, and helps put your page higher in organic search results.
To improve your page speed, start by optimizing image sizes, sticking to standard image formats like JPG, PNG, and GIF, reducing cookie size, and reviewing your cache settings.
Build a website with responsive design
Chances are you know what it's like to view a  desktop version of a website on your mobile—one of those sad, scrunched down,  pages that are hard to navigate and use. 
Responsive design aims to solve this problem: it creates a unified system across all types of devices, whether it's a desktop, a smartphone, or a tablet. Your website will be easy to use, look good, and work on any device, at any resolution.
Website builders like Webflow allow you to easily create responsive personal blogs and ecommerce stores without writing a line of code. When building your website with their Designer tool, you can check how it'll look on four different devices—that way you can adjust your content and design choices to create a flawless user experience, no matter the device!
Offer a variety of mobile payment options 
The number of mobile payment solutions is growing, so offering customers a diverse range of payment methods will help with customer retention. Popular mobile payment solutions include PayPal One-Touch, Apple Pay, and Amazon Pay. 
The future of mobile commerce is bright
Mobile commerce offers endless opportunities for business owners. Now's the time to encourage customers to shop your merchandise on their mobile devices by creating easy-to-use apps and websites with responsive design.