Playbook for email
Here's how you can plan your email campaigns to make sure your list is warmed-up and ready for your offer.
Email #1: Build hype with your VIP customers
The first thing you want to do is get your VIPs pumped about your BFCM offer. Tease the offer the week before Thanksgiving. This could be a blurred-out picture of the new product you're launching or a message that Black Friday is coming and you have an exciting offer.
Make your VIPs feel truly special by making it extra clear that you're letting them know first. Whether you're running a sitewide discount, exclusive product, or bundle offer, they should be aware they're the first to know.
Email #2: Build hype with the rest of your list
Copy your VIP email and tweak it to make it work for a broader audience. Send it to anyone who's not on your VIP list. This email should build excitement. You're not actually driving sales yet, just priming people so they want to open your next email.
Email #3: VIP early access
Remember that your customers are getting an insane amount of emails around Black Friday Cyber Monday. Your job is to get them excited about shopping with you. And you want to keep nurturing your VIP list and making them feel extra special. A great way to do that is to inform the shoppers that the offer is limited and let them shop first. If you're not sure when to send this email, the Tuesday before Black Friday is a great day to target.
Email #4: Share your BFCM offer with everyone
It's officially go-time for everyone. On Black Friday, share the offer with the entire list. You'll want to send the first email early in the day, around 8 or 9 a.m. so you have time to send a reminder and final email. Remember: 
Email #5: Midday reminder
Some brands also send a midday email as a reminder. Feel free to skip this one if you're not comfortable with sending three emails in one day, but know that it could increase the chances your audience opens and interacts with your email.
Email #6: Last chance reminder
This will be your last email of the day, so make it count. Let your audience know they're running out of time to take advantage of your offer.
You probably recognize this pattern of emails from your own inbox when BFCM rolls around. To avoid spamming, for each of these subsequent emails, filter out people who have already bought from you. So that when someone places the order, they no longer receive emails about the Black Friday offer.
Cart abandonment email strategy
More traffic coming to your website will mean a higher cart abandonment rate. There are two things you can do:
Send out emails after the shopper has left the site. Cart abandonment emails will help you recover 4–10% of those carts. The email chain could look something like this: 
1 hour after the customer has left their cart without completing the purchase, send them an email asking if they had any questions about the order, let them know you're here to help, and link back to the cart
24 hours later, send them an email offering a discount code that expires in a day
48 hours later, send an email driving the urgency to use the code before midnight
Use a cart saver. Someone who's got products added to the cart is at the very bottom of the sales funnel and about to check out. You know how much money's in the cart and what page they're on. You can also tell that the customer is about to leave based on their mouse movement.
Rather than waiting and trying to get them via email to complete the purchase, you can introduce a cart saver pop-up—a pop-up that loads if certain conditions are met. It can be something cheeky like in the example below and have a strong call to action: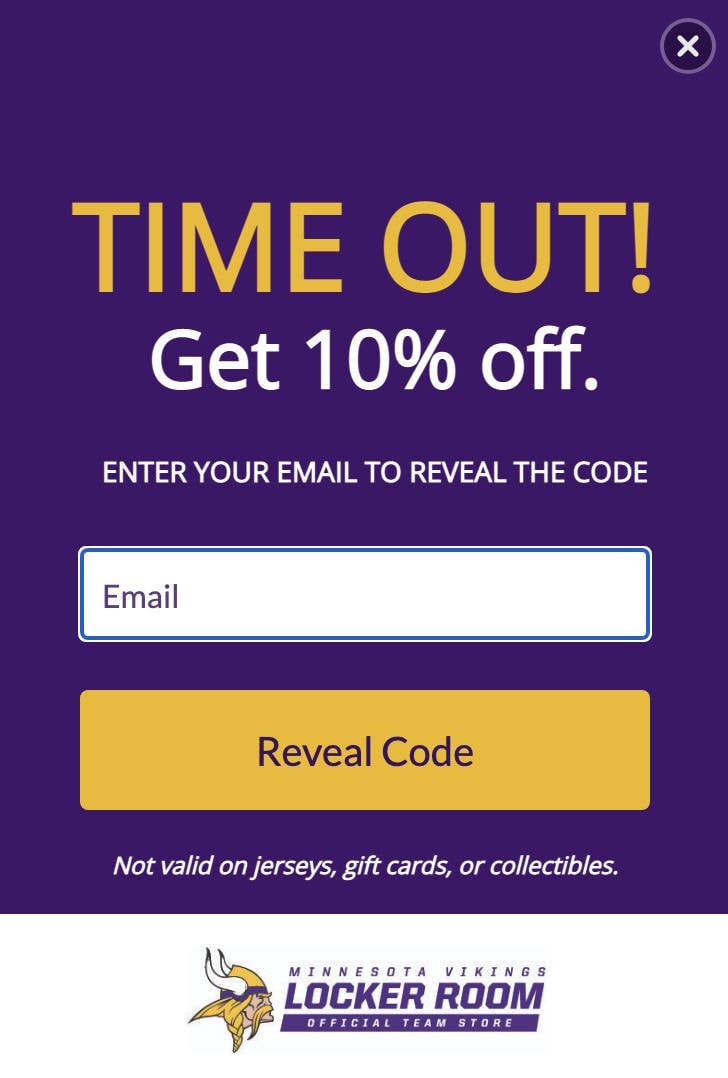 Enhancing sales using SMS
The hot new thing in marketing is text messaging. Everybody's going to be sending out emails, so you can try text messaging as a way to stand out.
Some of Privy's customers say that texts are actually easier to execute because they don't require fancy graphics.
Text messaging objections
You might be thinking: My SMS contact list is super small. Even if that's the case, consider this—very few of us have texts that we haven't read. Not the case with unread emails that tend to pile up.
Kōv generated $2,000 in sales off of a single text (no coupon) to a list of 130 contacts. All they did was give early access to the fall collection. The email they sent 2 hours later to 16,000 contacts also had a big impact, but you can see that the text was a lot more effective.
So SMS marketing can be a powerful tool, and if you're not yet building a SMS marketing list, you should get to it this BFCM season when your website will get more traffic and more chances to build the marketing list. And if you need inspiration for your texts, consider using one of these BFCM text marketing templates for your holiday campaign. Customize your BFCM template however you'd like to fit your brand style.
Retargeting ads
Retargeting is very common in paid marketing. After Black Friday, you can run retargeting ads to those who visited your website but didn't make a purchase. Using analytics tools, you can detect what the visitor had in their cart, and then show them an ad for that product after they've left that cart behind.
The good thing is that you're going to spend less on retargeting than buying new traffic. If you're on Shopify, you can set up retargeting in the Marketing tab, but there are a lot of other providers that support it.
Read also: How to Convert Visitors Into Customers With Retargeting Ads
Resources to help you
Black Friday is right around the corner but don't worry—you don't have to start everything from scratch. Download the Privy app for whatever platform you're using and head over to Privy's template library. You'll find free templates for pop-ups and all the emails mentioned, all ready for you to execute. Privy also has a free trial and free plan, so you'll be able to access some features completely free.
If you like tactical insights, Privy hosts a daily marketing podcast. Every day, there's a new 5 to 10-minute episode with tips on how to grow faster.
This is the most exciting time in ecommerce, and we hope this playbook will come in handy as you get your store ready for the holiday shoppers. Wishing you all a fantastic BFCM season!