How I decided what to sell
Startup Vitamins specializes in motivational merch for offices, so I knew it shouldn't be too far off from what we have already. I also knew I'd want a custom-printed product with some of our freshest and most eye-catching designs.
If you have a store already, you don't always need a new design to launch a new product.
I began with a brainstorm of what Startup Vitamins' target audience could find useful these days, what's trendy, and what would fit the Startup Vitamins profile. I ruled out a bunch of obvious options that could have worked 5-10 years ago, but wouldn't make the cut today:
custom-printed mouse-pads (people mostly use the built-in touchpads in their laptops)
custom-printed USB keys (everything's floating in a cloud somewhere)
custom-printed pens (you'd be surprised how picky people can get with their pens)
I also made a list of things that would be cool, but would require way more money than my $400 budget:
custom-printed power banks (as a company with "startup" in our name, I don't want to
risk selling poor-quality tech)
custom-printed water bottles (personal items are tricky, and we didn't have much luck
with Startup Vitamins travel mugs)
Just when I thought I'd hit the nail on the head and was about to research custom-printed laptop bags, it dawned on me I'd forgotten the #1 rule of business – give the customers what they actually want.
Whenever you feel stuck or unsure, reach out to your customers for feedback.
I quickly put the idea of laptop covers on hold and created a survey to send out to all Startup Vitamins subscribers:

While studying the survey results, I felt glad about giving our customers the chance to add comments of their own. The options I'd given them told me I was on the right track, but our customer feedback gave me the real answer:
Postcards!
I kept seeing "postcards" all over the survey, and wondered how I'd missed it. The written word is making a comeback, and around that time companies from MailChimp to Offscreen Magazine were incorporating postcards into their marketing.
Perfect, I thought.
Then, I faced my next question: where am I going to get custom-printed postcards?
How I found my dropshipping supplier
I started with a classic Google search on postcards and printed paper goods. Then I added geography into the equation.
Printful's warehouses are located in the US, Canada, and EU.
Startup Vitamins customers are on both sides of the Atlantic. It made sense to store my postcards in warehouses based in North America and Europe which meant I had to factor in the shipping costs from the supplier to each location.
Choose the Printful warehouse closest to your target audience for faster shipping times. You may need to keep stock at all locations.
First, I checked out some Europe-based and US-based dropshipping services (Overnight Prints, Vistaprint, PrintingForLess, Moo). I found that the shipping costs of dropshipping products to both locations would cost way too much, making the price per postcard more expensive than my budget would allow.
Learn more:
I could have cut shipping costs from supplier to warehouse by using two different services, but I wanted all postcards to be the same quality. To get it right, I needed a single supplier.
It was time to turn to alibaba.com.
You may have read that the billion-dollar trade site is a both a blessing and a curse. A blessing as it offers cost-effective options for the products you want to sell. The curse part takes form in the sheer amount of options and choosing one that meets your expectations.
I read up on other people's experiences with Alibaba. I had two conclusions:
There's a 50/50 shot at either hitting the jackpot or getting ripped off;
There's only one way to find out which one it's going to be.
I proceeded with my first-ever Alibaba search queries, based on straightforward keyword combos like "postcards" and "postcard printing". The results were hard to navigate, so I had to do some filtering.
None of the search tools on Alibaba guarantee the quality of the end result. Nor do they guarantee how reliable the companies are – you'll find that out once you start doing business.
Below is a quick rundown of Alibaba's main search filters and how I used them for my queries.
A basic guide to Alibaba's search filters
1. Country/region
You can choose your supplier from a number of Asian countries. Alibaba users recommend Guangdong, China's main manufacturing region. That's the region I picked, too.
2. Supplier type
Alibaba has a verification system that helps you find the most secure option and lets buyers make sure the companies they're looking at are legally registered.
I filtered out only Alibaba Gold Suppliers – suppliers who are a part of Alibaba's premium membership. I also checked the Trade Assurance box. This is Alibaba's payment protection service that suppliers can choose to be part of.
3. Years in business
Pay attention to how long the companies have been Gold Suppliers on Alibaba and how long they've been doing business in general. My supplier has been a Gold Supplier since 2016, and according to their page, the company was founded in 1993.
4. Quality certification
You can also filter companies that are ISO compliant, meaning they follow the guidelines issued by the International Organization for Standardization. I recommend checking off at least ISO 9001, a quality management standard recognized around the world.
If it's something that you value as a brand, you can also filter out only companies that are ISO 14000 compliant. It's a family of standards and tools that helps companies manage their environmental responsibilities.
5. Minimum order
This depends on the size of your business and what you want to do. If you're just starting out or want to do a test run for a product (like me), you might want to do a smaller order. I was on the lookout for companies who do minimum orders of 500-1000 units.
Once you do some filtering, your list will become manageable. At that point you can start evaluating individual company profiles. Here are a few sections to pay attention to.
6. Company type
See if they're a manufacturer or a trading company – whether you get your products straight from the manufacturer or a middle man. Hard to say which is better, but getting your products directly from the manufacturer is likely to give you more control over the process and cut costs.
7. Countries of export
Find out if they've exported goods to your region. The supplier I went with had done a fair share of business with both the US and Europe.
8. Payment methods
Check if they offer payment methods you feel comfortable with. If you don't see any info and you want to do business with them, ask about payment and potential handling fees as soon as possible. I made sure my supplier uses PayPal, and they were kind enough to inform me about the PayPal handling fee before the transaction.
As your list of options keeps shrinking, you can start getting picky – look at the way they present information about themselves and how you feel about potentially doing business with them.
Oh, and there's one more factor.
9. Price per item
You'll find that the more you filter, the higher the price. As always in business, you have to find the balance between quality, your needs and budget, and your profit expectations.
My credo for this experiment was that of any business owner: to do as much as I can for as little as possible, and sell my product with a good profit margin.
A 30% margin is a good start, but it's entirely up to you. Ideally, your retail prices should cover your business expenses and offer room for growth.
Doing business with the supplier
When I'd narrowed down my search to 3 candidates, I started reaching out to them via the internal Alibaba messenger. The first candidate didn't reply, and I had a hard time communicating with the second.
The collaboration with the third supplier went well – I'm grateful I landed upon such a responsive and patient team. It was my first time doing this, so there was some back and forth, but we managed to make a pretty good deal.
Creating the product
I had decided on 8 Startup Vitamins designs that I thought would work as postcards the best – the ones that felt the most colorful, modern, and eye-catching. And only 8, because I thought that would be a good way to evaluate my design instincts.
The order quantity was based on the stock levels of a similar Startup Vitamins product, our stickers – 200 postcards per design, 100 postcards per warehouse.
If you can, base your predictions on how other products have been selling. If it's your first product and your store doesn't have too much traffic, remember it's better to start small rather than order too much stock.
In the end, I had 1,600 postcards printed and shipped to two locations for $0.30 per unit. The first step to getting there was deciding on the postcard paper, size, and print file dimensions.
At first we agreed on doing a sample order with the specs they recommended which had an even lower price per item than the final product. They suggested a smaller postcard size than the standard European dimensions and paper with a laminated finish. To save time and resources, I sent them the same pdf print files we use for posters.
The sample order was on my desk within 4 days. I was happy with the color payoff, but my team agreed that we needed to re-do the print files for the postcard dimensions, opt for higher-quality paper with a matte finish, and add our logo on the back.
We also changed one of the designs. As you can see in the above image, the proportions aren't quite there yet. The design on the right is the one we switched up – the print isn't too appealing.
Always order samples to ensure the best possible quality.
We re-did the files and agreed on the other changes. During this stage, I asked a lot of questions – most often to confirm if I've understood everything correctly about the order size, price, and product specs.
It took a few attempts to get the invoice right, but I had to make sure all the information was accurate so I wouldn't get into trouble with accounting. At that point we also agreed on the shipping carrier and costs.
Make sure to go over the shipping details with your supplier. If you're having your goods shipped to Printful directly from your supplier, remember you'll need the tracking info of each shipment to complete the Warehousing process!
I copy-pasted the destination addresses of the Charlotte and Riga facilities from the Printful about page and shared them with my supplier. When the postcards were ready for shipping, they sent me a photo of the shipments before taping them closed. I was given the tracking code for each as they were going out.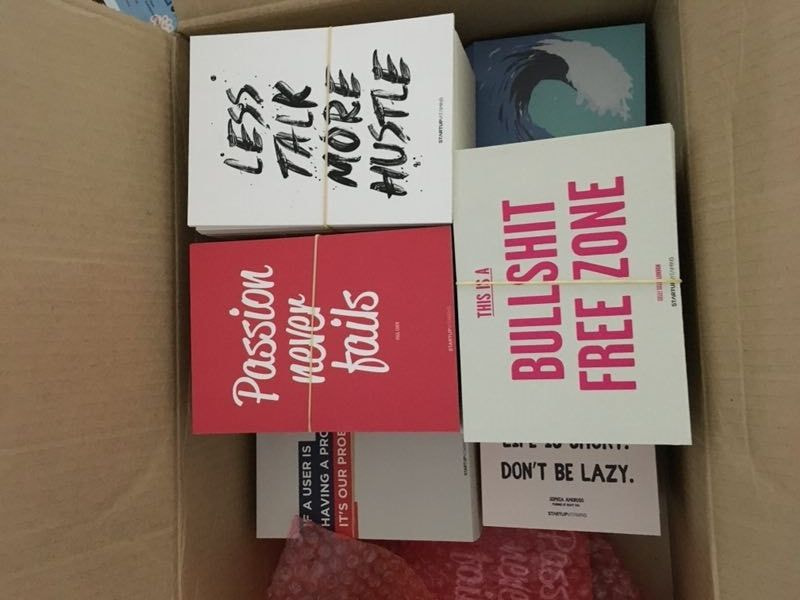 This made me very happy. Note the improved design placement for "Passion Never Fails" and the new postcard dimensions.
Shipping and customs
In retrospect, I would have liked to pay more attention to shipping. It's always shipping.
Since I needed to split the order in two, for storage both in the US and Latvia, and I didn't want to wait on the cards for too long, I tried out the express shipping option. As a result, my shipping costs were nearly 25% of the grand total on the invoice which made me go over my budget.
However, it was worth it to find out the speed of the express shipping option in case of a restocking emergency. These were the delivery times for each shipment:
China to US warehouse: 8 calendar days
China to EU warehouse: 11 calendar days
Fulfillment time was 10 calendar days, but that was including preparing the new design files for printing. I assume any subsequent order will be made faster.
Another thing to keep in mind is customs. I was lucky that both of the orders passed through US and Latvian customs without delay.
Study the import regulations in your country. Talk to your supplier about any required paperwork or possible fees well in advance to have your package go through smoothly.
As you can imagine, having the postcards printed and shipped was nowhere near the end of my experiment.
There was still plenty ahead: submitting my products for warehousing, organizing a product photo shoot, mapping out my marketing strategy, finalizing the retail price…
Learn More: How to Develop an Effective Marketing Strategy
In the following chapters, I'll tell you how I submitted my products to Printful's ecommerce order fulfillment service Warehousing & Fulfillment, set up my storefront, and launched my marketing campaigns so you can avoid some of the worries I had.
How to submit products for warehousing
Now with my postcards printed, I could start focusing on setting up Warehousing & Fulfillment.
Printful's Warehousing & Fulfillment doesn't have a separate account, it's a built-in section of your Dashboard, so if you already have a Printful account, you don't need anything extra to get started and add your products.
The service has affordable pricing, so it helps you save precious time and money you'd otherwise spend fulfilling orders yourself.
The steps to add new products go like this:
Before sending your products over to Printful, you submit an application to give us some info on what you want to store with us
You wait for your products to be approved
Once they're approved, you ship the products to our fulfillment warehouses in the US, Canada, or Europe
Printful lets you know when they've arrived and are stocked
Here's a more in-depth step-by-step process.
1. Add new product
Go to Dashboard > Warehouse > Inventory > Add new product.  Provide the necessary info on each product you want to add:
Title of the product. To make life easier for future me, I included both the name of the product and the title of the design.
Retail price. Enter the price of the product as it will be seen on your storefront and select the right currency. For Startup Vitamins, it's USD.
Product category. For me – "Postcard." If you don't see a suitable category and you're not keen on filing your products under "Other," you can reach out to

[email protected]

and request to have a category added.
Dimensions. Rather than measuring the items yourself, ask your supplier for precise product dimensions.
Product image. This is the photo that'll be pushed to your storefront.
SKU (stock keeping unit). This one's optional, it's intended for Warehousing customers who have their own internal inventory management systems.
Then, click "Add" to submit your products for review. Shortly after submitting mine, I received a confirmation message:
2. Wait for approval
Then there's a short wait until Printful approves your products. I received a success message for each of my 8 postcards in 3 days' time:
3. Create shipments
Once your items are approved, you can send them to Printful's fulfillment warehouses. To do so, you must first create a Warehousing shipment on your Dashboard. Head to Dashboard > Warehouse > Shipments > Create shipment.
Here's where you add the products you want to send, specify how many of each you're sending, and provide the delivery method.
All Printful's warehouses offer two options: you can have your items delivered via mail or drop them off yourself. If you mail them, you must provide the shipping carrier and tracking number for each shipment.
I created two shipments, one for Charlotte and one for Riga, and included the carrier and tracking info my supplier had given me.
After the shipments were submitted, I could return to the Dashboard at any time to check on their status. For a while, it was "in transit":
4. Get final confirmation
Finally, Printful will let you know when your shipments have reached their destination. I received a confirmation email when the postcards arrived at the facilities, and then another one when they'd been stocked.
In this experiment, I was so focused on the physical product, I only started submitting the items for Warehousing after the postcards had been shipped from China. Everything went smoothly, but it could have turned out differently.
What if the items had been shipped from somewhere nearby, and what if my postcards had arrived before having been approved as Warehousing items? What if my items hadn't been approved at all?
Luckily, there was no confusion, but that will not always be the case. I recommend having the goods shipped to Printful only after your Warehousing items have been approved.
It's important to figure out the timeline of ordering products from your supplier and submitting them for Warehousing. Make sure your products are approved by Printful before they arrive at the fulfillment warehouse.
Creating product photos and descriptions
The Startup Vitamins site is custom-built, so the images that go with each Warehousing product listing aren't pushed to the store. It would have been fine to go with the basic mockups I submitted, but we always recommend taking it up a notch to make your products more eye-catching and build your visual identity.
And so I organized a photo shoot. We shot the photos as mockup templates, using a blank postcard we had at the office. The real images would be photoshopped on later.
This saved us loads of time – imagine having to do a photo shoot to get a perfect photo for 8 different postcards?
We tried both flat lay photos and human mockups. The flat lays were a lot more fun because we could play around creating interesting office-themed backdrops for the postcards. We used the flatlays as the primary product images.
Figure out what style of photography will bring out your product the best.
With the images done, I could move on to a bit of copywriting for the product descriptions. Here's what I came up with:
Why not revive the lost art of penmanship? These postcards are great for inspiring the team with some words of awesome, surprising a friend on the other side of the globe, or for adding a dash of motivation to your work space.
The product description is in keeping with the Startup Vitamins brand voice – friendly and inviting, but not overly quirky. Notice that I used some important Startup Vitamins keywords: postcards, inspiring, team, friend, motivation, work space.
Deciding on the price
One of the last steps was one of the most important ones – figuring out the retail price of a Startup Vitamins postcard. As a business, this is where you make money, so it's important to get it right.
Already when I'd settled on selling postcards, the research I did on the postcard market showed me there's a lot of variation and potential. Depending on the paper quality and type of illustration, merchants are charging anywhere from $1 to at least $5 per postcard.
I compared the prices of other Startup Vitamins products. Our stickers are $2.30 a pop, and a 6-pack of pencils is $6, so I figured charging somewhere in between for the postcard should do the trick.
Finally, I factored in the resources put in by my talented team that made all aspects of the finished product look as good as it does. I was very aware of the fact that it was part of their regular job – if I were doing it on my own, I would've had to hire them as freelancers.
This is the pricing I came up with:
1 postcard: $4.30
3 cards of the same kind: $12
Set a retail price that allows you to offer discounts and special offers without losing profit. Make sure to factor in Warehousing & Fulfillment fees as well.
When it comes to shipping, I calculated all my prices with the shipping rate calculator in the Warehouse section of the Dashboard. It was as easy as selecting the products from my inventory and then pressing a button. I used the rates from the calculator to set up shipping costs on my store.
If you're still figuring out the shipping costs before you commit to Printful's warehousing services, use the shipping rate calculator on their Warehousing & Fulfillment page.
Launching the product
Our basic Startup Vitamins product launch campaign consists of the following:
An email to our subscribers
Social media posts
Setting the new product as featured on our store
A repromo of all of the above
The Startup Vitamins style of communication is quite blunt. One of our main product marketing channels is email – we try not to over-saturate our customers' inboxes, but if we want to draw attention, we do it with short, image-based emails.
No need to overdo it – an interesting product will sell itself.
I launched the postcards on a Thursday, and I made my first sale that evening. I was pretty excited, but grounded enough to take a closer look at the order.
Test, test, test – if possible, make sure you're the recipient of the first order of a new product. Keep an eye on the first incoming orders as well.
Slowly and steadily postcard orders started rolling in, about 10 postcards over a 5-day period.
The postcards usually served as a kind of "order filler" along with bigger items such as mugs and posters.
It was clear that the postcards had potential, and that if I wanted to get this product on the Startup Vitamins sticker level (one of our top products), I'd have to crank up my marketing efforts.
One order gave me an idea for my next campaign – someone had ordered postcards with a set of pencils. Pretty obvious as far as cross-selling goes, but very satisfying to see customers see the connection themselves.
Take note of customer shopping patterns for future marketing campaigns.
Conclusions
My biggest conclusion is technically a no-brainer, but one that bears repeating. Working on an online store and transferring your vision of a product to reality requires time, patience, and drive.
Here's an approximate timeline of how much time I spent on each major task:
| | |
| --- | --- |
| Initial brainstorm and research | 3 days |
| Survey content | 1 day |
| Survey duration | 5 days |
| Feedback analysis | 1 day |
| Supplier research | 2 days |
| Sample order negotiation | 5 days |
| Preparing final print files | 5 days |
| Finalizing the order | 5 days |
| Warehousing submissions | 1 day |
| Photo shoot | 2 days |
| Image editing | 5 days |
| Preparing the storefront | 10 days |
| Launch marketing | 1 day |
| Total | 46 days |
It's a month and a half of planning, doing, re-doing, and communicating.
Time for the big reveal – I started my first brainstorm in March 2018. I launched the postcards in December. Do you see what I mean when I said you need time, patience, and drive to launch a product?
This doesn't mean it takes nearly a year to add 8 postcards to an ecommerce store. It means your timeline is up to you. Which brings me to my next big conclusion.
The success of your new product is directly proportional to the goal you've set for yourself. What do you want to achieve with this new thing you're selling? Is it bigger sales? Is it higher customer engagement? Increased brand awareness, perhaps?
I realized the work I put into this project and how I felt about the result was based on my internal goal to add a brand new Startup Vitamins product using Printful Warehousing & Fulfillment and share the experiment with you guys.
Turning the product into a best-seller, however, is a different goal and an entirely different mindset. Let me know in the comments if it's anything you'd be interested in reading!
You are your own benchmark. Set specific goals for the business decisions you make.