Manufacturing in bulk
Manufacturing relies heavily on mass-producing a clothing line and maintaining a stock that sells over time. This means a person must either invest in their own equipment or work with an existing clothing manufacturer to produce their own clothing line.
Working with a clothing manufacturer means having to make minimum quantity orders (MOQ) for every clothing line product, which demands more upfront investment and time to careful planning and organization.
Large fashion brands, such as clothing company H&M, use manufacturing to create each clothing line—and they also lease out warehouses to store their products while they wait for sales.
Clothing companies might save a lot of money per product by ordering in bulk from a clothing manufacturer, but they risk losing money because it's hard to predict what sizes, designs, or products will sell. They also need to handle the cost and logistics behind storing and shipping their items.
Your business operations form a large part of your business. You should feel confident that you can manage and organize the business model you pick. In this case, print-on-demand offers an easier way for people to run their own businesses alone.
Create your brand identity
Your brand identity connects your business with your customers. It influences how they perceive your brand and sets you apart from your competitors.
Your brand also reflects the standard of quality that you promise your customers and acts as a reference for your own clothing line planning, online store design, and marketing. Having a good brand identity goes a long way to improving customer loyalty and trust.
Anybody can launch a business, but your brand helps you stand out and form long-lasting connections with customers—which helps you build a solid customer base. Once you have your business basics established, such as your target market, products, and business model, you'll be in the right place to start putting together your brand.
Develop your brand statements
This is where your vision, mission, and positioning statements come in. Brand statements help you understand what your long-term goals are, what you currently aim to achieve, and what you want to provide to your customers.
Your statements represent the core of your brand, and you can mention these in relevant places such as your website's About us page or social channels. If you choose to share these with customers, it'll help them understand what's special and unique about your business.
Creating a positioning statement
A positioning statement describes your target market, what you want to do for them, and why your product is different from your competitors. It speaks directly to the desires or pain points of your customers and answers why they should consider buying from you.
To start making your positioning statement, answer these questions with the information from your business plan:
What will you provide?
Who is your target market?
What is your value proposition?
Who are your competitors?
Why are you different?
Once you have your information, you can condense it to fit into a sentence similar to the one below. It's okay if your statement isn't exactly the same as this structure—what's important is that you express your ideas clearly.
We'll provide (products) with (value proposition) to (target market). Unlike (competitors), we're different because (reason).
Your statement doesn't have to be as short as this example either, but for internal use—such as for planning and strategizing new clothing line ideas—it's more convenient to reference from if it's straight to the point.
Decide on your mission and vision statement
Your mission and vision are important because they narrow down your goals and help you understand your long-term aspirations. Refer back to your business plan, and keep in mind your niche, personal goals, and positioning statement.
Your statements should be simple, less than 50 words each, and they should be memorable.
Mission: What are you here to do? What are your values?
Vision: What do you aspire to be once you achieve your goals?
Create your brand personality
Your brand personality covers the human characteristics of your business. It helps customers relate to your business and fosters trust and understanding with them. It also influences the tone of your voice and design.
For example, if you're creating a serious and conservative business, then you probably wouldn't use emojis or neon colors in your content.
To come up with your brand personality, write down the human traits and colors you want your brand to represent.
Take a look at other brands similar to what you'd like your brand to feel like. Put this together and check if your idea is something that would appeal to your target market.
Write out your brand story
People relate to stories, and it's human nature to want to understand and empathize with others. Your brand story ties together your positioning, vision, and mission statement in a way that is meaningful and memorable for your customers.
You build trust with your audience by sharing your brand story with them, and as a new business, it'll take time to convince people to buy from you. Telling customers who you are and what your business is about can help you build that trust and connection.
When you've written everything out, you can create your About us page and use this space to tell your story and show why you're different. Make sure your language, whether that's formal or casual, matches your brand identity.
Burt's Bees uses storytelling to convey their brand's message to customers in a powerful way.
Founded in the 1980s by Burt Shavitz and Roxanne Quimby, two people who valued nature and the environment, they hit it off during a hike and came up with the idea to use bees' wax to make natural products for people with similar ethics. People loved the idea, and 40 years later their business is still going strong.
As they've grown their business, they've stayed true to their unique brand and worked to raise awareness for the planet, shaping their entire business plan as they grew around their environmentally-friendly branding goals and vision.
Decide on your brand name
Your brand name represents your business and gives customers an idea of what your brand is about. To figure out your brand name, grab a notebook and get ready to think.
Learn more: How to Come Up With a Brand Name
Write down everything that relates to your brand: whether those are adjectives, verbs, or abstract ideas. With the information you've compiled, make a few brand names that you like. You can use a name generator. Find out what current customers, friends, or family think about these brand names and pick the one you think is best.
Design your brand identity
Your brand design affects the way your customers experience engaging with your business, and it helps convey your values and personality. When you have a cohesive design, your brand is more recognizable and memorable to customers.
Doing this well helps strengthen the connection between your customers and your business too. You want your brand visuals to align with your brand personality.
Decide on your brand color scheme
A brand color scheme should match your brand identity and what appeals to your customers. You need at least 3 colors to make a color scheme.
Ideally, your first two colors should complement each other. You use these for general text, background designs, and other repetitive content that your customers view.
Your last color is your accent color. This should contrast with the rest of your color scheme so that it stands out, but it should still complement them. You use this to emphasize website buttons, links, titles, or other things that you want customers to notice.
Use a color chart to figure out your combinations, or an online color scheme generator.
Choose your brand typeface
A typeface is a set of characters, such as words, using a specific design. A brand's typeface is important for a number of reasons:
It conveys your brand personality to customers
It affects how readable customers find your text
It can affect your website or store loading speed
When you have good typographic hierarchy, it's easier for readers to understand the structure of your written content.
Your first typeface should be noticeable—if you want it to be the same as your paragraph typeface, then it should be larger in size and/or bold. You use this for titles, headers, or other text you want customers to pay attention to.
Your second typeface should be easy to read—if you're using more than one typeface, then this must compliment your first typeface. You use this for paragraphs or longer bodies of text.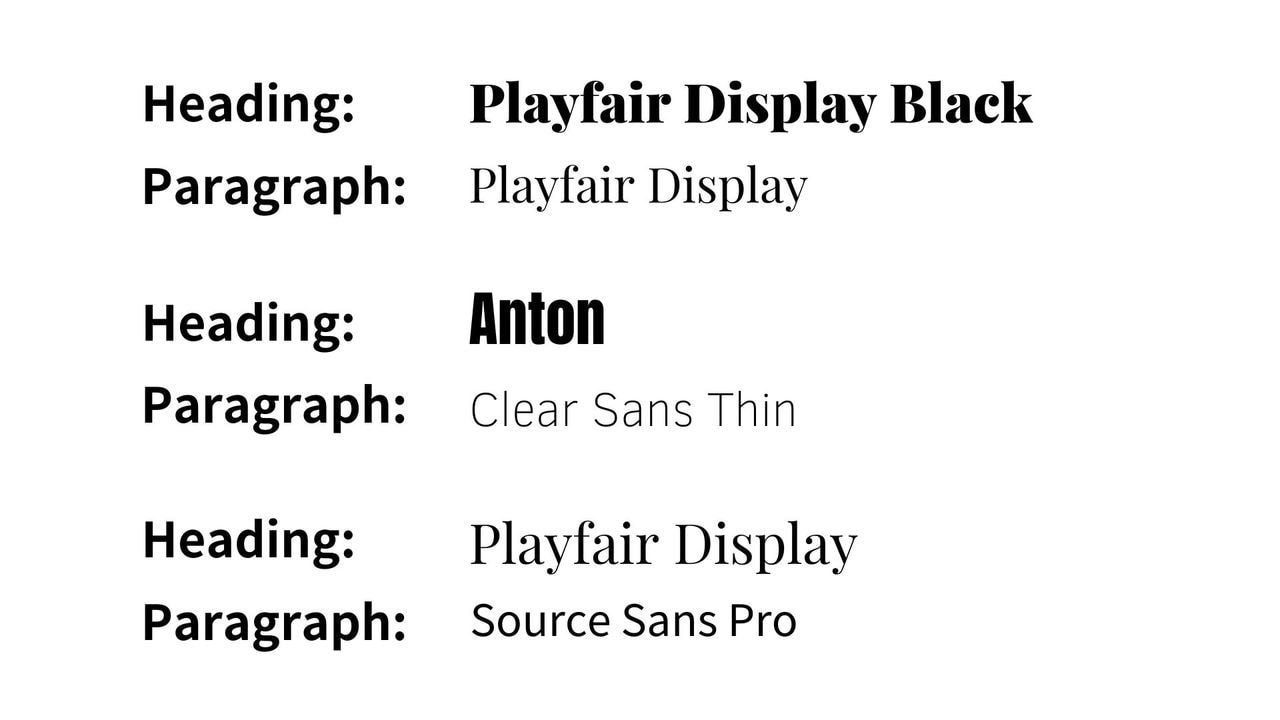 Create your brand logo
A logo helps customers recognize your business because it uses the color scheme and typeface of your brand visuals. If you need some help, Printful offers a free Logo Maker.
Usually, a logo is broken down into two things:
A symbol: Something that represents your brand
Text: A typographic design based on your brand name
Conceptualize your clothing brand
Now that you have a better idea about how you want to represent your fashion brand, you need to put your visuals, design information, and everything else that relates to your brand together in one place. This is your brand book. Once you're done, you'll have a guide that you can always refer back to.