This blog article is based on an interview with Aydian Dowling on Printful's Instagram Live. Follow us, and stay updated for more content about Printful and amazing store owners like Aydian.
From printing by hand to print-on-demand
In 2012, Aydian Dowling began designing and printing apparel with positive messages for transgender people in order to raise money for his gender-affirming surgery. He raised the funds he needed in about six months and prepared to close shop, but because of the positive feedback he got from customers, he decided to stay open.
Aydian says that back then, it was difficult to come by any trans-positive messages on apparel, so they were in high demand. 
"People said things like, 'Oh, this is the only thing out there,' and 'These clothes really fit me,' and 'I love putting on these shirts. They make me feel positive,'" Aydian says. "I didn't want to take those positive feelings away from people, which is why I started giving away the proceeds."
Because Aydian had a full-time job he loved, he began donating proceeds from his store, Point 5cc, to LGBTQIA+ organizations and did so until his friend Jeff suggested he start his own nonprofit organization. 
Aydian took his friend's advice and founded Point of Pride. Its goal is to give back to the community Aydian says saved his life during his process of coming out.
"Community is what I wanted," he remembers. "I wanted to feel love, I wanted to give love, I wanted to receive love, and that's why I really wanted to start this and give back to the community," he says. "This community gave so much to me. They made me feel alive and like I deserved to be happy in life and validated my experience."
To date, Point 5cc has raised more than $250,000, which Aydian says has "helped trans people live a more authentic life in their bodies."
With the shift to a more serious nonprofit model, Aydian also shifted to using Printful to print and fulfill his products on-demand.
"I started printing stuff by hand, and as the company grew, I knew I couldn't do that anymore, and I needed to find help. I honestly just stumbled upon Printful, got some samples, and loved them."
Activism meets design
Above all, Aydian considers himself an activist for trans rights.
"I take every opportunity I can to speak out against the injustices for trans people." he says.
Aydian hopes his passion for the trans community comes through in his designs.
"I don't identify as an artist, I identify as an activist, and so my clothes ring true to me," he says.
Despite not being an artist or a designer, Aydian still pays attention to the kinds of styles and colors people are wearing to get a sense for which products will perform well in his store.
Let's take a look at a few of his designs:
I am enough
Aydian created this design with his friend Jeff, who encouraged him to start the nonprofit and now serves on its board.
"We felt like so many people didn't feel good enough," Aydian explains. "They didn't feel smart enough. They didn't feel thin enough or pretty enough or strong enough or good-looking enough or trans enough or gay enough or Black enough or Latino enough like whatever enough."
The design was inspired by a Maya Angelou quote, "You alone are enough. You have nothing to prove to anybody."
Aydian creates designs like these in an online photo editing and design service called PicMonkey and Printful's Design Maker.
"You don't necessarily have to be super artsy fartsy in order to create cool stuff, which is definitely the best part," he says.
Protect Black trans women
Aydian keeps activism at the front of his mind, and likes bold statements like this one. 
"Our clothing really represents who we are and how we see the world," he explains. "I think it's especially important for all of us to speak up on behalf of our intersectional trans people like Black trans women who are murdered at a disproportionate rate than any other community in the US."
He says that wearing a shirt like this one can teach other people something about what's important to you before you even talk to them.
"If you wear a shirt like this, you're really just putting it out there, right?" he says. "At the end of the day, this is an important message, and there's no sugarcoating it."
Trans/Ally Pride Designs
Aydian says designs for allies are just as important as designs for the trans community because not all trans people feel comfortable wearing bold designs. They may live in unaccepting communities or interact in spaces where their identities aren't valued.
"But people  like myself who have the privileges I have and the ability to walk around, I want people to know," he says. "I want to change that narrative for trans people and for people who don't know what trans is."
Join the pride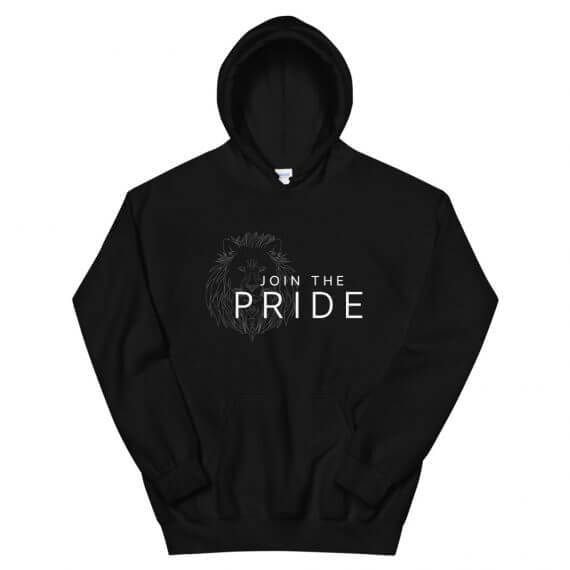 Aydian's more personal line of merch comes from his YouTube channel, originally named 'A Lion's Fears," where he posts videos chronicling his transition and discussing trans issues.
"I might make these clothes more for me than for other people," he admits jokingly. "But they like it, so I'm not going to complain about it."
To create more illustrative designs like the lion and special edition Christmas designs he's used in the past, Aydian sometimes hires a designer. He says it's easy to find great artists online through sites like Etsy.