UGC holiday marketing strategy feeds two birds with one scone because:
UGC is instantly engaging your most active audience as it involves them personally.
Posting user-generated content increases your discoverability and makes your brand more relatable.
Consumers are far more likely to listen to their peers than brands themselves. That's why UGC is a crucial stepping stone to Black Friday success. Here's one of the best ways to help generate this type of content.
Start a hashtag trend
Encourage your audience to use your unique hashtags. One way to do this is by running a competition across your social media channels where you ask people to share their photos with your products. Besides increasing your engagement, this competition will let you track your submissions by searching your hashtag, and give you loads of content to pick from and share across your platforms. Don't forget to ask permission to reshare their photos!
Ask your audience to share how they wear or use your products.
Post a question and ask your followers to share a post with a tag and an answer.
Think about your brand's niche and motivate your audience to create content around it. For example, if your niche is animals, encourage your followers to wear your products and take photos of themselves and their pets. Or if your brand's focus lies in sustainability, create a hashtag movement where your followers take pictures of themselves enjoying their favorite spots in nature.
No matter what your campaign strategy is, you want it to be worthwhile to your followers.
And what's more persuasive than rewards? In the spirit of Black Friday Cyber Monday, offer a discount to anyone who shares a photo with your product. Keep it simple: a discount or a small gift is enough to create engagement.
Read also: How to Make Money on Instagram and Grow Your Following
4. Personalized advertising
The battle to win customers' attention has never been as competitive as it is today. If you're not personalizing your advertising efforts, chances are you're losing customers to other brands who have it sorted out.
Let's look into a few personalized advertising methods.
Retargeting is a form of targeted online advertising that allows brands to present personalized offers to visitors based on their on-site behavior. It can help build brand awareness, acquire new customers, or even steal your competitors' customers.
Let's say a customer viewed some products on your website and left without making a purchase. Using retargeting ads, you can showcase the same products on the customer's social media feeds. Even better, to nudge the customer into buying your products, give them a special discount.
When it comes to retargeting ads, be flexible and patient. Just because a visitor hasn't clicked on your ad yet doesn't mean that they're not going to. If your ads aren't converting, change your copy, design, call-to-action button, or display frequency of the ad, and try testing different variations.
Read also: How to Convert Visitors Into Customers With Retargeting Ads
You may sell products that go well together, so make these product pairings part of your customer shopping experience. For example, if someone has purchased a pair of yoga leggings, let them know they can get a matching sports bra and a sporty fanny pack to complete the look. That's cross-selling.
And if it's been quite a while since your customers purchased, say, a custom t-shirt, reach out to them with an offer to get a new one. Or even better, if it's getting colder in their neck of the woods, promote a custom hoodie or hat with a complementing design.
Upselling means encouraging customers to buy a higher-end version of a product. For example, if you have a more expensive option of a similar product, emphasize its best-selling points. To sell a more expensive version of a hoodie, emphasize how the quality makes it warmer, bulkier, longer-lasting, etc.
Boost sales with geo-targeting
Most social media platforms let you segment your audience by geographical location. This is a great opportunity to make your messages more relevant, depending on where your audience is.
Make the most of geo-targeting and add new dates to your marketing calendar:
Thanksgiving campaigns for Canadians. Target customers located in Canada with personalized ads and Thanksgiving offers. Thanksgiving in Canada falls on Monday, October 9 in 2023. Why not send them a shout-out, thanking them for doing business? Or perhaps a Canada-only discount or deal? You can do the same for US customers, just a bit later in November when they celebrate (November 23)!
Chinese New Year. More than 20% of the entire population celebrates Chinese New Year (falls on February 10 in 2024), explaining why more and more brands choose to mark it on their holiday marketing calendars. 
Southern Hemisphere vs. Northern Hemisphere. When thinking of holiday ecommerce sales, northerners tend to think about beanies, sweaters, and scarves. However, those on the Southern side of the Earth are actually gearing up for the summertime.
Create campaigns promoting your products meant for warmer weather to customers in Australia and New Zealand, for example. Or even better, match summer essentials with upcoming holidays. That's what Startup Vitamins did by creating an "ugly Christmas t-shirt" line: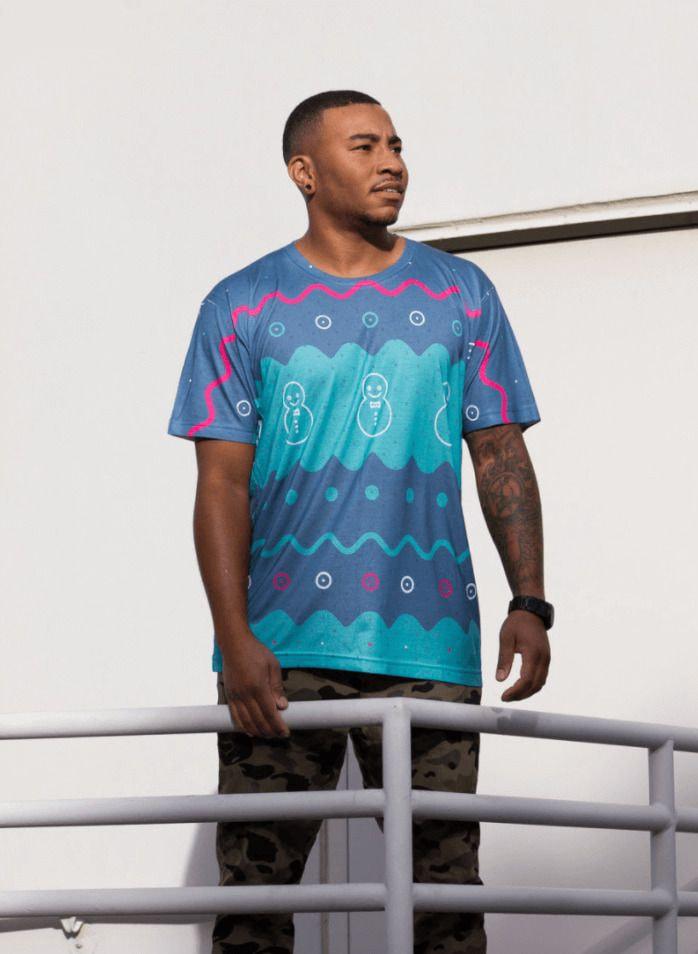 Don't just advertise, tell an engaging story
Whatever you decide to do for your holiday marketing campaigns, keep your customers in mind. As long as you know your customer base and you've picked up some of the tools we suggested in this article—you can create beautiful content that'll have your audience hooked. The secret ingredient is a little creativity!
Excited to try out some ideas for your social media channels? Well, then we've got a treat for you—we put together a set of free visuals you can use for your holiday social media. Use them as they are or edit to add a personal touch.