That's a wrap – another whirlwind year gone by at Printful HQ! We've made our resolutions and goals for 2017, but before we dive full-speed ahead, let's look back at 2016 and take stock of what's changed, how we've grown, and what that means for you.
New registered users: 130,939
We thought 2015 was an explosive year, but we ain't seen nothing yet. 2016 continued on a steady, upward trajectory. We ended the year with 130,939 new registered users.
What does this mean? This isn't unique to Printful – ecommerce is a global trend that continues to grow.
Department store sales continue to decline, and fewer people are shopping at malls. Stores like Gap and Aeropostale are closing down. More people are opting to shop at independent retailers and supporting small business, and ecommerce retailers are popping up to accommodate this trend.
Average order value: $31.99 (including shipping)
What does this mean? This is a similar number to last year. You know what people are willing to spend, so price your products accordingly. 
Average fulfillment time: 2.8 days
What does this mean? We're not only scaling in space and staff, but also in efficiency. Some departments ship out products even faster – 75% of phone cases and 60% of hats are fulfilled in 24 hours. We want to lower fulfillment time across the board, so you get your orders more quickly.
Where do orders go?
The top 5 destinations we ship to haven't changed much over the past few years:
United States

Canada

Great Britain

Australia

Norway
What does this mean? The United States is still the most popular shipping destination by far. But European countries are picking up too – Norway is at #5 for the first time. One of our biggest goals for 2017 is to open a fulfillment center in Europe, so we'll likely see an increase in European sales in the coming years.
Most popular US cities?
How 'bout some regional pride? Most US-based customers are located in New York City, Los Angeles, and Chicago.
Best-Selling Product Categories
1. T-Shirts
T-shirts have been a crowd-favorite year over year, with the American Apparel 2001 reigning supreme.
T-shirts printed in 2016: 726,180
That's enough to clothe the entire population of Alaska.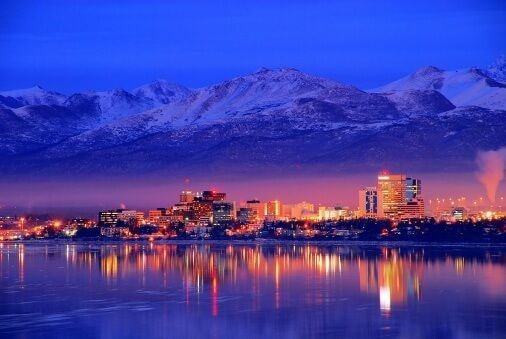 This year we also reached a special milestone: we printed our millionth t-shirt!
2. Posters
Posters are our most popular non-apparel product, third year strong.
Posters printed in 2016: 76,548
Or, enough to cover an NFL football field.
Another solid non-apparel category (and one we plan on expanding!). It's fairly simple to create mug designs, and we usually see an increase in sales during the winter months when hot drinks are a hot commodity.
Mugs printed in 2016: 64,330
4. Cut & Sew
This category includes leggings, pillows, dresses, and skirts. We added new cut & sew products in 2016 and we'll add more this year, so we'll definitely continue to this category rise in popularity.
Couple of products to look out for: cut & sew t-shirts and activewear.
Cut & sew products made in 2016: 62,921
What does this mean? While t-shirts are still a classic staple, there are plenty of other categories you can experiment with. One of the many great things about dropshipping is that you can test new products with relatively low financial risk.
And the Product List Keeps Growing…
In 2016, we added 38 new products, including:
Cut & sew sublimation products: dresses, skirts, tank tops, capri leggings

iPhone cases (5/5s/SE, 6/6s/6 Plus/6s Plus, 7/7 Plus)

American Apparel 2001 with tear away tag
This brings our grand total of products and variations offered to 224.
Bonus: in the past couple of months, we added more than 40 products to our Mockup Generator.