Did you know that Printful offers custom phone cases? You can add cases for the most recent iPhone and Samsung models to your store (or print a one-off case for yourself!).
This blog post goes over why you should consider adding phone cases to your store and explains how to design your custom phone case. It also covers details about the cases themselves and how they're printed.
Popular smartphone accessory
Phone cases are a must-have for most smartphone owners today. In fact, 79% of smartphone owners are using a case for their phones, according to a 2017 Statista survey. And with every new phone model released, there's new demand for phone cases.
A similar survey by NPD found that there are 5 main groups of people who buy phone cases:
Durable protection—these people are looking for a solid, quality case that will protect their phone
Fashion and style—this group of people places the utmost importance on the aesthetics of the case
Practical fashion—this group also cares about the case's aesthetics, but they're more sensitive to cost
Basic protection—this group is the least selective; they want a functional case to protect their phone, but they're not particularly picky
Tech enthusiasts—these people are savvy and generally enthusiastic about all things tech
The motivations for buying cases are vastly different—some people emphasize practicality and protection, while others are more interested in a case that represents their style, personality, and interests.
More high-fashion brands like Prada, Gucci, and Louis Vuitton are also delving into phone case designs, positioning phone cases as not only a practical tech accessory but also a fashion statement.
Through Printful, you can enter the phone case market and create phone cases with your own original designs. Below we discuss the different cases and printing processes on offer, as well as some tips for creating graphics.
Printful's phone case specs
As of now, Printful has phone cases designed for the following iPhone and Samsung models that are available in both the US and Europe:
Samsung Galaxy S10
Samsung Galaxy S10+
Samsung Galaxy S10e
Samsung Galaxy S22
Samsung Galaxy S22 Ultra
Samsung Galaxy S22 Plus
Samsung Galaxy S21
Samsung Galaxy S21 Ultra
Samsung Galaxy S21 Plus
Samsung Galaxy S20
Samsung Galaxy S20 Ultra
Samsung Galaxy S20 Plus
Samsung Galaxy S20 FE
iPhone 7/8
iPhone 7/8/SE
iPhone 7 Plus/8 Plus
iPhone X/XS
iPhone XS Max
iPhone XR
iPhone 11
iPhone 11 Pro
iPhone 11 Pro Max
iPhone SE
iPhone 12 Mini
iPhone 12
iPhone 12 Pro
iPhone 12 Pro Max
iPhone 13 Mini
iPhone 13
iPhone 13 Pro
iPhone 13 Pro Max
Besides clear cases for iPhones, we also offer Speckled iPhone Cases that provide anti-shock protection and are made from natural ingredients.
Whether more models are added will depend on the phone's popularity and customer demand.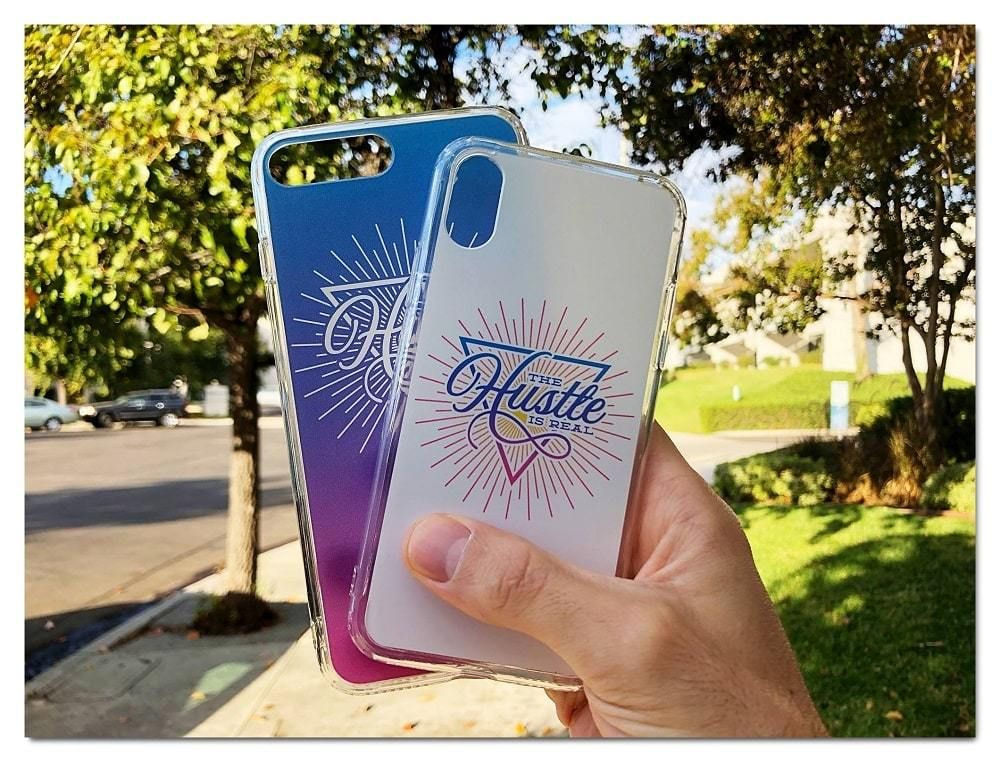 Printful phone cases are thin, light, and made of a hybrid Thermoplastic Polyurethane (TPU) and Polycarbonate (PC) plastic.
They're one-piece, have solid plastic construction, and the holes and buttons are aligned with the phone's features. 
The transparent phone cases aren't shock-proof. So while they may protect your phone from some minor wear and tear, don't count on them to be indestructible or to prevent serious damage. They're meant mostly for aesthetic purposes.
What design do you think would look good on one?