Have fun with hover boxes. Surprise your customers by revealing a promo deal that appears on a hover.

Pin buttons to your site. With Wix's drag and drop builder, you can place them anywhere you want.

Add a lightbox—a seamless pop-up that asks visitors to sign up to your mailing list or promotes a special offer. You can set a time for it to appear and even customize it so the rest of the website gets dimmed and the focus is directly on the lightbox.
You can find all of the elements I mentioned (and more!) in the Wix Editor. To add these design elements, click Add from the left side menu.
Showcase your brand with a custom domain
Store customization isn't just design. It's also branding. It's making sure your customers remember your store name so they can come back and shop.
Pick a simple yet bold name for the domain. Wix offers free web hosting and a free domain to use—username.wixsite.com/yourstorename. If you want your own custom solution, like yourstorename.com, you can get the domain name with Wix too.
Speaking of customization . . . it's time to add your custom designs to your favorite Printful products.
5. Design and add Printful products to Wix Stores
Printful offers a wide selection of products. You can choose to sell products from different customization techniques like embroidery or print.
Quick tip! Start by checking out the design file guidelines for each product you want to sell. You'll find these on each respective product page. Follow the guidelines to achieve the best results.
After you've decided on the products you'll want to sell, here's how to push them to your Wix online store:
Go to your Printful Dashboard > Stores > click Add next to your Wix online store.

Choose a product and either create or upload a design. When you're done, click Proceed to mockups.

Pick the product mockups you want for your store and click Proceed to description.

Add your product title and description and click Proceed to pricing.

Set your pricing and hit Submit to store. Your product is now live on your store and you're all set to start selling on Wix!
As any sensei would, I also followed the guidance I gave you. I added three t-shirts to my Wix online store. For my product designs, I used Printful's Quick Designs to save time. This is how my newly added products look on Printful's side:
Three Printful t-shirts pushed to Wix Stores
And below is a view of my Wix online store once I added products. Neat!
Sensei Una Merch store created on Wix Stores
When it comes to showcasing products on your Wix online store, you can customize that too. Simply click on the Quick edit button which will appear in the edit mode when you click anywhere on the page. Then click on Settings.
The Wix Editor view when switching to Product Pages
Here you can change up the layout, the button styles, add scroll animations, and more. 
The Wix Editor is filled with amazing features and functionalities that'll help you create a professional store. Once you get to know them, all you need to do is click, drag, and drop. 
On the left-hand side, you'll find more options like adding sections, page menus, and customizing the site theme.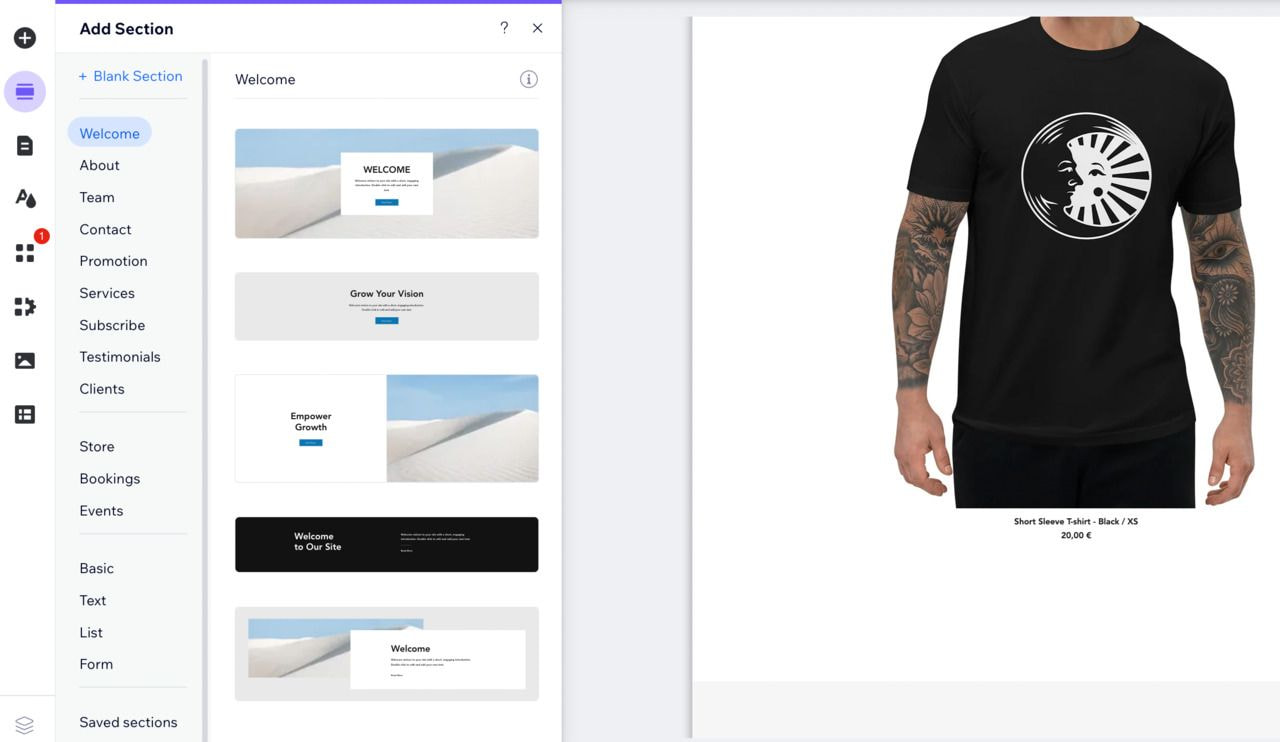 Build your website by dragging and dropping blocks
This is an intuitive way to tailor your template to reflect your vision. We also suggest adding an About section in addition to a contact page and some testimonials. You want your customers to know that they can trust you and reach out if they have any questions.
There's so much you can do with Wix, but as you design your website, remember to:
Keep it simple
Simplicity is key when it comes to web design. A clean and easy-to-follow layout can make a big difference. Avoid cluttering your website with too much text or too many images.
Use white space
White space, or negative space, is the area between design elements on your site. It helps to give your website a balanced and professional look. Don't be afraid to use it.
Choose a color palette
A united color palette can enhance your website's overall appearance. Use colors that complement each other and that suit your brand. 
Use high-quality images and graphics
Images can make or break a site's design. Use high-quality images that are relevant to your content. Avoid using blurry or pixelated images and clipart.
Use typography effectively
Typography can set the tone for your website's design. Choose fonts that are easy to read and that make sense for your brand. Avoid using too many different fonts or ones that are hard to read.
Make it mobile-friendly
Shopping with smartphones has become the norm, so make sure your website is optimized for mobile devices. This means using a responsive design that adjusts to different screen sizes. You have the option to switch to smartphone view in the edit mode.
Keep it consistent
Consistency is key when it comes to web design. Use the same fonts, colors, and layout throughout your website. This helps create a cohesive, professional look.
Playing around with designs and color schemes was fun. But as your sensei, I must guide you through the less-fun parts of store setup too. Our next lesson is connecting a payment method for your Wix online store.