The time is now and here's why
Nowadays people want to stand out.
Shoppers are veering away from cookie-cutter, store-bought items and enjoy the hunt for unique products. They want their purchases to come with a sense of exclusivity, uniqueness, and even luxury.
This is your perfect setup to offer product customization and give them what they want. 
Earn more while connecting with customers
In 2021 McKinsey did research on personalization value. It revealed that companies offering customizable products and services generate 40% more revenue from those activities than average businesses.
That means you can sell custom products at a higher price, and it's one that your customers are willing to pay.
Going beyond dollars and cents, 71% of customers expect personalization through ads, products, services, or recommended readings.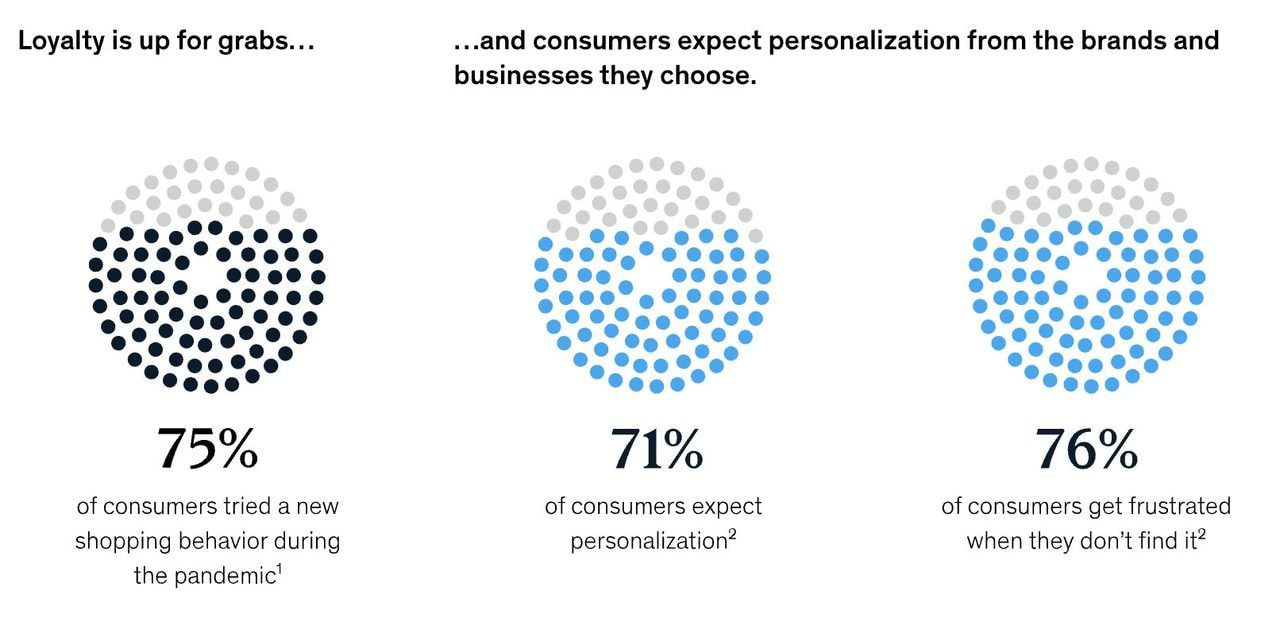 Overall, personalization enhances the customer experience and increases their loyalty and engagement. This ultimately leads to higher customer acquisition and retention.
Learn more: How to Start a Clothing Brand: A Complete Step-by-Step Guide
Build your brand marketing strategy
Another benefit of personalization is its shareability on social media. People have always been eager to show off their creativity, especially any custom, cool swag they might get their hands on.
Think of personalization not only in terms of sales but also as an opportunity for your customers to interact with your brand.
Inspiration for future products and brand image can be found in data customers submit from their personalization requests. Also, customers will create and share original content featuring your products, so make sure to incorporate it in your marketing strategy.
That could mean reposting customer photos, using them for promos (with permission), or creating custom hashtags for special events and campaigns.
Learn More: How to Develop an Effective Marketing Strategy
Making personalization work for you
While personalization is an exciting feature to offer your customers, it's best to decide what purpose it'll serve. Are you thinking of making it the focal point of your store, or do you see it as another way to build your brand and boost engagement?
Customers confronting a blank canvas can become overwhelmed and keen to leave. Make sure any customization features on your site are easy to use. A way you can simplify the designing experience is by offering a template customers can work with.
Let's talk about the ways you can market products for personalization.
Personalized gifts
Personalized products are the perfect gift for special events and holidays because they can be both practical and thoughtful.
Some of the most obvious occasions include: birthdays, graduations, back-to-school season, weddings, baby showers, Christmas, Valentine's Day, and Mother's/Father's Day.
Part of a theme or campaign
You can offer personalized products as part of a theme or campaign—and you can combine them with a holiday or special event.
Your theme can be related to your existing designs or be something entirely new: quotes, jokes, symbols, catchphrases, and everything in between.
For example, during the holiday season, Printful offers fun ugly Christmas sweaters ready for customers to design and buy for friends and family.
From a marketing perspective, this holiday-themed campaign is a great chance for customers to make something truly unique and personal. At the same time, we get to offer our designs and products for sale—creating a win-win campaign for everyone.
Learn more: How to Run the Perfect Microinfluencer Campaign
Exclusive pop-up feature
A pop-up feature on your store offering a chance to make an exclusive, custom product helps incentivize customers to design and buy. This pop-up can also tie in with the idea of custom products as gifts, but it doesn't necessarily have to. You can present it as a way to create a personalized special something for oneself.
These options are just the basics. Remember that you can get as creative as you want. You can start by offering simple design customization for everlasting trends such as monogramming. Chances are, everyone has something in their home with their name or initials on it.
How to set up product personalization with Printful
There are two ways to go about creating personalized products at Printful. You can manually personalize each order or use Printful's Product Personalization Tool.
To get you started, check out our step-by-step video guide: