Scaling a brand and facing growing pains
Typically, creators start selling merch only after they've amassed an audience, but that wasn't the case for itsjusta6. From the beginning, building a clothing brand was as integral to their business as growing their channel.
"Starting a small clothing brand was actually as much of a goal as the channel was in the beginning. So while we were putting out videos that only got a thousand views, I can vividly remember having a stack of boxes in my college bedroom of t-shirts. Our first order was so exciting. We ordered 50 t-shirts and I folded them all in my bedroom and packaged them up, and sent them out to people. We sold 50 of them in like a day, I couldn't believe it… I'd say early 2018 is about when the merch started. It's 2022 now, and it's come a very long way from boxes in the bedroom."
Learn More: How to start a clothing brand
As merch sales started to grow with their channel, Nic realized that something needed to change. It was getting hard to keep up and manually order, pack, and ship everything themselves. There was a point when they were dealing with around $100,000 worth of orders in a month. As rookie 20-something-year-old entrepreneurs—Nic jokingly referred to themselves as kids—he knew they were in over their heads.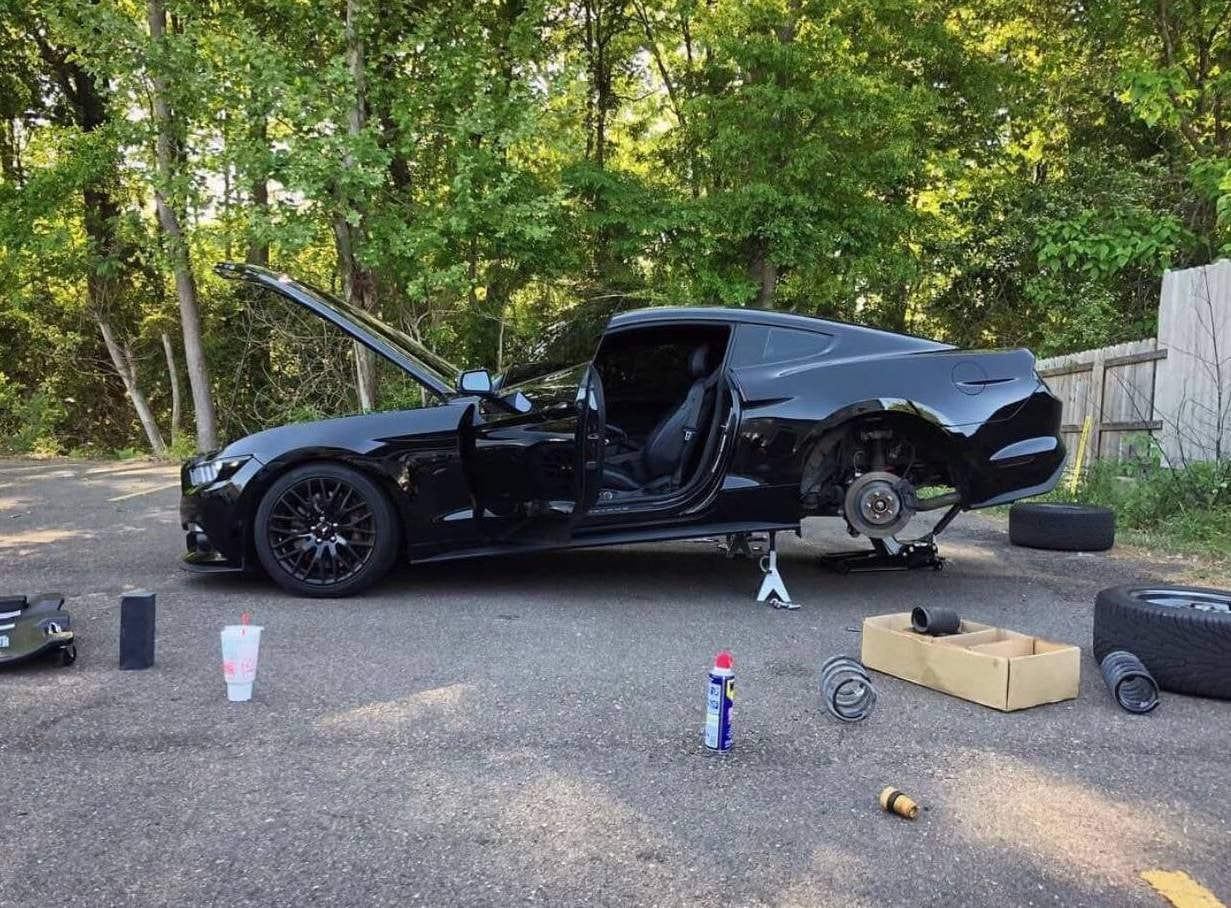 Source: itsjusta6
Their manufacturing process was also inefficient. It didn't allow for flexibility—they had to spend money and place their orders far in advance if they wanted to add new designs.
"It was archaic, we had to plan out a month in advance. So if I wanted to drop a new design or a new collection of designs, I'd have to order way out, and we'd be out of that money."
Nic says that he started to explore print-on-demand when he realized that he "liked the design process more than the supply chain and inventory management side of things. So it was a challenge running the merchandising. It was a challenge that we were up for, and we wanted to tackle it head-on. But the big, hard lesson that we had to learn was that sometimes you need to stick to your strengths. And our strengths were that we were creative, we were good at marketing, we knew how to play the social media game, and it was working out well for us. We're not supply-chain specialists, we're not so great at managing inventory, incoming and outgoing. So once the channel had scaled to a certain size, merchandise sales were also scaling to a certain size, so it was a lot to keep up with… But after a lot of mistakes and a lot of lost money, we realized that trying to manage the in-between on that level was just, to be frank, above our heads."
Even with their challenges, their merch sales were holding steady. Nic was determined not to let that revenue stream die, so they switched to print-on-demand.
Finding flexibility in print-on-demand
Nic did his research before deciding on Printful. One of his top priorities was finding a print-on-demand provider that integrated with Shopify since that's where they had already built their store. Printful stood out to him in part thanks to our Shopify integration and intuitive user interface.
"I wanted something that easily integrated with Shopify. And after going through 6 or 7 different options, Printful was the Goldilocks fit—it met all of my requirements. The user interface was friendly, which is a big deal. It may not seem like a big deal, but having a good, easy-to-navigate user interface is incredibly important for internal operations. For instance, if I hire somebody new to help me and I need to train them how to use Printful software, it doesn't need to take them 3 weeks to figure it out. They need like a week and it's all good, no problem. So honestly, just from my own research, and after getting hands-on with the software and trying it out, Printful stood out as by far just the best option."
Partnering with Printful meant that Nic and his team could get back to working on what they loved. Printful's flexibility also positively impacted their business growth, letting them drop new collections in hours instead of weeks.
Source: itsjusta6
"The flexibility that Printful gives can't be beaten. Print-on-demand offers a business the insane ability to adapt to anything. When you're working in entertainment, in marketing, that's our bread-and-butter—entertainment marketing… People are quick to change what they like, so to keep up with that, you need to be innovating and putting out new designs or new products all the time. With print-on-demand, I can launch a collection of a dozen new products in a day."
When you're keeping up with rapidly-changing consumer sentiment, every minute counts. With Printful, Nic and his team can go from design to ready-to-buy product in a day, which is valuable time saved. While Nic supports small, local print businesses, he acknowledges that they simply can't keep up with that pace.
"I can't go to [a local printer] and say—hey, I have 12 new designs that I want to launch today, they need to be ready to go. With Printful, I can do it. It's just a breeze. It opened up a world of possibilities really. So we stay innovative and we stay cranking out new designs and new products, and it's great."
For Nic, an unexpected bonus of working with Printful was the team itself and their enthusiasm.
"I will say, one thing that has been pleasantly surprising about Printful is the team. I don't think I've worked with a more enthusiastic team. I'm regularly connected on Slack, so I chat back and forth pretty much every day. Printful also handles our customer service for us, which is a big deal. That's a freaking awesome thing that they do. And we worked that out with them, and so far it's been… I sleep better at night, I'll say that."
When working with a print-on-demand provider, they become an extension of your business. Your products and reputation are in their hands, so find a partner you can rely on.
"It's encouraging for me to work with people who want to be doing what they're doing. They're excited to be working on whatever the project may be, they don't get discouraged when the tough times show up, 'cause they will show up. I've learned over the years not to take that for granted, so I very much appreciate pretty much everybody so far that I've worked with at Printful. They're always super positive and very enthusiastic and excited to just be present in the projects."