Payments for all Printful orders happen in the Printful Wallet, so make sure your Printful always has funds. There are three ways you can set it up:
You can set up a billing method where you provide a bank card, Paypal account, or other means of payment that Printful will bill automatically for the fulfillment and shipping costs of each order. The amount billed is automatically deposited into your Printful Wallet with each incoming order. The Printful system then collects the money from your Wallet and the order is sent to fulfillment. You can set up a billing method by going to your Printful Dashboard > Billing > Billing Methods > Add billing method.
Add funds to your Printful Wallet manually. To do that, go to your Printful Wallet and click Add money and transfer funds from your bank card, PayPal, or other means of payment. Plus, there's an advantage to this option—orders will be processed faster and there's a smaller risk of any transaction errors! 
You can also do a combination of both—add a billing method as well as add money  to your Printful Wallet manually.
Learn more about Printful's billing system 

Dive into our payments and pricing guide—learn how payments work, review Printful costs, and learn how to price your products to make a profit.
4. Forgetting about additional expenses
When creating an ecommerce business, it's important to have at least an approximate idea of potential costs. Skip this step, and you risk miscalculating your potential earnings, as well as experiencing difficulty when scaling your business.
There are three types of expenses that, according to our Customer Support team, most people need to have on the top of their list along with fulfillment costs and store platform subscriptions. 
Shipping, customs, and taxes
Calculating shipping prices isn't as fun as designing your own products, but it's unavoidable for all store owners. You can do that in two steps:
Get to know Printful's shipping rates. We have international shipping, as well as standard shipping rates that are fixed and calculated based on the average shipping cost for each product category. All products in their shipping category have similar dimensions, weight, and packaging.
Then, calculate shipping costs for your products. Your shipping rates will depend on the ecommerce platform you use and the products you offer. For more detailed information, read our blog article on setting up shipping rates. You can read the FAQ section on our shipping page for trickier shipping calculations. 
Depending on the order destination and fulfillment location, your customers might need to pay customs fees. While your end customer is responsible for these fees, we'd recommend communicating this directly so that they know what to expect. 
Regarding taxes, it's a good idea to have at least an approximate estimate of the percentage of your earnings that will go towards paying taxes. The exact tax rates and the types of taxes that you'll need to pay vary based on the location where you live. Most common are sales taxes, VAT (value added tax) on some orders going to the EU, and GST (goods and services tax) to all orders going to Australia.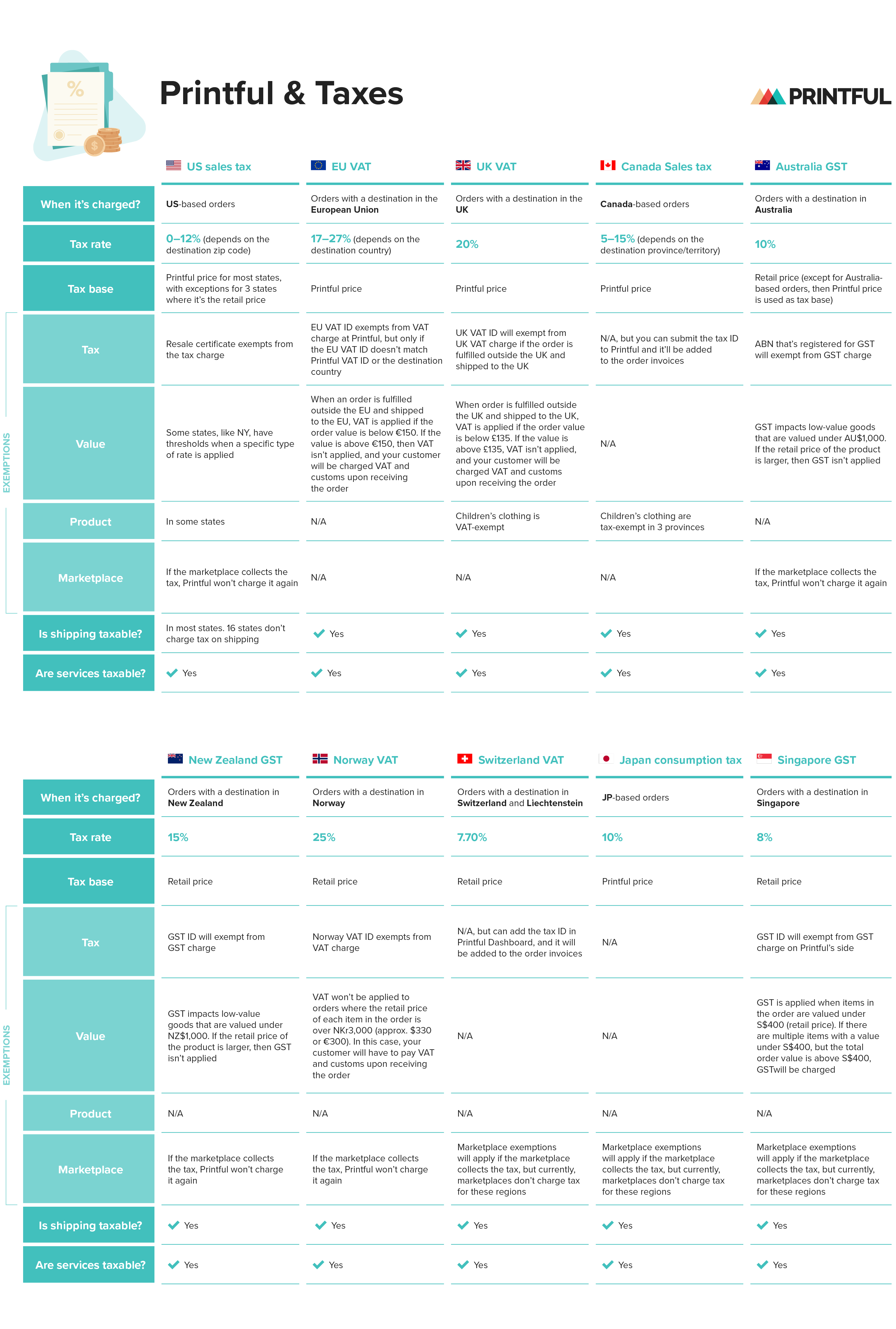 To download this infographic as a PDF file, click here. Source: Printful. 
It's important to keep these tax obligations in mind when assessing all the potential expenses to have a more realistic estimate of your future earnings. For more information on tax-related questions, consult with a legal professional.
Set up your store's taxes in three steps 

Use our step-by-step guide to understand your tax obligations, learn how to find professional tax advice, and set up taxes on your storefront.
Digitization fee
All embroidered garments and hats require a special embroidery file that's in a digitized format that our embroidery machines can read. When you submit your embroidery design to Printful, our design team will digitize it for a one-time fee—the digitization fee. The fee depends on the type and placement of the design, so the exact costs will vary.
A standard digitization fee for most designs is $6.50 per file. If you want to use hat embroidery files for apparel or vice versa, they need to be adjusted, and this costs $2.95 per file. Or, if you have a digitized 3D puff hat file and want to use it on an apparel, the file will have to be digitized from scratch because the 3D puff technique isn't available on apparel. It's important to keep these extra costs in mind when creating embroidery designs so you don't run into any unpleasant surprises.
Marketing expenses
Word-of-mouth-marketing is a very common way to start marketing your business. It's low-cost and highly effective to get that first sale.
But this tactic alone won't provide a sustainable stream of business to generate consistent revenue. That's why you should consider paid marketing as well and take these potential future costs into account. There are many different types of paid marketing activities, so it's entirely up to you which one you choose. These are the three most common ones:
Placing ads on search platforms (like Google or Bing)
Targeting social media users with ads based on their interests and interactions
Collaborating with influencers to advertise your products
Whatever activity you pick, make sure that you have a way to measure whether your marketing campaign actually worked and how much money it generated. This is what's known as ROI or return of investment. Once you start thinking about the ROI of your marketing efforts, you'll know how to efficiently spend your money for future campaigns.
5. Skipping important information
According to our Customer Support team's observations, there are three important pieces of information that customers often miss:
They forget to go through our Covid-19 page on fulfillment estimates. Even though most of our fulfillment is back to normal now, it's different to predict what may happen in the course of the year. Keep checking our Covid-19 page and take the time to study the updates. When any news hits, let your customers know as soon as possible to manage their expectations.
They forget that they can't sell copyrighted designs without payment and/or permission.  You need to have the licence to use, display, and resell copyrighted design. Giving credit to the author of the design isn't enough, you need the author's permission and a signed licensing agreement to get the license before you can sell a product that features it.
They forget to set up policies on their store. Store policies are important to an online business—they create a sense of security for customers when they're buying something from you. With policies in place, they'll know what to expect if something goes wrong with their order, or if the product doesn't fit properly.
Make sure you're familiar with Printful policies. This will help you figure out what to communicate with your customers. It's likely that some things you'll take on from our policies, but others you'll skip or adjust. For example, Printful doesn't offer refunds for buyer's remorse. But it doesn't mean that you can't do that! Just remember that this is now your store policy, not Printful's, and you'll be responsible for the fulfillment and shipping costs. 
Read our blog article with step-by-step instructions on which Printful policies you should copy and how to do that. There are also free templates that you can use for your store!