Beyond actually creating your shop on Etsy (and eventually your products), there are a few other nuts and bolts you'll need to take care of. This isn't exactly the most fun part of creative entrepreneurship, but it is important.
Business licenses
You might be asking yourself "how much money can I make on Etsy before I have to buy a business license?" That depends on exactly where you're located. Some cities in the US have rules that override state regulation.
Etsy itself doesn't require you to have a business license, but keep in mind that you may need to register for sales tax in your state or city.
Do your research and see what rules apply to where you live specifically. If you ship your products to people abroad, check whether or not sales tax should be charged to customers outside of your own country too.
Taxes and fees
If you're serious about turning your Etsy shop into an established business, you may be wondering "how much money can I make on Etsy before I have to pay taxes?"
Again, this is all going to depend on where you live. For US-based sellers, any income that you earn from Etsy will be considered business income and will need to be reported on your annual Schedule C tax form. Etsy will report your gross (or pre-tax) income via a 1099-K form to the IRS and it's important that you check that this matches your own income records when you receive it.
Read also: How to Start a Business in the US: Taxes and Legal Requirements Handbook
Since every country and state has different tax regulations, how much money you need to make on Etsy to have to do taxes will vary based on the country you're selling from. However, earning more usually means paying more taxes. The good news is that you'll be able to deduct expenses to lower your overall taxable income. This can be anything from the cost of materials used to make your products, any advertising that you've paid for, and even shipping charges. 
Learn more: Etsy Calculator—predict your Etsy fees and profit
You'll also need to be aware of the payment processing fees that a credit card processor will charge, along with the fees that Etsy charges for using their service. While there's no seller membership cost on Etsy (unless you opt for the Etsy plus plan), you'll be charged 20 cents for each item you list and there's also a transaction fee of 6.5% for each product that you sell. While these fees can all be written off as expenses, that's something you'll need to factor into your business budgeting.
If you've never had to deal with self-employment tax before, here's a quick example for you to work from:
During one year, you made $30,000 by selling your products on Etsy. This is your total before factoring in any expenses or taxes.



The cost of materials that you used to make your products was $10,000.



Your Etsy fees (listing and payment processing) were $1,400.



This means that your total business expenses came to $11,400.



To calculate your taxable income, use the formula:

Your taxable income for this tax year would be $18,600. This means that you'll only be paying taxes on this amount, not the whole $30,000 that you earned.
Shipping
Finding out how to offer free shipping and still make money on Etsy is an important part of becoming a seller. Customers love free shipping (in fact, 75% of them say they expect it on their orders). But free shipping can significantly cut into your profits if you're not careful.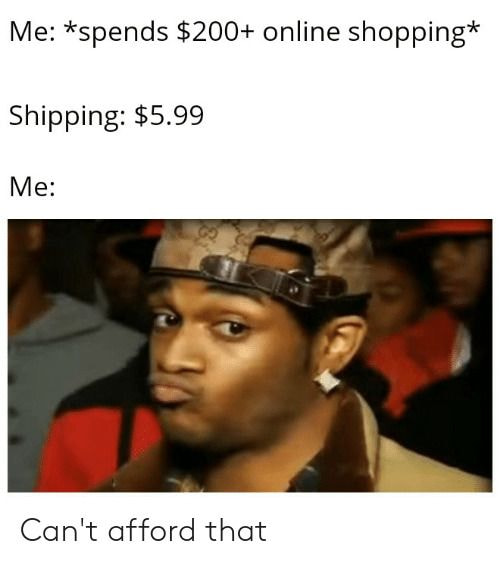 Source: loveforquotes.com
One way to handle free shipping is to include the shipping fees in the product price. You'll need to work out an average cost for shipping each product to long-distance locations compared to local customers to find a middle ground and fairly charge everyone for those products. Even if you're using Printful to ship your products, building this into your product cost means that you'll be able to keep more of your profit for every product you sell.
We wouldn't recommend providing free shipping to international customers, as those costs can add up very quickly. As you'll be charging the shipping cost to the customer, offering them a small discount when they order multiple products to acknowledge the higher shipping fee can be a great way to encourage overseas shoppers to buy from your store.
An important point to note: only stores with free US shipping receive priority in the Etsy search algorithm, so it's really only worth it to offer it to US-based customers. 
Starting to make money on Etsy with thoughtful marketing
With the basics out of the way, you're ready to launch your shop and start earning some income from your creative endeavor. How long it takes to make money on Etsy really depends on your effort, your brand niche, and a little bit of luck, but here are a couple of tips and strategies that you can try. 
Marketing and followers
There isn't a set formula when it comes to how many followers you need on Etsy to make money. It all comes down to good marketing and having a product that your target audience wants.
Make sure that you're tagging your products and writing keyword-rich descriptions. This will help the Etsy search algorithm highlight your products to potential customers who are searching for something similar. 
Tagging a product on Etsy means adding a word or short phrase that describes your item. Etsy matches tags with shoppers' searches to find relevant results. 
You can also make use of broad hashtags on your social media accounts to drive people to your Etsy store. Cross-promoting your products and store as a whole on your social media channels can help draw your audience in from different places around the web.
Collaborating with other sellers is also a good way to cross-promote your products to new audiences. You'll increase your store's visibility by getting your products in front of a new and possibly well-established audience. Not only that, but you'll also be seen as a trusted seller by that audience and other sellers, which is a great way to boost your name within the Etsy community.
If you do in-person events, make sure that you have business cards with a URL for your Etsy store printed on them. Alternatively you can add packaging inserts for your online buyers. Leaving a memorable impression on your customers can turn them into repeat shoppers. In other words, this can help you build a customer base.
Get creative when it comes to your marketing and try different approaches until you find success.
Read also: Etsy SEO: 5 Must-Do Steps to Help You Get Found on Etsy
Read also: 9 Successful Print-on-Demand Store Examples and What You Can Learn From Them
Products and stock
How many listings do you need to make money on Etsy? Well, that's also not an exact science. The recommendation from Etsy is to have at least 20 listings when you start your shop so that customers have a few different options to choose from and for you to gain some attention. But having hundreds of items isn't necessary and can even give your customers choice paralysis (where they're overwhelmed by the number of options).
So it's not just about the number of products you have in your shop, but how you make them different from each other and the products of other Etsy sellers. 
Make sure that all of your descriptions are unique for each product, even if they're somewhat similar items. Think about what makes the product special. Is it made from a specific material or can it be customized in a particular way? Think about how different audiences might be searching for these types of products and add those keywords and phrases into the descriptions.
Embrace your creativity (and make some money too)
Selling your products on Etsy is the perfect way to build a business, regardless of whether you're trying to become a full-time creator or make some extra cash on the side. 
As with anything, there's a little bit of trial and error involved, but isn't that half the fun of trying something new? Keep testing different strategies until you find what works for you and you'll soon start to see your Etsy shop pulling a profit.

Read next: How to Sell Printful Products on Etsy