2. Set up your account and profile
Once you've decided what to sell on eBay and how you're going to do it, you can set up your account on the site. 
There are two types of eBay accounts: personal and business. Personal accounts are for casual sellers or very small businesses, while business accounts are for those who plan to sell regularly on the site. According to a thread on the eBay Community, business accounts "may also be eligible for tax benefits and qualify for discounts on eBay fees."
Pick the account type that works best for you and set it up. 
First, hit the Register button on eBay.com. If you opt for a personal account, enter your name, email, and password. You can also register through an existing Google, Facebook, or Apple account. Creating a business account requires a bit more info. You'll need to enter your legal business name, business email, and phone number.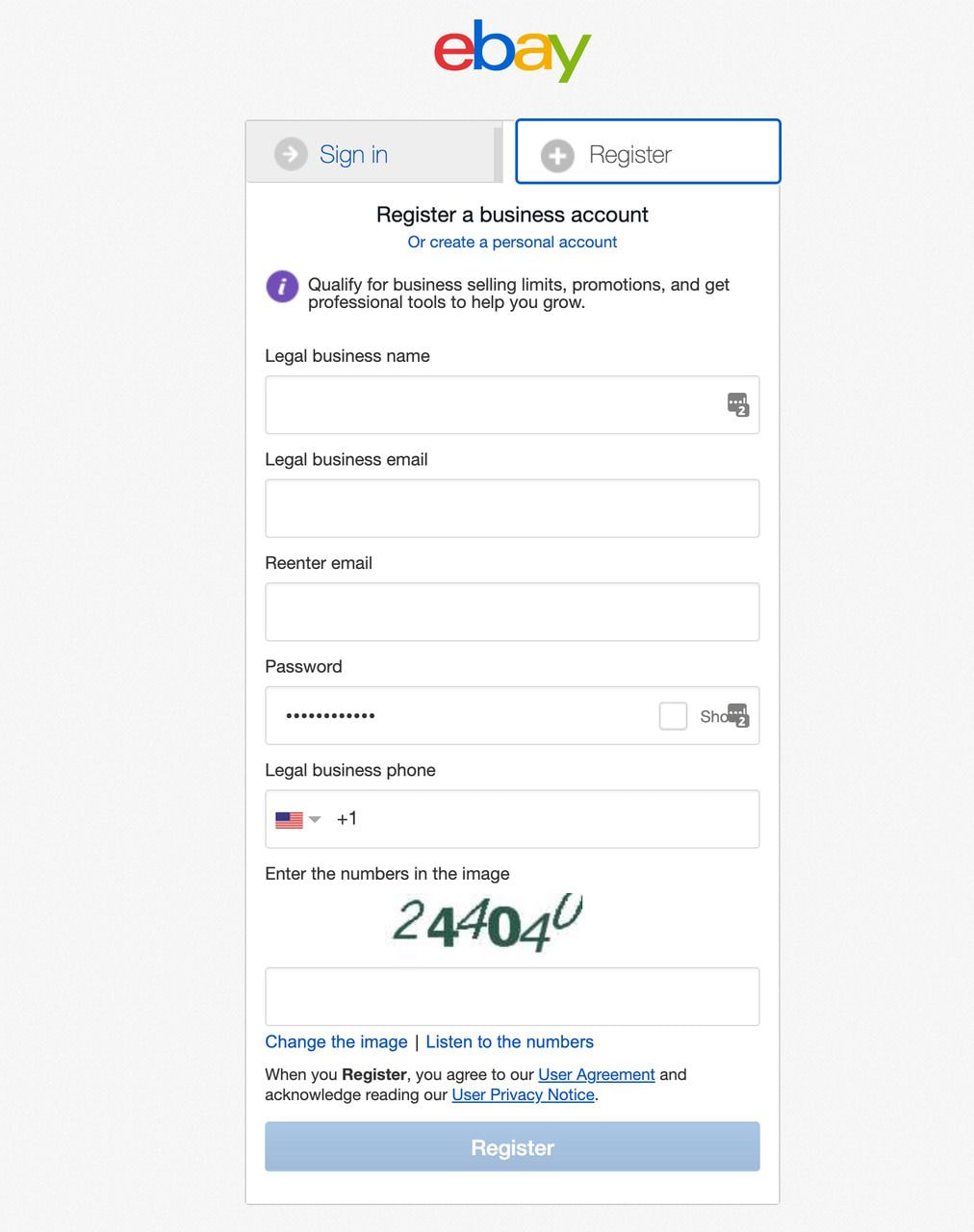 After registering, take a few minutes to create your eBay profile. Click on your username at the top left corner of the page to go to your profile. From there, click the Edit profile button that lets you add a quick description of yourself or your business. You can also add a cover photo and profile picture. 
Add as much information as possible to your profile to help cultivate trust with your customers and communicate credibility, so they'll have confidence in your store and want to buy from you.
3. List your products
When you're ready to list your items, click the Sell link at the top left side of the page, and you'll be taken to the Seller Hub. 
From there, click the Create listing button and click either Single listing or Multiple listing depending on how many listings you want to create. Single listing allows you to add a product listing individually. The Multiple listing is great for those looking into how to sell multiple items on eBay because it allows you to create multiple listings for products with similar information. They might have the same category, listing format, duration, or other similarities. 
Once you've made your choice, it's time to continue creating your product listing.
Tell eBay what you're selling
After choosing Single listing or Multiple listing, you'll be taken to the Create Your Listing page, where you'll be prompted to enter a UPC, ISBN, part number, or product title.
eBay will use the information you enter to categorize your item. For example, if you're selling a book, when you type the ISBN, eBay will suggest similar products in its catalog and give you the option to automatically populate the listing details. 
If you're selling an original product like a t-shirt with your design, enter the product title and select the appropriate category. In the example below, we entered "V-Neck T-Shirt" and chose a category from eBay's suggestions.
Enter basic product details
The next step is to enter your listing details. On this page, you'll be asked to fill out the following fields:
Title 
Subtitle 
Custom label (SKU) 
Second category 
Variations 
UPC
Condition
Upload photos
Next, upload photos of your item. eBay lets you add up to 12 images. You can upload them or copy them from a web address. The site doesn't allow photos with extra borders, text, or artwork.
Add item specifics
eBay also recommends adding specific details about your product. This could include brand, size, type, color, and more. These details improve your SEO  and help buyers find your items.
Read also: eBay SEO: How to Optimize Your Listings and Boost Your Cassini Rankings
Enter the item description
The next step is adding a product description. This is where you can describe what you're selling and offer complete and accurate information. For best results: 
Be concise
Use short paragraphs
Use eBay's mobile-friendly checker to make sure your site looks great for all your shoppers
Determine your listing format
Decide how to list and sell your products. You have two options here: auction-style or fixed price. 
When you choose to create an auction, you'll set a starting price and duration (i.e., 3, 5, 7, or 10 days). The highest bidder at the end of the auction will win the product. Selling with a fixed price is a lot more straightforward. You set a price for your products based on your costs and add that price to the field. 
Find the right price
Next, you need to make sure that you price your products well so you can make a profit. There's no one-size-fits-all pricing formula for every product, but here are few factors to consider:
The market and your competitors—an easy way to get an idea of how to price your products is to look at what other sellers are doing. Do an eBay search for items similar to yours and take note of their prices. 
Your costs and margins—if you have a business, then you're on eBay to make a profit. This means your retail price should cover your costs. For example, if it costs you $10 to make a product, your price point should exceed that.
eBay fees—it's important to remember that sourcing and manufacturing expenses aren't the only costs you incur when you sell on eBay. The marketplace charges fees when you list and sell products. 
How much are eBay fees? The short answer is, "it depends." eBay charges two main fees to sellers on the platform: insertion fees and final value fees. 
Insertion fees are the costs of listing products on eBay. Each month, eBay gives you up to 200 free listings (more if you're subscribed to eBay Stores). Once you've used your insertion fee allowance, eBay will charge you per listing and per category. The fee is $0.35 per listing for most categories. This means that if your item is listed in two categories, you'll pay an insertion fee for the second category. Insertion fees are non-refundable, so you won't recoup them even if your item doesn't sell. 
The final value fee is charged when your item sells. It's calculated as a percentage of the total sale, including the product price and shipping and handling costs. The final value fee varies per category. According to eBay, most categories have a 10% final value fee with a maximum of $750 per item. 
The bottom line: before setting your prices, it's worth asking, "How much does eBay charge?" Double-check what eBay is going to charge you, and don't forget to factor these costs into your pricing.
Read also: Beginner's Guide on How to Price Your Products Online
Set up payment options, sales tax, and returns
When you're done setting your pricing, it's time to input the information required for you to get paid. You can do this further down the page in the Payment options section. 
eBay is owned by PayPal, so it's the default way for you to get paid on the site. Simply tick the PayPal box and enter your email address to receive payments. 
Next, set up your sales tax by entering your state and tax rate. We recommend consulting a tax expert to find out about your obligations.
Then, you'll set up your return options. Here, you can indicate whether or not you'll be accepting domestic and international returns.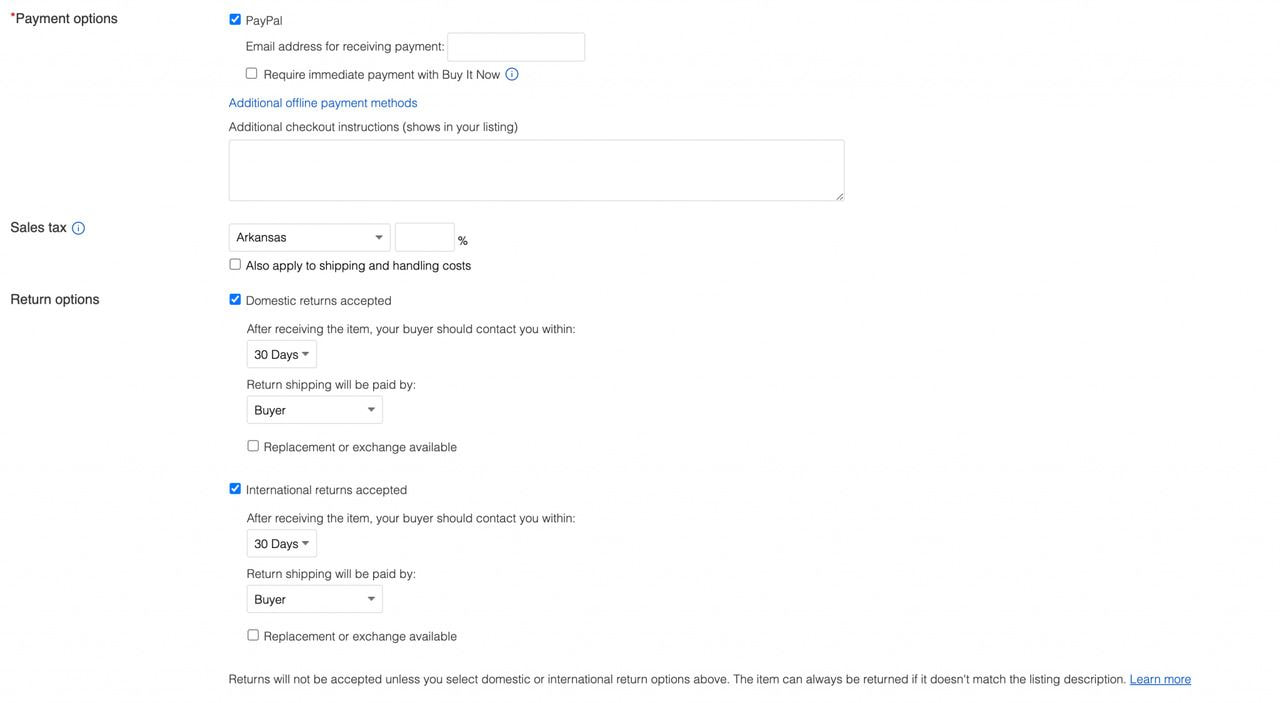 Finalize your shipping details
In this section, you'll enter your shipping details and the shipping fees associated with your listing. eBay gives you the option to charge a flat cost to all buyers or to calculate shipping expenses based on the buyer's location. 
You'll also need to indicate your handling time which could range from the same business day to 30 business days. Below that, you'll enter your package's type, weight, and dimensions. 
If you're dropshipping or using print-on-demand, make sure you've studied the resources provided by your vendor to determine the best way to handle shipping.
After you've completed and previewed your listing, you can submit it to the site. Keep an eye out for your listing on eBay's search results, and bear in mind that it can take up to 24 hours for your listing to appear.