How can you monetize TikTok? The platform offers creators the possibility to monetize their videos through the creator fund, but many brands and creators are making money on TikTok by attracting advertisers, sponsors, and brand deals for their posts. 
The brevity of TikTok videos makes the platform the perfect tool to viralize content. As TikTok's user base grows, it gives businesses a great opportunity to reach new audiences (mostly ages 13–25). Let's check out some stats that show why it's worthwhile using TikTok for business. 
By 2021, TikTok was downloaded over 2 billion times, with 800 million active users. 
TikTok has users from over 150 countries.
A quarter of the platform's users are under 29 years old, meaning the audience consists mostly of teens and young adults. Since Generation Z uses their smartphones over 15 hours a week, it's no wonder many brands are eyeing this demographic.
As most people rely on their smartphones for everyday activities and entertainment, the platform is expected to grow even bigger. Companies that use TikTok for monetization purposes can still tap into the early starter advantage.
The average American TikTok user spends 850 minutes a month on the platform, opening the app an average of eight times a day and spending 45 minutes on the platform daily. 
35% of marketers plan to use TikTok for influencer marketing in 2021 in the US, UK, and Germany. 
43% of TikTok users feel advertising on the platform blends seamlessly with native content.
How much do TikTokers make?
Want to know how much top TikTok influencers make? Here's the data: 
What you need to get started
If you want to use monetization options on TikTok, you need a Pro Account, which gives you the visibility and analytics necessary to track the performance of your content. The Pro Account also provides insights into the audience to help make the most of their experience. Once you have your account, it's time for the next steps. 
Understand your audience
Don't overlook this step—it's the most important one whether you want to create content for TikTok or use it to promote your brand. Research who your potential audience is, and gather the data about the age, gender, and location of your audience. If you're just starting out and need a clue, look at your competitors. Who are they marketing to? 
Another helpful tip is to create a buyer persona. Think about who your typical customer is, what they like, and what are the needs that your product will fill. Then craft your campaign geared toward attracting this customer's attention.  
Once you have your account, you can discover the right community to create your content for. How?
Use the search bar at the top to search for hashtags relevant to your product or service. 
Use the Discover option. By tapping the magnifying glass at the bottom of the page, you'll see videos related to your profile. 
For more information, watch this video on discovering communities, creators, and trends on TikTok.
Let's say you want to promote personalized dog apparel. Go to the Discover magnifying glass and search for hashtags such as #dogapparel and #personalizeddogapparel. Watch the videos that come up and you'll find a community of people interested in your market. Not sure which hashtags to use? Tiktok has a feature that lets you search for the most popular hashtags in your market.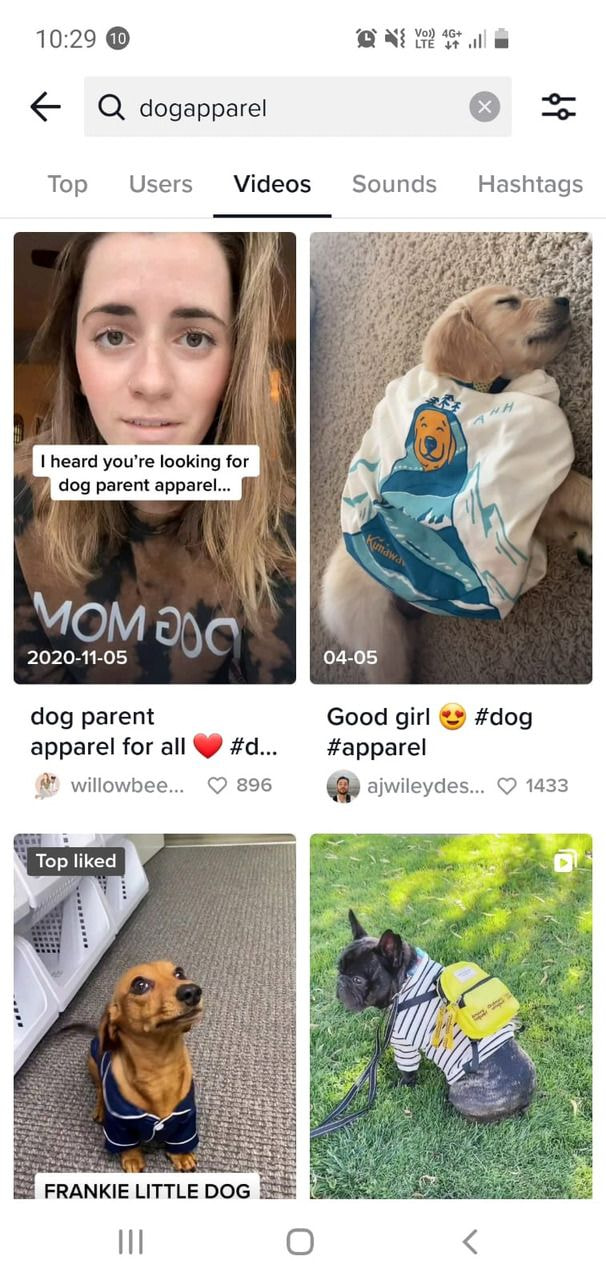 Post content people want to watch
Once you have your customer profile, it's time to create content. Your content should be related to what your audience is looking for. Following the example of personalized dog apparel, you could post informative videos that show different dog outfits and how-to videos that show how you can personalize a cape or sweater. 
Your videos should have a similar aesthetic, so your followers can recognize your videos instantly. Most of all, your content should be interactive. To achieve that, add questions, challenges, and quick polls. If you listen to your followers, talk to them, and interact with them, you're creating a community. 
Being a TikTok Creator
TikTok allows pro users to earn money by participating in the Tiktok Creator Fund. You'll need at least 100,000 followers and 100,000 authentic views in the last 30 days. You need to be from the US, UK, France, Spain, or Italy, and you have to be at least 18 years of age.
If you don't qualify, don't worry. Many companies and individuals are making money on TikTok with a smaller but highly engaged audience. 
7 ways to make money on TikTok
1. Go the influencer way 
True influencers have an organic base of followers attracted by their insights on a particular topic. They affect the audience's buying decisions due to their relationship and credibility with the audience. 
Companies hire influencers to use their videos to promote brands or products and influence sales. In a recent example of a sponsored influencer campaign, influencer Jasmine Gonzalez did a short ad challenge with her brother for BangEnergy drink which worked well for her target audience. 
2. Advertising 
If your target audience is under 20 years old, your brand can have tremendous success with TikTok. One of the most successful campaigns was the Guess Jeans Fall'18 hashtag campaign. #InMyDenim attracted millions of people including celebrities, taking selfies in their Guess denim products. 
When advertising on TikTok, you can:
Reach teens where they consume content
Increase brand recognition
Improve audience engagement 
Read also: Advertising on TikTok: Why Brands Should Care About It
How do you start advertising on Tiktok? The platform has an ad offering very similar to Facebook Ads. Here are the key steps: 
Create a TikTok Ads Account. To qualify, you need a TikTok business account. 
While creating your Ads Manager Account, you must set up your Advertising Objective.
Create your ad campaign.
Set up your Ad Group.
Here you can choose to limit your ads to TikTok or target-related applications, like India's Vigo Video, BuzzVideo in Japan, TopBuzz in the US, and BR and News Republic worldwide. If you choose the automatic placement option, TikTok will calculate where you can get the best results with your ad and place it there. 
Set up your campaign details.
Design your Ads. 
How much does it cost to advertise on TikTok? Although TikTok doesn't disclose brand campaign rates, you need to put a minimum budget of $500 for self-service ads. For ad groups, the minimum is $20.
TikTok Ads formats
Biddable ads: These allow you to bid to place video ads in the main feed. You can target the ads by age, gender, and location.
Formats that require a TikTok Ads Manager Account: 

Brand Takeover: This large format ad appears when users open the app. It may only show a single advertiser per day. 
Hashtag Challenge: Here you can create viral user content by uploading a video with a unique challenge and encouraging your audience to participate. Promote your brand by creating a unique hashtag for the challenge.
Branded Lenses: This ad type allows you to create custom augmented reality filters to incorporate in your content. 
Influencer package: When you choose this format, TikTok will set your brand up with a TikTok influencer related to your brand target audience, who will create sponsored content. 
3. Sell merchandise 
As of August 2021, you can sell your merchandise on TikTok if you have a Shopify account. What you can do is use the platform to promote your own or popular merchandise, for instance, with a print-on-demand business. 
You can make money on TikTok by selling your own merch designs. If you have a growing follower base on TikTok, you can use a print-on-demand dropshipping service to sell your very own merch. Learn more about dropshipping here. You can create a design, find a print-on-demand service, and promote your merchandise in your TikTok videos. If you have a Shopify store, you can integrate directly with TikTok. 
Learn More: 50 Merch Ideas + Examples
What can you sell? Custom hoodies, custom t-shirts, posters, mugs, water bottles, backpacks—the list is endless. Popular YouTubers have been doing it for a while, so why not TikTokers?