Facebook Ads for beginners: turn engagement into purchases
While Boosted Posts focus on generating engagement, Facebook Ads optimize your post for conversions like purchases or registrations. With Facebook Ads, you also get to add a call-to-action button to your post and more detailed audience targeting than with Boosted posts.
Contrary to Boosted Posts, Facebook Ads won't appear on your Facebook Page. Save your Facebook Page feed for useful content, and leave your openly promotional messages for ads.
To make your Facebook Ads work, audience targeting is everything. You can spend thousands of dollars on a promotion, but if you're showing your ad to people who don't care, you won't get any results.
There are two kinds of audiences we use for Printful and Startup Vitamins Facebook Advertising campaigns: lookalike audiences and audiences based on interests. Here's how you can use them for your own social media marketing.
How lookalike audiences work
If you've been running your store for a while, you should probably have a list of your customers' and other store visitors' emails from checkout details or email subscriptions. If you don't, keep reading, I'll tell you about an alternative in a bit.
You can upload the email list on Facebook and create a lookalike audience—aka people who have similar interests and behaviors as your existing customers.
You'll need at least 1000 emails to create a lookalike audience. The bigger the list, the higher quality audience you'll get. Here's what you do:
Download your list of emails as an Excel or .CSV file, or simply copy the email addresses from your list
Go to Audiences in your Facebook Ads Manager
Click Create Audience and tick the box Customer List
Upload your email list and name the audience
Check which columns you want Facebook to use and click Save
As a result, you now have a lookalike audience of people similar to your customers and email subscribers.
What if you don't have a customer email list?
You can also create lookalike audiences with the help of Facebook Pixel. To do that, you'll first need to install the Facebook Pixel on your store so it can track your visitors and conversions. Once the Pixel is up and running, you can create audiences from your store's visitors.
Here's how it's done:
Go to your Facebook Ads Manager, choose section Audiences
Click Custom Audience > Website Traffic > Anyone who visits your website, and pick your website from the list
Generate a new Lookalike Audience from the Custom Audience you just created
Now, you've created a lookalike audience of people who are similar to your existing store visitors.
If you want a lookalike audience that targets people who are interested in specific products, segment your visitors by product categories or pages they visit. To do so, in step 2, select People who visit specific web pages instead of Anyone who visits your website. Then add URL keywords from your specific product pages.
For example, we want to create an audience of Startup Vitamins visitors who are interested in posters. In the URL keywords field, we type in "poster". This groups all visitors of pages that contain the word "poster" in their URLs:
In addition to the options above, you can also create lookalike audiences based on:
Your Facebook Business Page followers
People who've engaged with your posts
People who've completed a particular action on your website, like adding a product to their cart or payment information
How to create audiences based on user interest
Another way to put together an audience is by targeting people with specific interests. And I really mean specific. Look for audience interests that closely match what you're trying to sell.
Let's imagine you're selling merch with cute puppies. The interest in "puppies" is not specific enough. There are about 27–30M Facebook users in the US alone, aged 18–65+, who like puppies.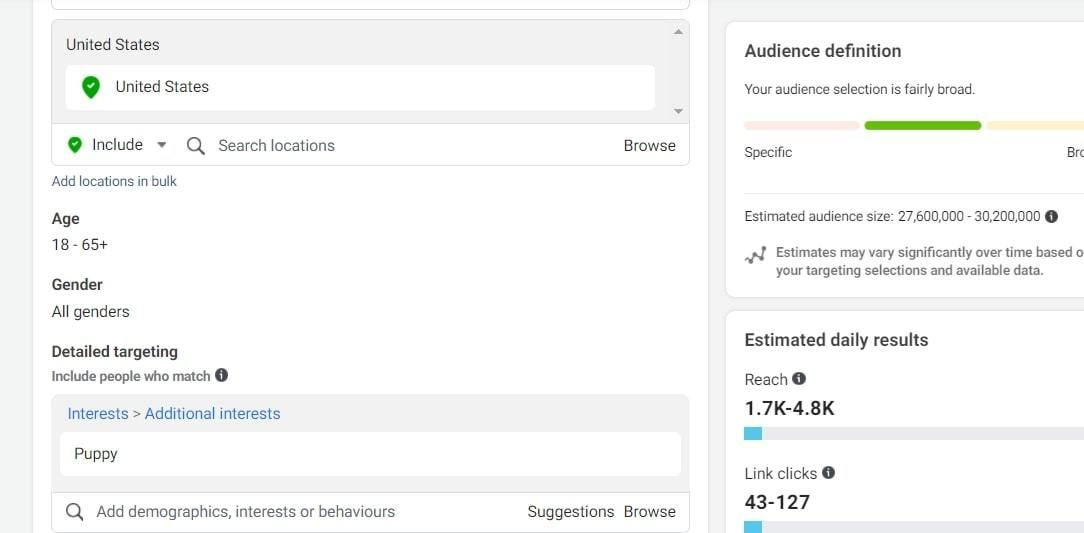 Think about who your puppy lovers are and combine various interests, demographics, and behaviors to make your audience more specific: 
How old are they?
What's their family status?
What do they like?
What books do they read?
 You get the idea. Narrow down your audience as much as you can using the fields Facebook Ads offer you, otherwise, you'll be wasting money stabbing in the dark.
In the example above, we've limited our target audience to 25–40-year-olds who love puppies, are interested in dog training and walking (read: serious interest in dogs), and are also dog owners (read: could potentially shop on your store). This narrows down our audience to 5–7M.
You might be wondering, isn't 27M better than 5M? Not necessarily. You have a higher chance of selling your product to people already interested in buying it.
For Printful, we like to mix things up by combining the two audiences (and you might too).
Combining lookalike and interest-based audiences
Another way to make your targeting more specific is to blend interest-based and lookalike audiences. When we create advertising campaigns for Printful, we tend to use this tactic. This way we get a larger audience that's still specific enough to convert well.
Let me show you:
I want to advertise Printful to Shopify users interested in our services. If I select an interest "Shopify," Facebook finds 8.4–8.8M people in the US, aged 18–65+ who are interested in Shopify.
But who are these people? They could be anyone—business owners using Shopify, Shopify employees, or even ecommerce enthusiasts in general. So we can't be sure all those 8.4–8.8M people are actually interested in selling print products.
Here's what I do:
First, I select a lookalike audience based on our customers. Then, I narrow it down with the interest "Shopify":
Now our target audience for the campaign is just 96.4–101.4K. We can be confident that these thousands of people will actually be interested in selling t-shirts and other products because they're similar to our existing customers and are interested in Shopify.
What makes a good Facebook Ads audience
I don't think anybody can fully answer this, but here's what works for us.
If we target people who are already familiar with our brand (our Facebook followers or existing customers), interest audiences can vary from ten to a hundred thousand people. Meanwhile, for lookalike audiences, the optimal audience size for us is around 1M in the USA.
Whatever's the size of your audience, you don't want it to be too specific or too broad. If it's too specific, your reach will be very low; if it's too broad, you'll reach a lot of people indifferent to your product. Try to define your audiences so that they're somewhere in the middle.
Best copy and visuals for Facebook Ads
For your Ads to convert, they need attention-grabbing and convincing. This relies on how good your ad creatives are.
When you look at a Facebook Ad, you can see there's a visual hierarchy: the bigger the element, the more important it is. The visual, being the largest one, is the most important one, then headline, then post caption, and finally the CTA button.
A captivating image commands the audience to read the copy, and a convincing copy leaves no other choice but to click the button.
Which images work best for Facebook Ads?
We've tested a lot of images at Printful. Here are the types of visuals we've found to perform the best in our ad campaigns.
1. High-quality product photos zoomed in. You want your product to be clearly visible both in News Feed ads, as well as on the right-hand side. Here you can compare how an ad looks in the News Feed and on the right-hand side:
2. Photos of people pointing or staring at you. It feels like the person in the image is actually addressing you. Eye contact and pointing increase positive feelings towards the product and encourage shoppers to buy it.
3. Colorful images that stand out in the feed. You've only got 2.5 seconds to catch the attention of users scrolling their news feed on desktop, and just 1.7 seconds on mobile—that's the amount of time people spend on one piece of content in their Facebook feeds. Here's a quick example made with bold colors and our mockups:
Which copy works best in Facebook Ads?
You've made up your mind about the visuals, time to close the sale with a good copy. When it comes to text, here's what's worked for us.
1. Social proof. Nothing works better than showing there are people who've already bought your product, trust you, or recommend you to others. There are different kinds of social proof you can use in your ads, from quotes to numbers. Here's an example of using social proof in a Printful ad:
2. Deal highlights. Create a special discount code for customers coming from Facebook Ads and highlight that discount code in your copy. For us, it works best if we mention it right in our headline.
It's difficult to separate ad visuals from the copy since they work together to persuade people to click. Test different combinations of images and captions in one campaign and see what works and what doesn't. We usually create at least 6 different ads for each campaign with 2–3 different image and copy variations.
Final thoughts
About 10 million businesses worldwide use Facebook to market their brand. The competition is tough, so it's easy to waste tons of money when you're just starting out and aren't sure what you should be doing.
Even though the stakes are high, there's good news, too. On Facebook, the winner isn't the one with the biggest budget, but the one with the smartest approach (work smarter, not harder, right?)
Make every cent you spend on ads count by selecting a clear-cut audience. Don't be discouraged if that means targeting audiences with a "smaller" amount of people. A smaller audience is going to direct you to the people who are actually interested in your products and brand.