Use vertical space
Nothing is ever really lost to us as long as we remember it.

Lucy Maud Montgomery, Canadian author
Take advantage of vertical space and create a gallery wall. A truly exciting display is acquired over time, instead of bought in bulk for decorating purposes. It's a visual representation of your interests, memories, and goals in life. Think of it as a mood board to showcase your favorite moments, greatest ideas, and biggest inspirations. It's also an elegant upgrade to the quintessential dorm decor element—the photo wall.
For a clean and formal aesthetic, arrange the wall decor in a grid. This layout works nicely in dining rooms or as office wall decor. To make it look extra classy, stick to a single format and frame color. A unified theme for all featured pieces will make the collection more put-together.
If, however, you want a more personal style, go for a salon-style arrangement. This composition allows for more variety in both the content and format of the wall decor. Mix up posters with photographs or canvas, add an odd three-dimensional item or two, play with the colors and shapes of your frames.
Products:
Consider ordering custom pieces—bring your own ideas and designs to life with personalized posters, or canvas.
| | | |
| --- | --- | --- |
| | | |
| Display boxes | Clocks | Mirrors |
Remember to mix up artwork with functional items. A clock is often a  great design element, while mirrors create the illusion of a bigger and brighter room. Display boxes might not seem like a conventional design element, but they allow to create a three-dimensional look to the wall. They can be used to display all sorts of items, starting from little ornaments that can't find a place anywhere else to a hefty collection of tickets, postcards and other mementos.
Design ideas:
Start with what you have:
Develop your favorite photos with friends and family.
Gather the most meaningful concert, flight, and other tickets.
Cut out any newspaper mentions of you or your favorite idols, events, and places.
Use the paper sleeves of your favorite books or show off your favorite album art.
Display beautiful magazine covers or create inspirational collages.
Create a mural.
Frame your diploma and other certificates.
Delve into your interests:
Showcase your favorite places with a print of a scenic landscape or a chic-looking map.
Boost your creativity and productiveness with inspirational quotes.
Highlight your love for music with a framed page of sheet music, the soundwaves of a meaningful song, or the track listing of your favorite album.
Tips and tricks:
Set your biggest pieces in the middle and arrange the smaller pieces around it.
Arrange the images so they create a specific focal point. It could be a color combination, an image, a texture, etc. Avoid leading the eye towards windows.
Create sets of matching wall decor combining two or more panels.
Protect your wall art from direct sunlight, otherwise their colors will get washed out. This especially applies to watercolors.
Personalize your work station
Be steady and well-ordered in your life so that you can be fierce and original in your work.

Gustave Flaubert, French author
More often than not, getting (and staying!) productive during work seems like a task on its own. Although there are some distracting factors that are hard to prevent, your surroundings are well within your control. Studies show that, when done right, a person's work environment is a great productivity booster. So, whether you're creating your own home office or looking for office decor ideas to spruce up your study corner, remember that a well-thought-out design will help you in the long run.
Products:
| | | |
| --- | --- | --- |
| | | |
| Pegboards | Whiteboards | Blackboards |
To save up room, take advantage of vertical spaces—use pegboards instead of cabinets, hang up notice boards and whiteboards or blackboards for reminders, to-do lists, and other quick notes.
As for your desk area, jazz it up by customizing small everyday items—start with a custom coffee mug. Don't forget about your phone—give it a unique look to showcase your personality. Use stickers to give your notebooks a personal touch or put them on your computer for all to see.
Design ideas:
Separate your working area visually by designing it in a contrasting color scheme. Consider using another wallpaper or, if you prefer office wall decor, adorn this particular area with motivational posters. 
On the other hand, tie it in with the rest of the room—be sure to include some common threads such as similarly colored desk decor or matching textures.
Keep it simple and minimalistic—it will make you feel more productive.
Decorate your workspace with functional ornaments.
Tips and tricks:
Pay attention to the corners of the room—it might be the case that they have just enough space for a desk.
Invest in alternative furniture that has double use or at least get something that packs away easily, so, if the need arises, you can pack up your workspace and delegate the are for something else.
Install organizational systems that you feel comfortable with—prioritize functionality over design. If you have limited space, consider exchanging the usual cabinet drawers for pegboards.
Most importantly, remember to set up proper lighting. If you can manage it, use natural light as much as possible. Studies find that natural light improves productivity and alertness, as well as prevents you from feeling drowsy.
Get yourself a standing desk. It is proven to increase productivity and generally helps avoid work-related injuries, for example, back pain and headaches.
Separate work from leisure
A library is a good place to go when you feel unhappy, for there, in a book, you may find encouragement and comfort.

E.B. White, American author
Amidst all responsibilities and hectic social life, there's hardly any time for mindful rest, especially when there's no place where to enjoy some leisure time. A dedicated space for peaceful activities such as reading a novel, catching up on the latest episodes of your favorite show or pampering yourself, serves as a reminder to take a breather.
Products:
Coziness is of the essence. Fill this space with comfortable furniture, lots and lots of pillows, and a warm blanket to tuck yourself in.
Design ideas:
Go nuts with pillows—make it a space of absolute comfort. If it ends up doubling as a quick place for a nap, you've done it right.
Create an oasis and surround yourself with house plants. Think of it as your safe space away from all the noise of the city, university, work and social life.
Tips and tricks:
Think of places around your house that would be perfect for a small getaway—perhaps you can repurpose a broom closet under the stairs or fill up an empty corner.
Utilize your windows—get as much natural sunlight as you can.
Keep everything related to your leisure time activities nearby—a small collection of books, a pair of knitting needles and yarn, or creative tools for restful doodling, journaling or arts and crafts.
Accessorize in style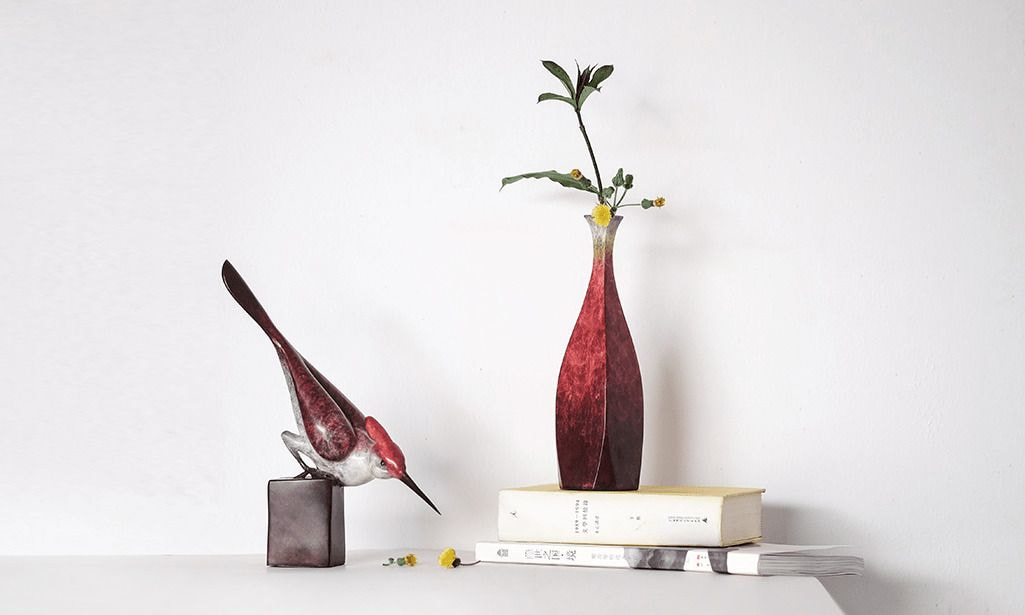 It has long been an axiom of mine that the little things are infinitely the most important.

Sir Arthur Conan Doyle, British author
To finish everything off, sprinkle some smaller decor around the place. Display any memorabilia from your travels or that remind you of your loved ones, customize them to fit your aesthetic.
You can also create ornaments yourself. Perhaps you're an avid knitter or have dabbled in pottery—use your creations to decorate your living space. Not only will it cost you less than store-bought room decor, it will also give your home a more lived-in feeling and showcase both your style and craftsmanship.
Lastly, add more books! Many bookworms will vouch that there is nothing more beautiful than a full and organized bookshelf. Even a small stack of books creates a more sophisticated atmosphere, so take a look at this list of the best coffee table books and get inspired.
Products:
| | | |
| --- | --- | --- |
| | | |
| Candles | Books | Accessories |
Trinkets can be both decorative and functional. Get something that allows you to showcase your custom jewelry, bring attention to your already chic stack of books with ornamental bookends, create a statement piece with picturesque candles. 
Design ideas:
Follow a color palette. Mixing up gold and rose gold might work out, but adding silver, black, and other colors might end up looking too scattered. The same goes for the fabrics and materials you choose.
Set a common theme to match your items—get inspired by elements of art styles (e.g. Art Nouveau florals) and movements (e.g. Art Deco patterns), or specific artists (e.g. Mondrian's color palette).
Scatter your knick-knacks around the room to tie in different areas together.
Tips and tricks:
Recycle old items to create truly unique room decor—put some wiring in a camera and turn it into a lovely desk lamp, or apply heat to a vinyl record to create a tray.
Repurpose everyday items into decorative pieces. For example, a mason jar is a great starting piece for a custom-made candle or, if filled with fairy lights, a light source.
Match your accessories with a specific color palette by giving them a new coat of color. The easiest and most effective way is to spray-paint them—it ensures full and seamless coverage. If you wish to block out a section of the item, use painters' tape.