Read more:
Sublimation vs. Screen Printing: Which Method Is Best for Your Business?
Guide to Cotton, Polyester, and Blended Fabrics
5. Other t-shirt printing methods
Now that we've learned the basics about the most prominent printing methods out there, it's time to  explore other options. Who knows? Maybe the solution you've been looking for is off the beaten path.
Plastisol transfers
Plastisol transfers would fall under the screen printing category, but with one extra step: the design is applied on a special printing paper..
How do plastisol transfers work?
The first part of the process is exactly like screen printing, and uses a stencil and a mesh screen. But, instead of printing directly onto the garment, the design is first digitally printed on plastisol transfer paper that will then be printed on your t-shirt using a heat press.
This extra step makes the process suitable for a set of specific needs, but the main one is that Plastisol Transfer allows you to get set up for t-shirt printing in advance. Meaning, you prepare the transfer paper once and then you can print the design on a garment whenever you need in a fast, simple way.
Pros
Suitable for tougher fabrics (like fleece)

Durable prints with similar quality to screen printing

A good option for live printing, or printing in front of an audience
Cons
Adds an extra step to the process

Requires knowledge to avoid mistakes

Not ideal for large orders since it takes more steps and materials, which makes the process slower
Heat press printing
This is probably the least expensive way to start your adventures in printing. All you'll need is a regular inkjet printer, special printing papers, and a relatively cheap heat press machine.
How does heat press printing work?
In many ways, it's similar to dye sublimation, but the science behind it is a bit different. In both methods the design will be printed on transfer paper and then transferred to the fabric using heat and pressure. During the heat press method, the design will simply adhere to the fabric, creating a layer on top of the t-shirt. With dye sublimation, the ink becomes part of the fabric, actually dying the t-shirt.
Pros
Probably the least expensive method around

A simple and straightforward process

Suitable for small quantities and complex designs
Cons
Not suitable for fabrics with heat sensitivity

Low-quality results on darker fabrics
Vinyl cutting (or vinyl printing)
Vinyl cutting, also known as vinyl printing, is a versatile variation on the heat press technique and is suitable for both mass printing and smaller quantities.
How does vinyl cutting work?
First, the design is cut from a vinyl sheet using computer-aided design (CAD) software and a laser cutter. Then, the design is transferred to the t-shirt using a heat press machine. You can choose from a variety of vinyl colors, and the result is a vibrant, high-quality print.
The downside? It tends to make the fabric lose flexibility, which makes vinyl printing better suited to smaller prints, like branding, icons, or text.
The vinyl printing process. Source: Custom One
Pros
Durable and high-quality results

Versatile method—works for small and large quantities
Cons
Requires extra equipment (the vinyl cutter)

Not suitable for big prints
Discharge printing
This is almost like a reverse t-shirt printing technique: instead of applying ink to the t-shirt, you remove the dye from the fabric to create a negative print. It's not the most flexible method, but the result is a unique vintage-looking print.
How does discharge printing work?
Discharge printing will only work with natural fabrics (like cotton). The fabric color also plays a role—some colors will bleach better than others. The design can be applied to the t-shirt using screen printing, but the ink is mixed with a special product that will remove the original dye and replace it with your chosen color.
Discharge printed t-shirts. Source: Magna Colours
Pros
Soft-to-touch prints with vibrant colors

Suitable for complex and simple designs

Unique retro effect
Cons
Works only with natural fabrics

Inconsistent results—colors might vary from print to print
Belt printing
This method allows you to apply your design all over the t-shirt, including the collar and sleeves. The result is a seamless all-over print, but the process is not the most cost-effective, which means this technique is not very common in retail.
Belt printing machine. Source: Systematic Automation Inc.
How does belt printing work?
Using a belt printing machine, the design is applied to a fabric roll, which works like a variation of screen printing. Usually, it's a one-color design to keep the fabric soft. This technique can be combined with others, like traditional screen printing, to complement the design. Once printed, the roll of fabric is cut to create the t-shirt.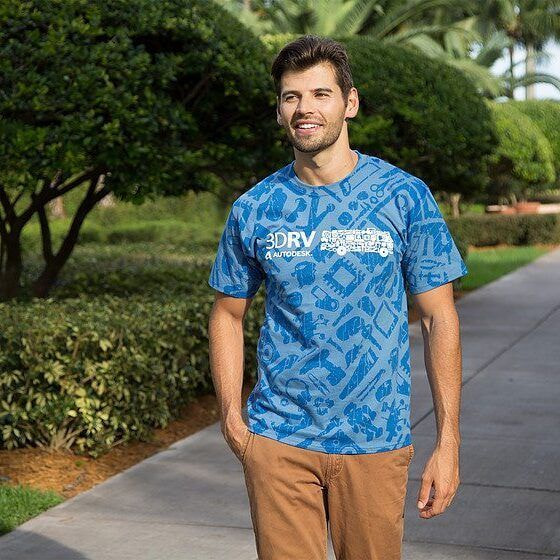 Belt printed t-shirt combined with other printing methods. Source: Superior
Pros
Cons
Requires expensive equipment

The amount of colors might be limited
Old-school printing methods
Finally, let's talk about more traditional customization methods that don't necessarily require machinery and allow for homemade personalizations.
Resist dyeing
This is the technique behind the world-famous tie-dye effect. The idea is to prevent the ink from coming into contact with some sections of the fabric, creating a textured look as the final result. In tie-dye, parts of the fabric are tied together before dipping it in dye. Older traditional techniques like shibori and bandhani consist of a similar process.
Apart from manual methods (like tying and clamping), you can use substances like waxes and other chemicals to prevent the ink from penetrating parts of the fabric.
Tie-dye t-shirt combined with embroidery. Source: Printful
Airbrushing
If you like to experiment and exercise your creativity, this can be a really fun t-shirt printing option. Although it requires a lot of technical mastery, airbrushing has very specific results reminiscent of graffiti. The process is pretty straightforward: you'll need an airbrush gun, paint, and a stencil, and you're ready to get down to work!
It's a good idea to do test run first as not every fabric and color suits this technique. It's also important to remember that airbrush prints are not durable—the ink tends to come off over time. Other than that, this technique can help you create very unique looks.
Airbrush t-shirt. Source: Etsy