Creative conference swag
Wanna go that extra mile to help your event attendees remember your company? Maybe it's time to think outside the swag box and pick original items that'll make an impact during your next conference. Find conference swag ideas with an original flair below.
9. Stickers
Let's kick off this list of creative swag with some of the hottest branded products at the moment: stickers. Cost-effective and easy to distribute, they're typically made from either paper or vinyl, and aren't as common as other conference goodies. Attendees will love something different, especially if it's a fun and unique design.
10. Bomber jackets
Bomber jackets make me think of high school football, which instantly brings up feelings of a strong team. How about bringing this spirited vibe to your event by offering these jackets as conference swag? Make them even more original with an all-over print or an embroidery design on the back.
Source: Little Scandinavian
11. Duffle bags
What if instead of swag bags, you offer duffle bags? It's the perfect swag item for out-of-town conferences, for example. Make yours stand out with amazing artwork, like this one by art teacher Joshua Kirkham.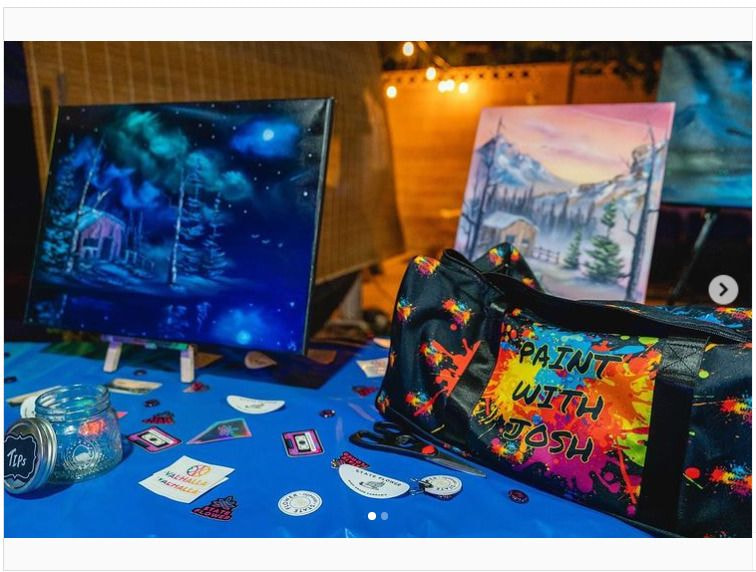 Source: Instagram @paintwithjoshk
12. Fanny packs
Since making a comeback in 2021, fanny packs have become a stylish accessory for everyone from artists to social media influencers. And they're bound to be a hit with conference attendees too!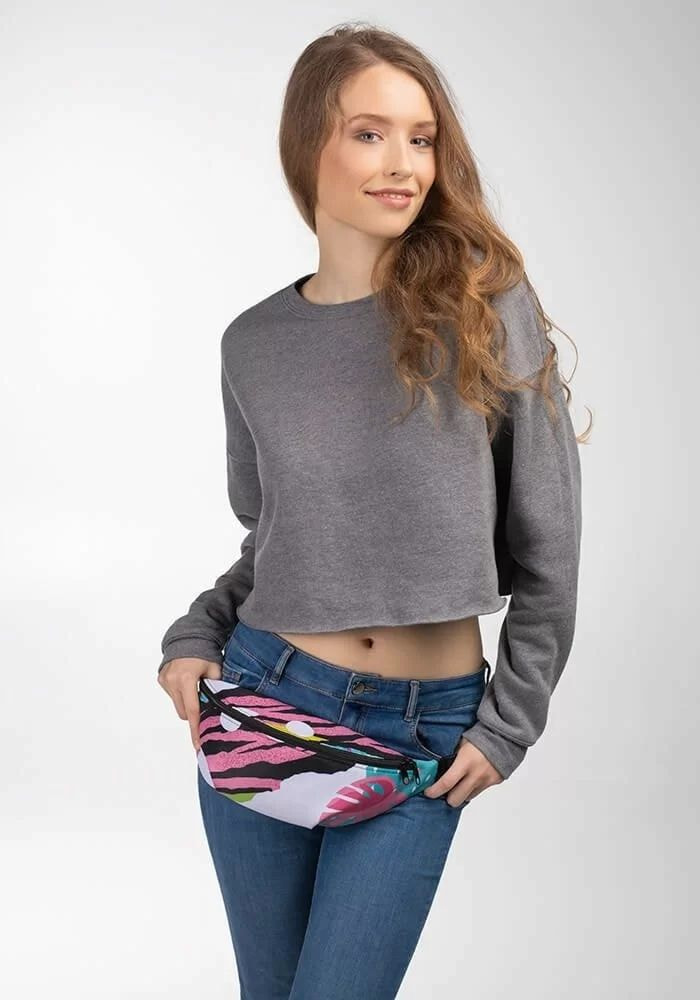 Source: Printful
13. Visors
They're trendy, they're fashionable, they're functional. We're talking about visors. This useful headgear can provide sun protection during outdoor events, and help attendees be comfortable yet stylish. As a bonus, your brand can continue to gain visibility during summer vacation.
Source: Printful
14. Tumblers
Think of tumblers as the funky cousin to mugs and water bottles. Tumblers are super practical, suitable for hot and cold beverages, and offer a large customizable area for your brand or event logo.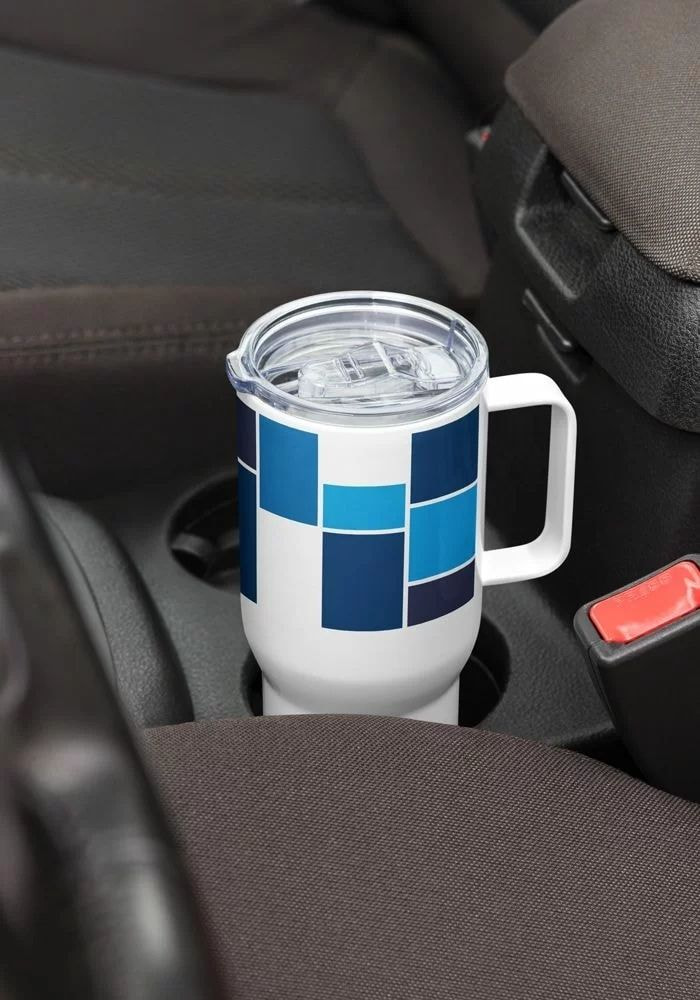 Source: Printful
15. Glasses
Speaking of creative drinkware, let's not forget about glasses. Wouldn't it be great if your brand was invited to the party? Personalize custom drink glasses with your logo or a creative design and cheers!
Source: Instagram @moosehead 
16. Postcards
Postcards provide an excellent canvas to make the main message of your conference memorable and aesthetically pleasing. In addition to on-brand designs, add engaging content like event highlights, key takeaways, or QR codes that link to exclusive media as a way of enhancing each attendee's experience.
Source: Creative Heart Conference
17. Towels
You may be thinking: towels, really? Well why not? Depending on your brand's niche, or the conference theme/location, this could be an awesome pick for attendees that'll easily be used again and again for summer pool days. Including additional items like relevant beverages and/or sunscreen to your swag bag will add that extra touch of fun.
Source: Instagram @lacroixwater
18. Candles
Candles aren't traditional conference swag, but they do create a cozy atmosphere and add ambiance to any room. We love this example from Avery.com with a customized label that reads "We believe in stress-free service," linking the relaxing swag item to a benefit their brand offers potential customers.
Source: Avery.com
19. Pet-friendly items
If your brand is related to pets, you can offer pet-friendly items as conference swag goodies.  After all, people love spoiling their furry friends. Pet bowls and bandanas are some fun ideas.


Source: Instagram @panerabread
20. Backpacks
Backpacks are a personal favorite as conference swag. They're so functional! Conference attendees can use these to carry their laptops, notebooks, and personal belongings while giving your brand the exposure you deserve. 
Personalize custom backpacks with your logo or be bold and try an all-over print design that's in line with your branding.
Tech conference swag
Another category that certainly deserves its own section is tech swag. From local gatherings to international conferences, tech swag can be useful for all kinds of events: workshops, panel discussions, networking opportunities, exhibitions, etc. Let's check out some interesting suggestions to get your gears going.
21. Laptop cases
Giving out custom laptop cases elevates the professionalism of your swag and offers recipients a practical item they'll use all the time. It also shows your careful consideration in choosing swag items that match the tech-savvy lifestyle of most attendees nowadays.
Source: Printful
22. Mouse pads
Good swag ideas don't need to be expensive. Add an elegant, fun, or smart design to a Mouse pad and it's a great swag item for anyone who relies on a computer for work (i.e. lots of people). Presented as a solo item or in a complete swag box, it's a functional item that attendees will appreciate.
 

Source: Printful
23. Earphone cases
Earphone cases are a super unique swag idea that'll really stand out. Although there isn't much space for personalization, you can still make an impression with your logo or some small creative designs. 
It also goes well with other items, just take a look at the example below from Optinmonster.
Source: Gemnotes
Eco-friendly conference swag
When we talk about eco-friendly conference swag, we mean giving out items that have a reduced impact on the environment. Choosing more sustainable items will show your company's commitment to the planet and responsible gifting.
24. Tote bags
Tote bags are resistant and can be used over and over, reducing the use of plastic bags and enhancing your brand awareness at the same time. Extra points if they're made of organic cotton.
25. Eco hats
Offering eco hats to your conference attendees will take your brand recognition to the next level. This style from Printful is made of 100% organic cotton and you can personalize it with an embroidered design that'll turn heads.
Source: Printful
26. Organic beanie
Beanies also make excellent practical swag items. Not only do they provide warmth and comfort but Printful's ribbed beanies made from 100% organic cotton will appeal to eco-conscious attendees.
Source: Printful
27. Eco sweatshirts
Sweatshirts are a classic choice for conference swag. You can elevate their appeal by opting for an eco-friendly version crafted from 100% organic cotton. This sustainable choice is sure to be a hit with conference attendees. Here is some design inspo from The Sill.
Source: Instagram @thesill
28. Organic drawstring bags
Organic cotton drawstring bags offer a fantastic eco-friendly alternative to traditional tote bags. These bags are perfect for carrying notes and personal items during the event but also serve as versatile and sustainable accessories long after the conference is over.
Source: Printful