Top 10 conversion rate optimization tips
Whether you sell online courses or elite cars, you have to define your purpose. Once your goals and target audience are clear, your business will convert successfully and move in the right direction.
The following tips will help hone your vision and convert visitors into customers.
1. Optimize your product pages 
Product pages allow online customers to learn more about your products and increase conversions. To improve buying capacity, think about what you want to see when shopping online (without having the chance to touch or try out the product).
The best thing you can do is provide more details about your products and optimize them for conversions. What do we mean by optimize? Make them SEO-friendly by using keywords, including features, and crafting a unique description.
Here are some things you should consider:
Add detailed images, videos, or demonstrations to show the product and its qualities. Make sure to help customers visualize products better and let them understand what they're getting.
Source: Amazon
Write persuasive product descriptions. Describe the product in vivid detail and explain how it can help customers solve their problems. Go into detail about its functionalities, benefits, qualities, and specs. 

Add keywords relevant to your products in the page's title tags and descriptions. With SE Ranking's keyword tool, you can look for different keywords with different intents for similar product pages. Remember that user intent should be the primary goal behind the search query—it's what users want to achieve when searching for something. The closer it matches up to what you're actually offering, the higher the chances of conversion.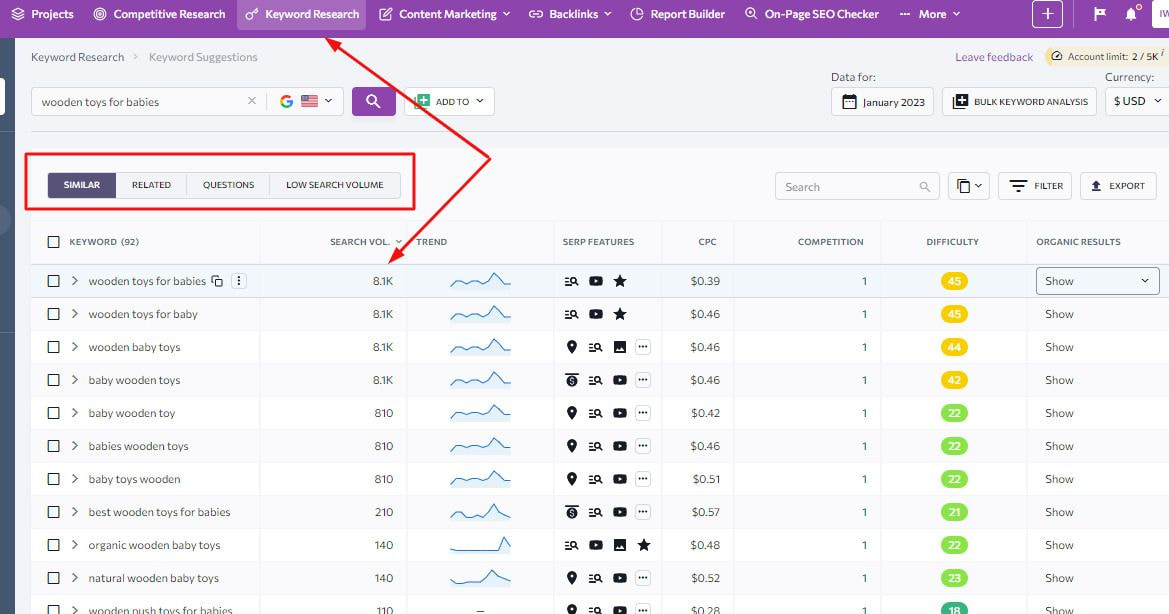 Source: SERanking
Publish FAQs for your products. Remember, your customers can't touch the product, so they'll have questions and you'll need to respond quickly to their queries. Answer common questions, and include useful info like your return policy, and what makes you different from competitors. 

Be upfront about pricing. If you offer products that many other online shops sell, be transparent about your end price (after taxes, shipping, etc.) and highlight the benefits customers will have in buying from you. Being straightforward will also increase the likelihood of repeat customers.

Design clear CTA buttons above the fold (or, the upper half of a web page that's visible without scrolling down) to help visitors easily notice and click on them.

Add a wishlist button. It's a great way to make people return and purchase products later if they aren't ready to pull the trigger just yet.
Source: Asos
Source: Amazon
Your product pages are one of the main parts of your website that helps sell or convert visitors into customers. In ignoring these important elements, you won't be able to reach solid conversion rates and will lose potential customers.
2. Create Strategic CTAs
Every landing page has a purpose: lead generation, sales, or gathering contact details. Using the right CTAs can help with your goals and move your target audience to the next step.
To better convert visitors, it's crucial to find the most viewable place for CTAs and position them correctly. According to research from Google, putting CTAs right above the fold is the best place for visitors. The placement of CTAs is also essential for mobile devices.
HubSpot recommends including CTAs within the first few paragraphs of your blog posts to motivate visitors to take action. Why? Visitors prefer ignoring banner-like information on websites because they are looking for something specific and don't want to get distracted.
Source: Hubspot
So, to find the best place for your CTAs, you'll have to experiment. As you know, each website and business is different—and so is the behavior of your target audience. Test out what works for your business and what placements make the most sense for your target audience.
3. Improve your website speed
For businesses to be successful online, having a fast website is a non-negotiable. Website speed influences search engine rankings, user experience, and repeat business. The faster your website is, the more conversions you'll get—and more revenue coming in. 
Don't take my word for it, here are the stats:
A one-second page load time delay could cost ecommerce giants like Amazon $1.6 billion in sales each year. 

Walmart noticed that every one-second improvement in load time increases conversions by 2%.  

Google's research on mobile page speed shows that every second delay in page load time increases the probability of a bounce rate by 32% (or, how many visitors leave a site after only viewing one page). 
What you can do:
Using a fast, reliable host is one of the easiest ways to improve your page load time.

Use Google PageSpeed Insights to see your website's performance and check for potential issues.
Source: PageSpeed Insights
Optimize the number of tracking scripts and plugins on your website with Pingdom.

Use a Content Delivery Network (CDN) to improve customer experience (it ensures quick loading of content by delivering it from the closest location to site visitors).

Learn about features like Srcset and the <picture> element to choose the right image size for different devices automatically.

Remove unused HTML, CSS, and JavaScript from your website.

Avoid too many redirects and broken links. 

Monitor outlier pages with many views but high load times on Google Analytics.

Use lite embeds to load your videos directly on your web pages.
Slow-loading sites negatively impact user experience and organic rankings. Investing resources in optimizing your website speed and performance is essential. 
The best part? Many of these tips are DIY. If you can't do it, find someone with tech skills to help you speed up your site. 
4. Optimize for mobile devices
You're sure to lose sales and conversions if you don't optimize your website for mobile devices. Why? Because by 2025, mobile ecommerce sales will generate over 44% of all ecommerce retail sales.

Considering all this purchasing power, you need to provide a great mobile experience to take your business to the next level. Use online tools to check out your mobile-friendliness. If it requires minor tweaks or an entire redesign, it's time to optimize your business for mobile.

Source: Mobile-Friendly Test
5. Adopt a user-centric approach
Conversion rate optimization is about different things for different people—and about clarity and empathy. People need specific information, compelling evidence, and a clear CTA. That's why you should explore top questions from potential customers and answer them on your page. Mariano Rodriquez from LawRank thinks that questions without answers kill conversions. 
One of the most effective ways to determine customers' top questions is by using chatbots or live chat support software. Interact with your audience and help them get quick answers to their questions. Talking directly to your customers streamlines the process. 
Do keyphrase research to see the most common questions and concerns about your niche. You can also view Google search terms in Google Analytics to identify new terms with high potential.
Source: Google Analytics
Once you make a list, prioritize the most pressing points, and answer questions in order of importance. Identify the value your landing page or product delivers to customers and include a prominent CTA on each page. And don't forget to make sure it's one page—one goal. Otherwise, it'll result in distractions that aren't helpful to visitors.
6. Increase your on-site trust and credibility
No matter what you're selling, trust and credibility are essential to turn casual visitors into customers or to get them to sign up for a service. According to recent research, trust signals can help bring in more sales and improve conversion rates. People want to know that your business or store is safe and legit, and their credit card information will be protected when shopping online.
Looking for ways to improve your website's trust signals should be the backbone of your conversion rate optimization approach
Verified payment systems
Displaying your payment systems and the verification tags for your site can earn a potential customer's trust. According to this resource, simply presenting trust seals like VeriSign on your site increased conversion rates by 42%. Help people feel secure and add recognized marks of trust like McAfee, TRUSTe, VeriSign, PayPal, and, of course, Symantec SSLs.
Source: Blue Fountain Media
Free shipping
Nowadays, customers want to see the total shipping cost when checking out. Transparency about this is essential to building customer trust. 
And if your website doesn't include free shipping, they'll most likely purchase elsewhere. So having a free shipping policy is super important for increasing conversions. Not convinced? Here are some more reasons to offer free shipping on your site (and ways to play it up through marketing).
Source: Wayfair
Social proof
Showcasing social proof also increases trust and helps move purchasing decisions along. Customer reviews and star ratings serve as a signal to your leads about the quality of your product or service. Give your current customers coupon codes or discounts to encourage more to leave positive reviews.
Source: Victoria's Secret
And if your business received any awards or certifications, customers would love to see them. These types of distinctions further prove your expertise and authority. 
Source: SERanking
Return policy
Another thing you should do is to provide a great product return policy. Don't promise too much, but do make it as easy as possible for customers to return products. Including a reputable and effective returns procedure will help you build trust, make people more likely to complete a purchase, and convert them into customers.
Source: Victoria's Secret
7. Optimize the checkout process 
Creating a seamless customer checkout experience is the final touch to your website's buying process. If it's too long and complicated, you risk losing customers on the checkout page. Customers should feel comfortable and at ease checking out. 
Here are some key things to consider:
Make sure your checkout form is short and easy to understand. 

Allow users to checkout as guests. Don't force them to sign up for an account just to buy something.
Source: eBay
Avoid showing pop-ups that can distract users at this stage.

Offer different payment options. Digital wallets like Amazon Pay, Apple Pay, and PayPal Express can help users quickly and securely sign in with their accounts and instantly make a purchase.

Implement "buy now pay later" on your website to allow customers to pay for items at a later date.
Source: Victoria's Secret
Make the Checkout and Add to cart buttons visible and easy to find on your site.

Add a progress bar to your checkout process to show customers where they are in the process and how long it'll take to complete their purchase.
There are different flows for ecommerce sites that you can evaluate, but you'll want to test out the checkout process and tailor it to your customers' needs and behavior.
8. Optimize your website navigation 
Users want logical websites that'll help them find what they need with minimal effort and clicks. Making your website easy to navigate is essential for getting more conversions on both desktop and mobile. The simpler your navigation experience is, the likelier it is to lead users to take the desired action (making a purchase).
Add filters to category pages to help people easily navigate and find the right products. Research different questions customers ask about products and create category filters based on them (for example, price filters or size filters).
Make your website search function frictionless. In most cases, people who use the search bar want to buy or act—they're looking for something specific. Optimize your autocomplete suggestions for better conversions.
Source: Wayfair
Add all the essential pages to your sidebar and footer to generate more traffic. You can also include inbound links in your blog posts that'll lead back to your landing pages.
Website navigation can make or break the user experience, so use logic and simplicity to create a solid navigation system.
9. Use visual content
Adding visual content to every stage of the sales funnel will improve your conversions and boost sales. It's essential to include original images and graphics of your products or services to give visitors context and insight. 
Visual cues help visitors quickly navigate your page and establish a visual hierarchy (elements are arranged strategically to show their order of importance and guide users to a desired action). That way, visitors to your site will be able to understand the information presented more easily. You should include arrows, lines, and pointing fingers to direct users in the right direction. 
Source: Instapage
Short product videos are another excellent way to provide helpful information on using your products and showing them in action. It also allows you to showcase your perspective and vision to help deliver genuine excitement and passion about the product. 
Creating visual materials can take effort, time, and money. To stretch your budget, use design templates, stock images, and royalty-free videos from sites like Quicktools by Picsart, Envato Elements and  Depositphotos. 


Source: Depositphotos
10. Conduct A/B tests on your landing pages
A/B testing allows you to identify the best design, content, and functionality for site visitors. You can quickly test different versions or elements of your landing page that can affect customer behavior. 
Here are some places where A/B testing can be especially effective:
Website design elements

Social proof

Content offers
Before you start A/B testing, learn more about your target audience and build a roadmap that'll guide you through what to test and in what order. Once you analyze customer behavior, create the best hypotheses about your website and how you want to improve user experience.
You can use Google Optimize to simplify your website testing. It's a free tool for small businesses that comes with Google Analytics and will help you quickly do your A/B testing in-house.
Source: Google Optimize 
The bottom line
Conversion rate optimization is a never-ending game. If you want customers to buy your products or services, increasing ecommerce conversion rates needs to be a top priority for your brand. Take these smart tips and apply them to your business. Make sure to constantly explore and test out new ways to see which tactics perform the best.
Have you tried any of the tips mentioned above on your website? Share your best conversion rate optimization tips with us in the comments.