Research what's available to you
Governments and companies alike are starting to offer relief. Research what's available in your area and what applies to you and your business. Start with Shopify's compilation of social relief measures by country.
Here are some other offers that might help you run your business: 
Etsy is investing in offsite ads and offering merchants extra time to pay the bills.
Shopify now offers extended free trials, gift cards, live webinars, local delivery and curb-side pickup.
BigCommerce has created several ecommerce and coronavirus focused resources to help businesses navigate this new environment.
Adobe has enabled distance learning globally for schools impacted by Covid-19.
Wix has created an informative guide for business owners.
Canva offers coronavirus prints and social media templates.
Stay current
The news is changing every day. Follow current updates (while taking breaks when you feel overwhelmed), acknowledge what's going on in the world, and adapt your strategies. Here are the categories you should consider when looking through your store.
Your products
The fastest declining ecommerce categories show that people are quick to adapt to changes, and your store should be too.
So, just like you might rotate your products based on seasons and holidays, see how your products tie in with the current events. With people avoiding crowds and beaches, rash guards might not be a bestselling product.
Instead, put your efforts into the products people are buying now. Expanding or highlighting your home & living category while everyone is spending time at home makes sense. Case in point: US retailer Anthropologie and its Cozy-At-Home collection.
The collection gives Anthropologie's customers an opportunity to browse through a selection of products that might make their living space comfier— anything from incense and mugs to scrunchies and journals.
Creating topical collections is a great way to put a spotlight on products your customers are looking for.
Amazon's front page also highlights the product categories that can be enjoyed while staying at home, like decor, digital and audio books, and board games.
If your main focus is apparel, follow the news on shopping trends emerging all around the world. For example, retail chains such as Walmart report that their sales for tops are increasing, while sales for bottoms are not. 
British retailer Asos is always quick to react to fashion trends. Early on in March, their main page already displayed loungewear and smart top collections for people who care about their at-home outfits.
Get inspiration for your catalog by researching the activities people do when they're at home. It could be anything from reading to baking and working out. Perhaps now's the right time to create home workout outfits. To make the launch more interesting, add your favorite workout routine to the product description, campaign emails, or social media posts.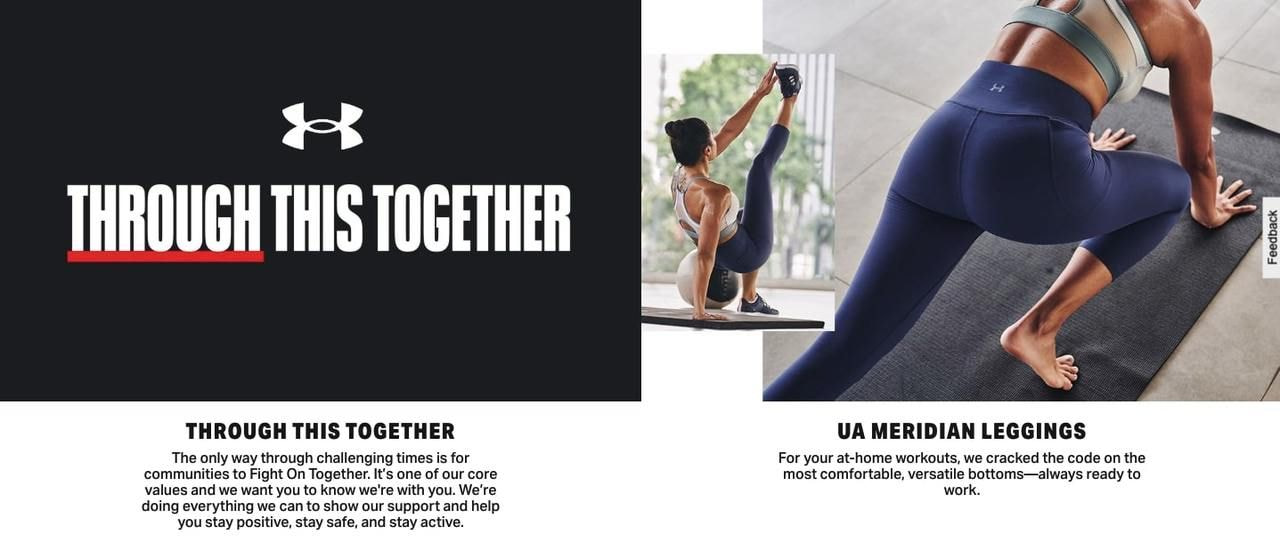 Your messaging
You don't have to mention Covid-19 in every single marketing material, but be sensitive to what people are experiencing and do acknowledge that things are moving slower than usual. Now might not be the time to make jokes about getting sick, or promote an all-over skirt as the perfect date night outfit. 
But you can still have some fun with your messaging and make your customers crack a smile. Just like Brixton headwear did in their most recent campaign.
Engage with your followers by recognizing that everyone is now facing a different reality. For example, H&M created an #AtHomeWithHM hashtag to build a stronger sense of community and stay in touch even when being apart.
Your finances
Now's also the moment to take a critical look at where you're investing your money. Even if the crisis hasn't affected your finances at the moment, think in the long term. Save where you can to make sure you get through any potential difficulties with less hassle:
Your website and tools. Do an audit of your website and stop spending on whatever you don't need right now. For example, if your email platform plan charges per emails sent, you can send out less emails and downgrade to a cheaper option.
Your campaigns. You can also run an audit of your marketing campaigns. Got a low-performing Facebook ad? Stop running it. While you might not want to drop all of your marketing activities, you definitely want to focus on the platforms that work.
The changes you make now don't have to be permanent. Think of them as precautions you can reverse after the situation stabilizes. But while there's so much uncertainty, it's better to think twice before spending your budget.
Communicate with customers about delays
First of all, assure your customers that you're still accepting orders, and follow updates from Printful and any other providers you work with so you understand what's going on.
 

Follow this FAQ for up-to-date news on Printful production, products, and shipping. Study the information, communicate to your customers what they should expect, and send them extra love for supporting your business.
While Printful is a white-label service, it's a good idea to let your customers know that you work with a print-on-demand dropshipper and that you're communicating with them about any updates.
Second, let customers know about updates in shipping delays as soon as you can and proactively manage their expectations about order fulfillment under the given circumstances.
Make it clear to your customers that both fulfillment and shipping are currently expected to take longer. To avoid miscommunication, double-check that you're providing the estimates in business days as Printful does.
Be ready to update your site info and messaging more often than usual. The faster you react to the changes and the more transparent you are about the impact of this "new normal" on your business, the more likely it is that your customers will hang in there and wait for their orders.