Think about where you shop online. What brings you back again and again? What makes you loyal to one ecommerce site instead of a competitor?
You might think it's the prices or maybe product selection. And while that all may be true, great online stores also share a few common qualities. Not only are they well-built and able to handle plenty of traffic — a must in 2018, when digital commerce is rising over 20% annually — they're also beautiful to look at and easy to get around. Here are five ways to be sure your store meets these requirements.
1. Create a consistent look and feel
Your brand matters. Making your brand stand out requires carefully choosing specific design elements and fonts, and then applying them consistently so your blog doesn't feel distinct from your store.
Think of your favorite brick-and-mortar store. Even niche sellers separate products into distinct sections. What ties these sections together is the look and feel of the store itself — the paint, the racks, the employee uniforms and more. Shopping experience on your online store should feel similar. Typefaces, banners, and backgrounds should be consistent throughout.
Gaucho Sur sells classic women's wear inspired by the "gaucho" cowboys of South America. Made in California and Peru, the black-on-white logo design remains consistent throughout the site and store. You also see just two clothing models and the extras — a "manifesto" that explains the brand and a history page revealing the flair of the gauchos of yesterday and today — use the same banner colors and style.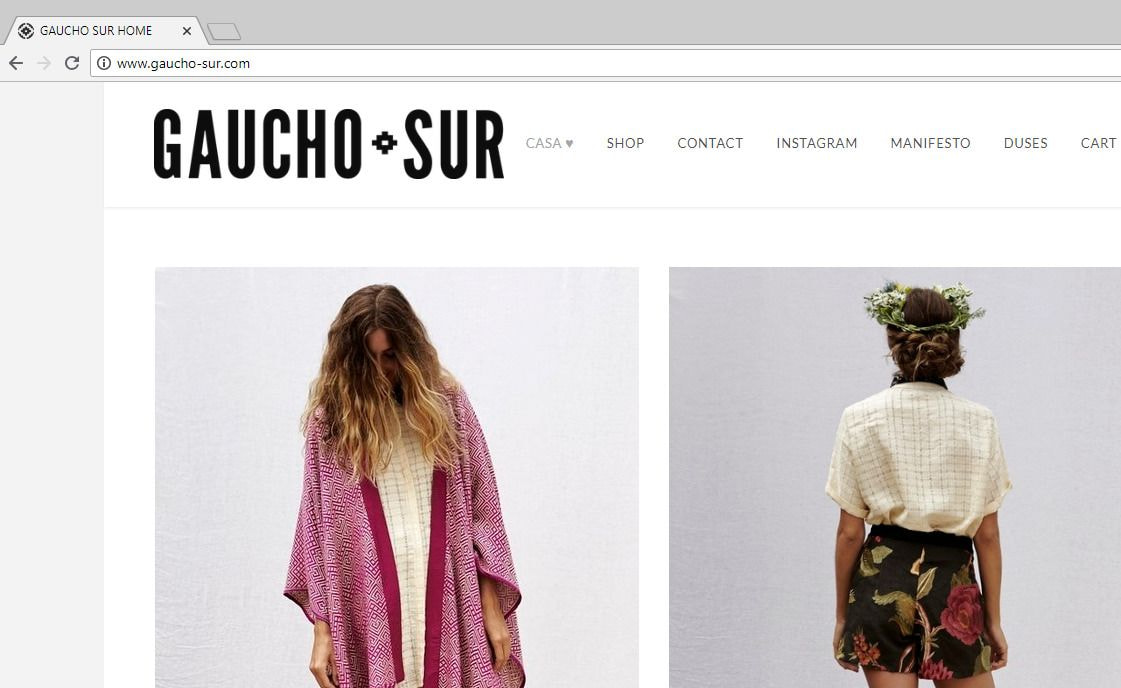 Even the favicon to mark the page in your browser matches the mark in the headline. An embedded Instagram page also preserves the banner while the highlighted photos reflect what you'll find at the store, making the photo network an effective tool for marketing Gaucho Sur's wares. (The brand has 2,460 followers as of this writing.)
2. Use color strategically
Use color to highlight specific text or areas of your store. A simple example: use a red box around sale products and call it a "red tag" sale on products you want to move. Impactful design and use of color can net you sales you might otherwise miss.
Leather moccasin maker Beautys and Gents actually uses red throughout its entire store. When a product is selling fast, the company puts a bright red warning near the shop button: "Only a few left!", prompting browsers to take action.
3. Improve your navigation scheme
Complicated navigation can cost you lost customer interest and even sales. Include drop-down menus on every page or have a table of contents in the left sidebar. And be sure to include contextual links.
What's a contextual link? A link to a product you've mentioned elsewhere. Say you're writing a blog post about a new shoe supplier you've added to your store. Include a link to the entire collection to make browsing and buying from your digital shelves simple.
Allku Pets offers a clever example in their blog post about a visit to Chicago's Anti-Cruelty Society. "From offering a discounted vet clinic, and safe-house for the pets of displaced people, to training classes (for both human and pup), the Anti-Cruelty Society really does do it all!", write co-founders Gabriela Landazuri and Adrian Varga.
What they don't mention is that the cute pups profiled in the post are modeling their handmade collars and leashes. (Allku works with Ecuadorian artisans to produce each custom-made bohemian design.)
Sometimes the simplest approach is best.
For Brooklyn-based jeweler Blair Lauren Brown, a left-side navigation bar on every page of her site includes a pull-down for her various collections so visitors can shop for pieces on every page. But it's on her "Featured Products" page where she gets creative. There, Brown includes quick links to custom jewelry and pieces under $250. She also categorizes jewelry cleverly, turning photos of set pieces into links — just click to reveal each collection.
4. Write clear headlines
What are you really selling? Ask yourself this question at every page of your store, because the clearer your headlines, the more likely it is you'll draw customers in. Detailed and engaging headlines are also more likely to be SEO-friendly. Say your store just started carrying Jimmy Choo shoes and you're running a promotion to attract new customers. A headline that says, simply, "Jimmy Choo shoes on sale!" could end up ranking in a Google search and draw traffic to your online store.
At the Naked Goat Soap Company (named so because its products are infused with "no dyes, no additives, no hardening chemicals – simply naked")  founders Heather and B.J. Long coined the phrase "farm to shower" for their soaps, playing off a popular search phrase: "farm to table." And the headline for their featured products page couldn't be more clear or compelling: "Orders over $50 ship free." Try to avoid buying multiple products after reading that.
ReFURbished co-founders Hilary Baldi and Laurie Grangien have found a perfect headline to describe the niche for their handbags made from restored fur coats: "Luxury with a conscience." The rest of the home page pulls you further in.
"This bag has a story" describes the process, a quick definition of the word "refurbish" then sets context for the kicker, "This Could Be Your Grandmother's Coat." All of it leads to a clear and compelling pitch: "You will be the proud owner of a purse that cannot be mass produced."
5. Embed images and video throughout
The rules of ecommerce are like the rules of great fiction: show, don't tell. Use curated images and video to highlight your products. If you're a retailer, have models show your products in many different poses. If you're an artist, use video to show the process that influences your art and the work that goes into the final product. Whatever your ultimate offering is, your odds of making a sale improve when you can show buyers what they're paying for.
C'est Petit Vienna offers a great example of using photos well. The Australian company shows its refillable pouch for wet wipes to clean babies and toddlers in action right on the home page by embedding its Instagram feed. Just above that is a rotating photo library with embedded links for shopping the highlighted products. Virtually the entire home page is occupied by well-placed, compelling images.
Canada's TuxMat has a focused look and feel throughout the site and a catchy tagline — the "Ultimate Car Mat" — but the pitch wouldn't be complete without video tutorials for both installing and cleaning the TuxMat. Notice how every step is illustrated slowly and carefully. The more complex your product, the more important it is to have clear installation instructions. Video can be an indispensable tool when this is the case.
Ready to start selling?
Ease into it, building your site with these five principles in mind. Test, revise and test again. You'll soon find a design that works, and you don't need to spend much — or anything — to get up and running. Select a theme that suits your brand and get online with a fully customizable website builder. Just remember the importance of backing up all the assets you've already uploaded and built.