My favorite type of line art, however, is posters with single-line writing. If you have some favorite phrases or quotes, you can make a great poster just by choosing a cool typeface and background, and writing that phrase in a single line. 
Tip: There are plenty of hand-written fonts in our Design Maker—make sure to give them a try!
Here's my take at a line art poster
Mugs: the gift that keeps on giving
I have yet to set foot in a household that doesn't have a single mug in it—they're essential, and we use them multiple times a day. Plus, there's something special about enjoying your beverage of choice in your favorite mug, which makes them a great gift idea for anyone, and a must-have for your store.
Learn more: 37 Mug Design Ideas to Sell and Gift
Make holiday-themed mugs
When it comes to last-minute holiday gifts, holiday-themed mugs often come to the rescue. Whether it's Mother's Day, Independence Day, or St. Patrick's Day, you can tailor your mugs for any holiday to create year-round demand.
Tip: Making holiday designs several times a year doesn't have to be time-consuming: learn more about quick and easy ways to design holiday mugs in the Design Maker section.
We also have Christmas, Halloween, 4th of July, and Valentine's Day mockups that you can use to add a little extra holiday spirit to your store
Appeal to the moody morning people
You should also consider designing mugs that can be gifted at any time of year. 
There's a running joke that people aren't in the best mood before having their morning coffee. I'm one of those people and it's no joke to me. Many people can relate, especially on Mondays, so mugs with edgy and sometimes even tongue-in-cheek texts are pretty popular as gifts.
The softest home decor: pillows and blankets
Cozy coverings and plush pillows are a great gift idea for grown-ups and kids alike. In the cold winter months, most people just want to snuggle up with their favorite blanket or rest their heads on a soft pillow after a long, hard day.
Since the pandemic, there's been massive growth in furniture and homeware ecommerce revenue, so there's no better time to add pillows and blankets to your store. Tap into that need and offer standout designs for customers looking to gift custom couch potato gear. 
Stick to the basics
Pillows and blankets can come in solid colors or have some sort of pattern design. If you have trouble picking the right colors for your collection, consider looking at recent color trends. For example, peaceful, hushed tones are in right now, so sticking to similar shades might help these products appeal to a larger audience.
Similar to colors, pattern trends are constantly changing, but there are some patterns that'll never grow old. Classic takes like floral prints, animal prints, polka dots, and others are evergreen.
Don't stumble on these hurdles
For pillows specifically, avoid designs that need to align perfectly, like stripes or blocks. It's very difficult to guarantee precise alignment in the production process, and even a small discrepancy can be super annoying to look at.
Blankets don't share that problem, but be sure not to place any important parts of the design at the very edges of the print file when designing them. The edges of the design can get cut off, so keep the important details closer to the middle.
Accessories for tech lovers
Selling tech accessories is a smart move all around. One beautiful winter morning many of us will wake up to new phones, headphones, and maybe even gaming setups under the tree. It shouldn't end there—the new gadgets need protective cases and other accessories that you can offer on your online store.
Source: @burgaofficial via Instagram
You can even create matching sets to cross-sell your products. An iPhone case would look neat paired with a matching AirPod case! 
Color has entered the chat
Looking into trending design themes for phone accessories, I quickly realized that colorful visuals mixed with a Y2K aesthetic are in—big time. It looks like people want colorful cases to combat the monochromatic makeup of the phone design.
Source: Casetify
Here's how you can approach this trend and offer phone case designs with explosive color:
It took me 5 minutes to make this phone case using Printful's Design Maker
Grant the ultimate gaming experience
No gaming setup is complete without a killer mouse pad. 
I've noticed that a lot of gamers use mouse pads with references to the gaming world or tech-inspired designs. Determine where you feel the best creatively—would you prefer drawing your own fantasy monsters or working with tech-y vector graphics? Pick your poison.
Source: Printful
Hot trend alert: embroidered clothing
Even though embroidery's been around for a minute, it's making a big comeback in the fashion world. You can definitely understand the appeal—embroidered details add a chic and polished dimension to otherwise casual clothing. 
Source: Printful
Spook'em with horrifyingly nice embroidery
Halloween, the opening act of the holiday season, is so close that you can't escape the smell of pumpkin spice lattes everywhere you go. The occasion is a gold mine for all online sellers and embroidery can help you monetize spooky season designs to the maximum. 
The great thing about embroidery is that you can appeal to people who want to rep Halloween but not go all in with flashy designs.
Source: Copper Fox 1998 via Pinterest
And there are so many possibilities with Halloween designs! Pumpkins, magic potions, black cats, ghosts, and zombies are just a few of the characters you can play with in your designs. 
For more spooky season ideas, check out our post on Halloween Shirt Ideas to Creep It Real This Fall.
Cheer'em with winter holiday designs
Embroidery is versatile—you can use it for your winter holiday designs too. Choose designs that'll look great on winter staples like beanies, sweatshirts, hoodies, and even joggers.
Source: Printful
 I don't know anyone who doesn't own at least one holiday-themed piece. Am I right? People are always looking for holiday gear around the holidays, so it's your chance to capture these customers.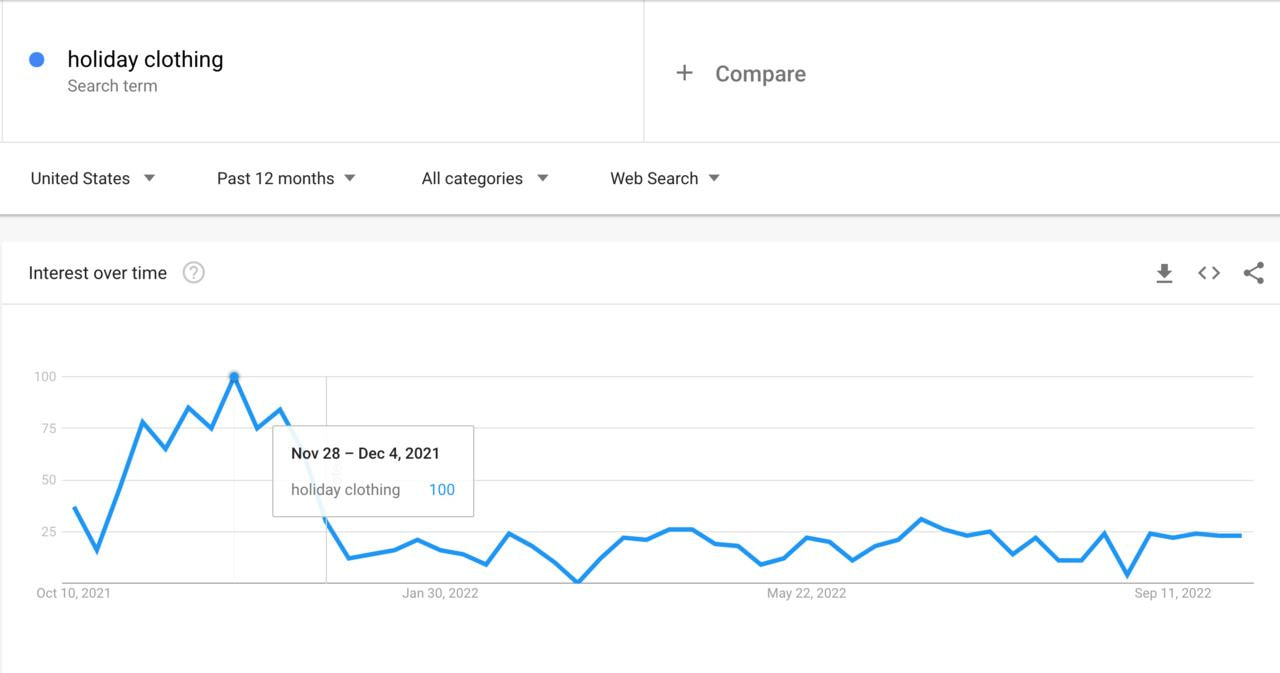 Source: Google Trends
Say more with postcards
Selling postcards during the holiday season (or any time of year) is a no-brainer. Many people add it to their gifts or just send them to loved ones that they won't be able to see in person. Below are some of the trends for holiday card designs that I've noticed this year. 
Keep it simple
Not all greeting cards need to be overly complex. Minimalistic designs with simple visuals and text are often just as popular. This is especially handy for sellers who haven't yet dabbled in complex graphic design programs—you can easily make greeting cards with Printful's Design Maker.
Source: Printful
Add four-legged friends to the mix
In the last few years, holiday cards with animal designs have become more popular. We just love to see our animals in cute little Santa hats, don't we? Dogs and cats are the most common for such designs, but here's an idea to capture a specific niche: offer designs with exotic animals. I'm sure people would love to see their underrepresented pet on your online store!
Source: Printful 
The Design Maker
So, are you excited to start designing?
Designing products might seem like a daunting task, especially if you're doing it for the first time. I thought so too, but that was before I took Printful's Design Maker for a spin.
Yes, you could create designs in a program like Photoshop or its free photoshop alternatives and upload them to the product. But with the Design Maker, you don't need to be a photo-editing wizard to get started with designing—it has everything you need.
Source: Printful
For starters, check out the Quick Design options. There are many themes to pick from including holidays (like Thanksgiving and Christmas), and you can create a unique product within minutes by experimenting with the images or combining them with some text.
My personal favorite feature is the extensive collection of clipart. There are thousands of funky clipart designs to choose from, and you can easily find the perfect one for any occasion using the search option. Here's a mug that I designed using Christmas-themed clipart. Not bad for 5 minutes of work!
You can also use the clipart or any other images to create a fun pattern design using the pattern tool. In just a few clicks, you can turn a single image (or several) into an original pattern. 
You can also use the new Background fill tool. I personally love it—you can fill the design with solid colors, graphics, patterns, or even images. It has backgrounds for every occasion, including different holidays.
Last but not least, you can make use of over 80 million ready-for-design images from the Premium Images database. Just find a picture you like, see how it looks on your product, and make it come to life for just a buck extra.
Getting your designs print-ready
Now that you're familiar with the Design Maker, you might feel like going straight to designing products (and I don't blame you). However, there are certain tips that you need to keep in mind when making your designs so they come out in a tip-top form.
Mind the resolution
Design resolution should be treated with the utmost importance, as it has a direct impact on the quality of your products. When you add an image to your product, its print quality (dots-per-inch) shows up next to the image in the design tab.
For most Printful products the recommended DPI is 150, but for paper products, our suggested resolution is 300 DPI and above.
To help you understand the difference between low and high DPI, take a look at the penguins below. Sticking to the recommended DPI will make sure your product prints look like the penguin on the right, and not like the penguin on the left: