Upselling and cross-selling are two sales methods you can use to drive your revenue and retain customers. They let you introduce audiences to more of your products, and make sure customers have a positive experience on your store.
Read on to learn why cross-selling and upselling is important, and discover ways you can implement both sales tactics in your ecommerce business.
What is upselling?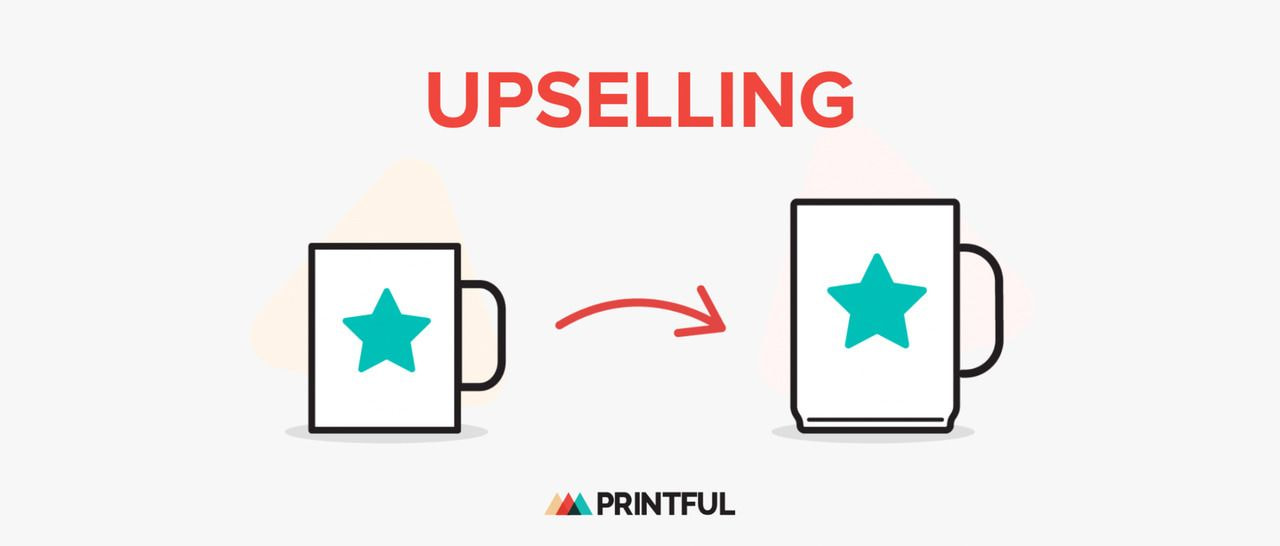 Upselling is a sales technique encouraging customers to buy either the same product with additional features or a more expensive, premium version of the same product. For example, upselling framed wall art or canvas when customers are looking at posters. 
What is cross-selling?
Cross-selling is a technique prompting customers to get items complementary to the products they already want to buy. For example, suggesting jewelry sets for customers looking at necklaces.
What are the benefits of upselling and cross-selling in ecommerce?
Both cross-selling and upselling are highly-effective techniques that focus on providing additional value to customers. These techniques can be used simultaneously, so be sure to test out multiple approaches and see which ones work the best.
1. Increase in average order value
Average order value is your store's total revenue divided by the total number of orders. Use upselling and cross-selling deals to convince your customers to spend more money on one order, and you'll increase your average order value without spending on extra marketing and sales initiatives.
2. Enhanced conversion rates
A conversion rate is the percentage of store visitors who complete a certain action. In ecommerce, the most important conversion is a finished sale. Typical conversions include your customers:
adding products to their cart
adding products to their wishlist
sharing their contact info
leaving a review
To boost conversion rates, you need to improve your customers' shopping experience. This is where cross-selling and upselling comes in: you give your customers the impression that you've anticipated their needs by offering just the product they are looking for.
Cross-selling and upselling are good for demonstrating your product catalog and introducing customers to higher-margin items or products they didn't know you offered.
In order not to give them choice fatigue, offer products based on your customers' purchase trends. Use Google Analytics to collect and compare your data.
What are the main upselling and cross-selling strategies?
Let's take a dive into the most useful strategies for both sales techniques.
Suggest premium products 
Understand your customers' values and use them to your advantage. When buying apparel, would your customers pay extra for products that are made in America or are eco-friendly? If yes, make sure to upsell such products.

Bear in mind that shipping is part of your customers' experience, and can be upsold as well. Include a comparison of all options—one that's fastest, one that has tracking, and another that's free if they reach a minimum order value.
When upselling, make sure it's easy for your customers to tell the difference between regular products (e.g. Basic Pillow) and your premium offering (e.g. Premium Pillow). Show those differences in the product names, descriptions, and photos.
Recommend complementary products 
Take home decor, for example. If your customers are looking at pillows, cross-sell complementary products like Pillow Cases or Throw Blankets.
Create seasonal collections
Seasons create a lot of needs for your customers, so make the most of it. Cross-sell weather-appropriate products like warm beanies and sweaters for winter, or create a unique beachwear line for summer.
Just be mindful of your audience. If you run a global ecommerce business, not all of your customers share the same weather conditions. Be careful when targeting large countries like the US. While Minneapolis is covered in snow, your buyers in Miami are enjoying the sun—make sure you offer what's right for each of your customer segments.
Offer product bundles
Product bundles are multiple items sold in a single package. Because of this many retailers call them "package deals". The product selection is entirely up to you. Usually, they're made of add-on (e.g. Necklace and a Bracelet) or, less frequently, similar items (e.g. Phone cases).
To entice customers to buy the bundle, you have to price it cheaper than the actual total of those items. Or, create a bundle that includes at least one product that can't be bought separately.
Market products others have viewed
These sections are often called "other people viewed", "you might also like", and "products frequently bought together." If you don't have data to base your product selection on, offer alternative designs for the same item, or include other products with the same design. Pair up expensive products with something more affordable, for example, a $25 t-shirt with a $5 sticker.
Show customer engagement
Research shows that shoppers find user-generated content the most authentic type of promotion. So let your customers tell your story—it'll help future buyers develop trust in your brand.
Display customer reviews
Online reviews are the word-of-mouth referrals of the digital age, so products with reviews are more likely to convince customers to buy them than products without any. They can also persuade them to go for the more expensive, premium products, as long as these items are recommended by other customers.
If you're just starting out and don't have any reviews to show, don't worry. We can teach you how to get more product reviews for your online store.
Add other trust signals
Here are other kinds of social proof you can share:
the total of customer reviews
the number of people viewing the product in real time 
the average rating of the product based on customer reviews
the number of views the product received in the last day
the quantity of available products, and how many are already sold
Highlight products
Emphasize the products and designs you want your customers to fall in love with. We suggest focusing on your bestsellers and new arrivals.
Run special offers
Whether you use a print-on-demand service or are warehousing your products, you can offer limited product drops. They're exclusive by definition and capitalize on your customers' fear of missing out.
Then there are limited-time offers. They increase the sense of urgency, and make store visitors see the product as an exclusive item. These offers are a great tool for making sure your customers return to your store for fresh deals.
What are the channels you can use for upselling and cross-selling?
On-site upselling and cross-selling channels
Start with the key elements of your store: your homepage, product page, and shopping cart. 
Homepage
Your homepage is the equivalent to a brick and mortar store window display.  It's your primary tool for introducing your store's visitors to current deals, special offers, and promotions. It's also the best place to show your product range. Product recommendations, whether through upselling or cross-selling, are more than welcome! 
Product pages
Your customers have already shown interest in a specific product by opening it—use it to your advantage and suggest offers relevant to their initial choice. 
Cross-selling and upselling on the shopping cart are great ways to increase the order value. Your customers are ending their journey on your store, so make sure your last suggestions are well worth their attention—offer deals they just can't miss out on!
Off-site upselling and cross-selling channels
A whopping 97% of first-time store visitors leave without making a purchase. No worries, you can approach them elsewhere!
Shoppable Instagram content
With 200 million users visiting at least one business profile on a daily basis, Instagram can easily become your second home page. It lets you tap into audience-specific hashtags and tag up to 20 products on your posts and stories, so it's the perfect platform to offer your customers sets of complementary products.
Keep in mind that Instagram is first and foremost a visual platform, so make sure you take photos your audience will enjoy.
Facebook ads
While posting on your Facebook business account helps with brand awareness, advertising gets you sales. If you're new to Facebook ads, read our guide on the basics, and learn how to create Facebook ads on a $50 budget. 
Facebook ads have specific upselling and cross-selling targeting options. Use them! Find the upselling and cross-selling options under "Product Catalog Sales" when choosing your campaign style.
Email
Even though internet users spend most of their free time on social media, they still check their emails every day. Make sure your email stands out from the rest!
Sending an email shows initiative. Instead of waiting for a customer to show up, you gently knock on their inbox. Show them you care—send regular newsletters, and inform them of your products and latest deals.
Email is also a great tool for retargeting. Use it to let your customers know a product they have on their wishlist has a discount, or remind them about their abandoned cart. Include pictures of the products they left behind.
Let your products market themselves
The key to successful upselling and cross-selling offer is understanding your customers' values. When your products not only satisfy, but anticipate customers' needs, your product selection will promote itself. Take full advantage of both sales techniques by using them on and off your ecommerce store! 
Let us know what strategies you're looking forward to trying out for your own ecommerce business!