So, if you're planning to add a tank top to your store's catalog, remember: they can be way more than just a casual summer item. 
Muscle tank
Just like tank tops, muscle tanks are sleeveless t-shirts, but with a unique cut. The straps are thicker, the neckline higher and the sleeve hems tighter—almost as if you simply cut off the sleeves of a t-shirt.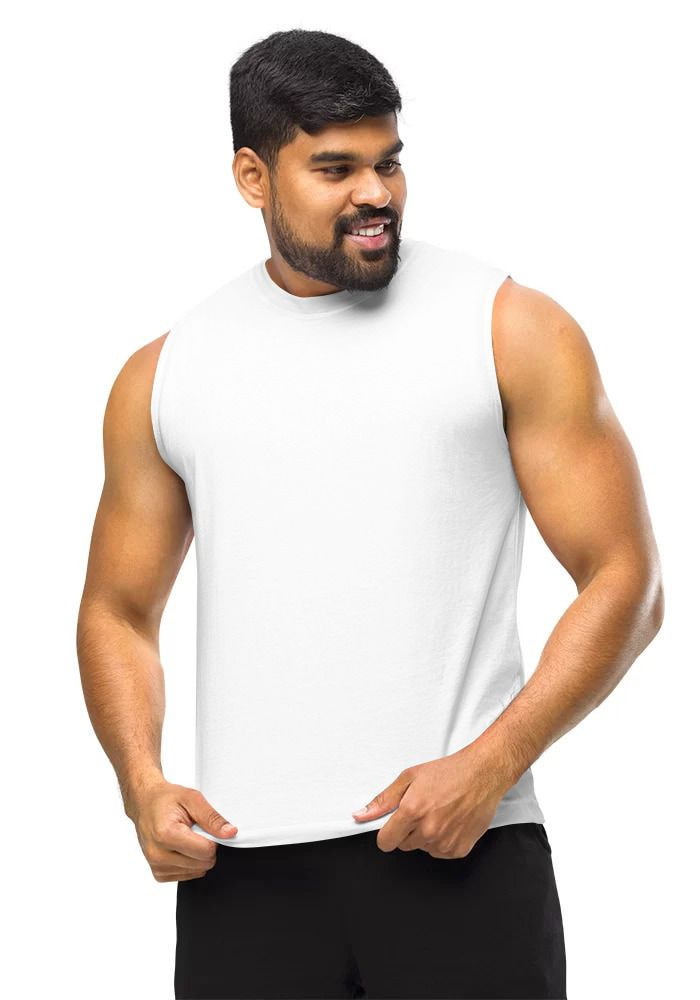 Classic muscle tank. Source: Printful
Depending on the material, they can be worn for working out (more freedom of movement), as an undergarment, or as a layering staple. 
Types of t-shirts by material
Last but not least, t-shirts can be categorized by the materials they're made of, and the different fabrics make a difference in the quality/outcome of your tees. Why? Different printing techniques go better with certain fabrics. 
In this section, we'll assess 100% cotton, organic cotton, poly-cotton, and polyester t-shirts.  
100% cotton
100% cotton shirts are versatile and can be worn all around the year. Cotton is a natural material, adaptable enough to create garments that are suitable for every season. During summer, its absorbent and breathable and helps regulate body temperature on warmer days. In winter, its soft touch makes it a great choice for undergarments.
100% cotton t-shirts can be the basis for any type of look. Source: Katarina Arriaga Music
But that's not the only reason why 100% cotton is the jack-of-all-trades of t-shirt materials. It's very unlikely someone will be allergic to cotton, while it can happen with synthetic fabrics and blends. 
Finally, it's a material with easy maintenance: 100% cotton t-shirts can be washed regularly, with a little extra care to preserve their color and shape. But like most natural fabrics, it can shrink when subjected to high temperatures. 
As far as personalization goes, cotton is one of the best surfaces for DTG printing—a versatile printing technique where the ink is applied directly to the fabric. Compared to other materials, 100% cotton t-shirts have excellent ink absorption. That helps the design come out more opaque, crisp, and with vivid colors, ensuring a high-quality print.
DTG printing results on 100% cotton t-shirts. Source: Printful
However, if the cotton is too thick, it can soak up the ink and make the design look faded. That's why, while 100% cotton t-shirts are the ideal canvas for DTG printing, 100% cotton sweatshirt prints might not come out with the same quality.
But there's no reason to worry: take a look at our guide on how to prepare the perfect design file for DTG printing and make sure to get the most out of your design. And here's a guide on the best t-shirts to print.
Organic cotton
Organic cotton t-shirts have more or less the same benefits as 100% cotton t-shirts: they're versatile, breathable, soft, easy to maintain, and make a great canvas for DTG printing. The main difference is in how they're made—organic cotton is a more sustainable choice.
100% organic cotton t-shirt from Printful
Of course, any cotton is natural since the fiber used to make the thread is obtained from plants. But saying something is organic implies that the process of growing these plants is thought to reduce the impact on our environment.
Although there are different parameters for labeling something as organic, it generally means eliminating the use of pesticides, fertilizers, or genetically-modified seeds, which leads to better preservation of the soil and water sources. Often, sustainable strategies also extend to other parts of the chain, like ensuring fair payment to workers and increasing the benefits to the community around a farming area.
This extra care will almost always lead to a premium fiber, resulting in high-quality t-shirts that will be used for longer, completing the cycle of a sustainable wardrobe. So, if sustainability is fundamental for your brand and your audience, cotton t-shirts (and other eco-friendly products) should be your first choice.
Just like any premium material, organic cotton t-shirts tend to cost more when compared to regular cotton. When people invest more money in a piece of garment, they usually expect more transparency. To make sure your brand doesn't fall into accidental greenwashing, learn about USA certifications to ensure the source of your organic and recycled products.
Poly-cotton
As the name suggests, poly-cotton t-shirts are made of cotton-polyester blends, in varied proportions. This type of t-shirt combines the advantages of both materials (the durability of polyester and the breathability of cotton) and, when mixed in different proportions, will cater to specific needs. 
Poly-cotton t-shirt (90% cotton, 10% polyester) from Printful.
Usually, poly-cotton shirts are even more durable and easy to maintain when compared to 100% cotton, and more comfortable and breathable when compared to polyester ones. Plus, some blends might result in a lower-priced material.
When it comes to creating custom t-shirts, poly-cotton t-shirts are especially suitable for colorful designs. Take a look at the difference in the color tones of the same print applied to a 100% cotton fabric versus a poly-cotton blend:
Source: Printful
If you want to go deeper on the subject, I recommend checking out our guide to cotton, polyester, and blended fabrics. 
Polyester
Polyester t-shirts are typically lightweight and have a slightly silkier texture compared to cotton. The thin fabric often leads to a more revealing fit, and the fabric may cling to the skin a little. The material itself is not stretchy at all. For more stretch, it's common to see it blended with other synthetic materials, like elastane or spandex. 
This is a synthetic fabric, made from processing petroleum-based products. So when compared to cotton, it's quite the opposite: it's not the most breathable option as it tends to retain sweat close to the skin, and if not blended with other materials it can cause allergies in sensitive skin. 
On the other hand, it's as durable as it gets—polyester t-shirts are very unlikely to fade in color or lose shape, even after a lot of wearing and washing.