1. Retarget your store's visitors
You may skip everything else, but retargeting is the most effective thing every store owner just has to do. I suggest you set up your Facebook retargeting pixel and start growing your retargeting list as soon as you launch your store.
For most online stores, on average 95% of visitors leave without buying. These people have stumbled upon your shop but left without a purchase either because they got distracted, the timing was bad (eg. they were at work), or for some other reason.

Retargeting means reminding your potential customers that they have "unfinished business" with your shop. You specifically target and show ads to the people who have already been on your store. By doing it, you have a chance to turn part of your website's abandoners into customers.

The results speak for themselves: the average ROI of retargeting ads is 200% or higher. That is, for every $1 advertisers spend on retargeting, they usually get at least $2 back. Why does it work so well? Because it's always easier to convert people who already know and recognize your brand than people who've never heard of you.
3 tricks to create effective Facebook retargeting campaigns
Now that you know why retargeting is a must-do for every online seller, here are 3 ideas for your next retargeting campaign. I have tested these ideas myself and found them to be surprisingly effective:
1. Advertise the products your visitors were interested in.
The Facebook dynamic ads allow you to personalize your ads based on the visitor's past action on your shop. That is, you can show ads with the exact products and designs the visitor was interested in. Such highly personalized and relevant ads that feature products a person has viewed (and therefore recognizes), helps you catch his or her attention.
To use Facebook dynamic retargeting you must have a Facebook Page for your brand, a Facebook ad account, and a Facebook pixel installed on your website. You'll also need to create your Facebook product catalog or a catalog of your products that are hosted on Shopify, WooCommerce, BigCommerce, or Magento.
2. Highlight your best selling points in the ad.
Sometimes people leave without a purchase because they're having second thoughts. One way to convince people that buying from you is a good decision is by highlighting your best selling points in your retargeting ads.
Are you able to offer free shipping deals that others don't? Mention that in your ads to make your offer look like a better deal. Do you guarantee 100% satisfaction? Highlight that to increase trust. You got the point. The stronger your selling points, the more effective your facebook ads will be.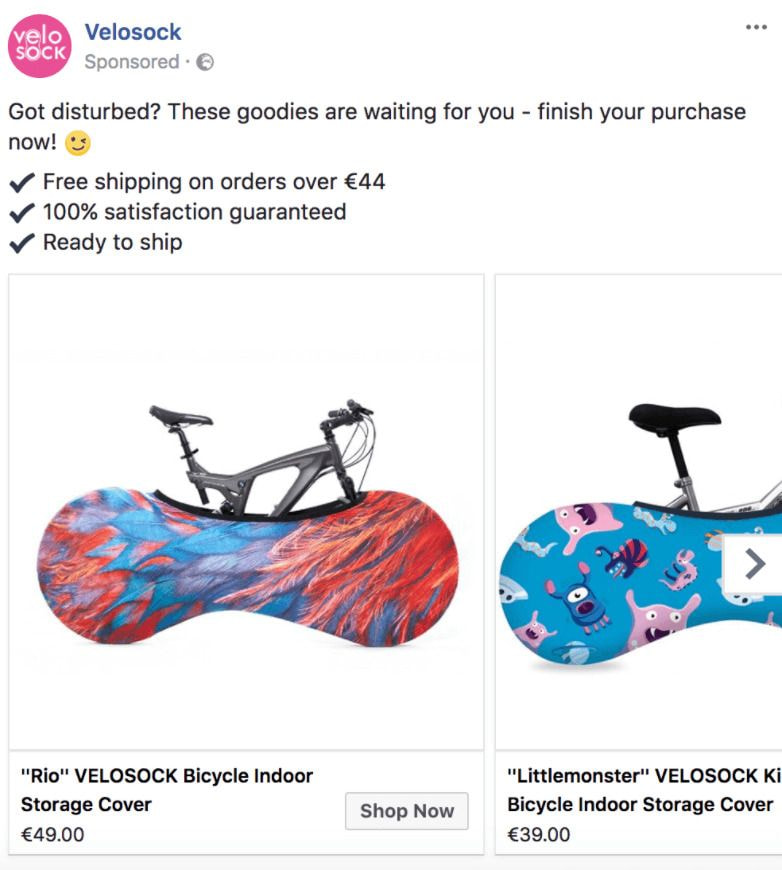 3. Turn your store's visitors into your Facebook Page's followers
Look – not everyone who visits your shop wants to buy from you right away. Some may love your products but will put their purchase off until you make a sale. Others may have already bought from you recently, and while still interested in your brand, won't buy anything else for a while.
Showing these people ads that encourage them to come back and buy something simply won't work. What will work, however, is retargeting your past visitors and inviting them to follow your Facebook page. This tactic allows you to add high-quality followers to your page, then engage with them with until they're ready to come back and buy from you.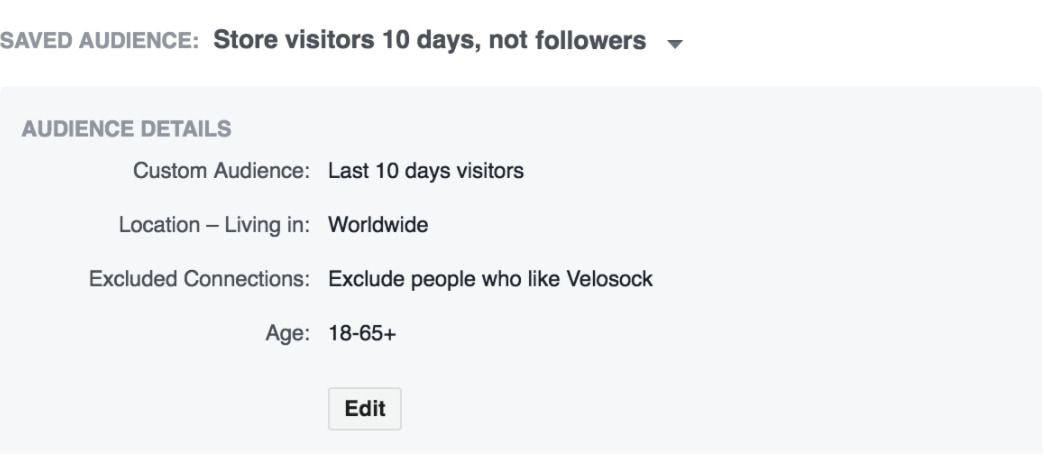 Who else to target in retargeting campaigns?
Besides your past visitors who didn't buy anything from you, you can also target people who did make a purchase on your shop and cross-sell products that are related to the ones they already bought. For example, target customers who bought a t-shirt from you and advertise hoodies to them.
You can also retarget your page followers as well as people who have engaged with your Facebook or Instagram posts in the last 365 days.
2. Build a campaign around your deal
Sellers worldwide, online and offline, give their customers deals. If you want to play the ecommerce game and compete with other sellers, you should do it too. Whether it's a discount or free shipping, it's up to you to decide what you can offer.
To make the most of your deal and make sure it's noticed by as many buyers as possible, divide your ad campaign and budget into 3 stages: pre-campaign, campaign, and post-campaign.
1. Create buzz around your deal with the pre-campaign
In the week or two before your deal starts, advertise that there will be a special offer or free shipping on your store. You might not generate many sales with these ads, but that's not the goal. The goal of these ads is to create buzz around your deal and to get your customers ready and in the mood to spend money.
That's exactly what we did for Startup Vitamins – here's the pre-campaign ad before its book sale:
Meanwhile, be prepared for those people that do click on your ad and wind up on your store. Don't let them leave and forget – create a pop-up or special landing page where the potential customer can leave their email.
The email contacts you've gained will be useful for email marketing, and our experience shows that these people have high buyer intent. Think about it: these users have expressed an interest in your brand by not only clicking on your ad but also by giving away their personal email addresses. Use it to send a personalized campaign email to these subscribers.
2. Launch your campaign
When you've created enough buzz around your deal and your target audience already knows about it, it's time to launch the real campaign and advertise it on Facebook. Here's how Startup Vitamins did it:
To make your ad more compelling, highlight the deal in the copy with the end date to increase urgency and impulse purchases.
3. Convert your undecided customers with the post-campaign
There will be users who will be interested in your deal, but for some reason won't buy anything. Some will hesitate, others will forget and miss the deadline. You can still turn these people into your customers with a post-campaign.
Here's how:
Segment your store's visitors who didn't finish their purchase (a kind of retargeting), then show them a personalized ad the day after the sale has ended. In the ad highlight that the sale is over, but for a limited time, they are given the second chance to shop with a special discount.

Two important details about post-campaigns:
The post-campaign should only last for a short period of time, just 24 or 12 hours. The idea is that you urge those unsure visitors to make the purchase as soon as possible because this time it's for real – the campaign will end for good.

You should always offer a smaller discount in the post-campaign because there is nothing more disappointing than realizing a brand has tricked you into buying ASAP, even though the campaign is still running. If you offer a 30% discount during the campaign, give 20% off during the post-campaigns.
Startup Vitamins spent $120 on this campaign that made them $457. The campaign was closed with the ROI of 380%.
Who to target in similar campaigns?
Firstly, your Facebook page followers. Those are the people who are already interested in your products and your brand and will be happy about the deal. Second is your existing customers. Reach them on Facebook by uploading your customer list, and showing them ads that will supplement your email marketing.
3. Run an email collecting campaign (and seal the deal with email marketing)
Here's the thing: people need to become familiar with a brand before we're ready to open their wallets and spend money. Once they start recognizing your brand, it's much easier to convert them.
Now, you can either advertise until users have seen your ads multiple times and start to recognize your brand, or go the cheaper route and use ads to collect emails. It feels safer to leave an email than leave one's credit card information at the checkout. Remember that you're still selling to the potential customer, but this time the currency is their email.
How to collect emails
First, you should offer something valuable enough that people are willing to "buy" with their emails. It can be anything you can give away for free (okay, not really free).
Here are some ideas:
For example, Startup Vitamins made their designs as phone wallpapers that anyone can download for free, and created this Facebook ad:
The ad takes people to a landing page where they're asked to leave their email address:
After they've submitted their email address, they're redirected to another page where they can choose which design they want to download as their wallpaper.
Now, the particular Startup Vitamins' campaign didn't end there – here's how we made it even more effective:
First, we targeted our ads on mobile-only because we're giving away phone wallpapers. And we targeted only iPhone users instead of all smartphone users because Startup Vitamins sells iPhone cases.
So with the ad we gathered emails and a few days later emailed them an offer to buy a case for their phone. Since we knew that the people who had subscribed from the ad were interested in Startup Vitamins and liked our designs, and since we had specifically targeted iPhone users, the email that followed and offered a matching phone case was perfectly on-point.
The campaign ended with an ROI of 300% and a list of 200 potential customers that we can convert later with email marketing.
Other people you can target with these campaigns are:
Firstly, lookalike audiences. These are the people who are similar to your existing customers or store's visitors. These people might like the idea of what you're selling since they have similar interests to your existing customers, who've already bought something from you. Second, audiences based on specific interests that are relevant to your store's niche.
Final thoughts
I've been using these Facebook advertising strategies over and over, and over again. Because they work and, importantly, are cheap.
Here's my one last tip: for the best results, try to combine several of these tactics together. Try layering them and running multiple campaigns simultaneously that supplement each other, that way generating well-oiled sales and lead-generating machine.
For example, run a retargeting campaign that invites people to follow your Facebook page, then run a sales campaign and target your ads to your page's followers. Or – run your lead magnet campaign, then target people who opted in – show them ads with your products that go with the goodies they've recently downloaded.
The main lesson I've learned after spending over $500K is that you don't need a massive Facebook advertising budget to see results. You just have to direct those funds to effective advertising methods that yield the biggest chance of success. For example, focus on individuals who have already show interest in your brand – that's an obvious choice and an easy win.
Now that you know how I make high-converting, effective Facebook ads, go and try them for yourself! Leave us a comment on what you'll try first.
Read next: How To Advertise On Facebook: Guide to Facebook Promotions
This article was originally published in September 2017; it has since been updated.