1. Google Trends
Best for: Growth marketing, trend forecasting
Cost: Free
Free tools like Google Trends are a big help in guiding the content creation process. Type in a keyword or topic and Google Trends will tell you whether its popularity is increasing, decreasing, or staying the same. See how popularity changes across different locations and timeframes. You can also compare words or phrases to see the performance of each.
Features:
Data displays visually in easy-to-read maps, graphs, and more
Download data for use in spreadsheets, presentations, or to share on social media
Recommends other queries and topics related to your search
Drawbacks:
Doesn't give you the total search volume
Doesn't integrate well with other Google products
No data based on demographics or anything smaller than a subregion—no individual cities or postal codes
2. SparkToro
Best for: Audience insights
Cost: Limited free plan and paid (starts at $38/mo.)
SparkToro is a keyword and topic search tool that gives you a deep dive into your audience and their interests, letting you know what they're talking about, paying attention to, and searching for. With SparkToro, you can see what social media accounts people follow, hashtags they use, and media they absorb. You can also check out audience demographics and insights into niche "hidden gems" you might have overlooked.
Features:
Shows where to invest your time and money to make the biggest impact
Great starting point for beginners to learn more about their audience and where to engage with them
Paid plans are more affordable than some competitors like BuzzSumo
Drawbacks:
Free plan only gives you 5 searches per month and access to limited data
Doesn't offer the same range of features as some competitors
Demographics are only available if you upgrade
Filtering tools cannot be combined together, only used separately
3. AnswerthePublic
Best for: Social listening, growth marketing, trend forecasting
Cost: Limited free plan and paid (starts at $79/mo.)
AnswerthePublic gives you information on what your audience is asking and searching so you can create relevant content to directly address their needs. Use its detailed results as a guide so your content connects more with your audience. Type in a keyword and AnswerthePublic will show you popular questions asked, comparisons made, and prepositions used around the topic.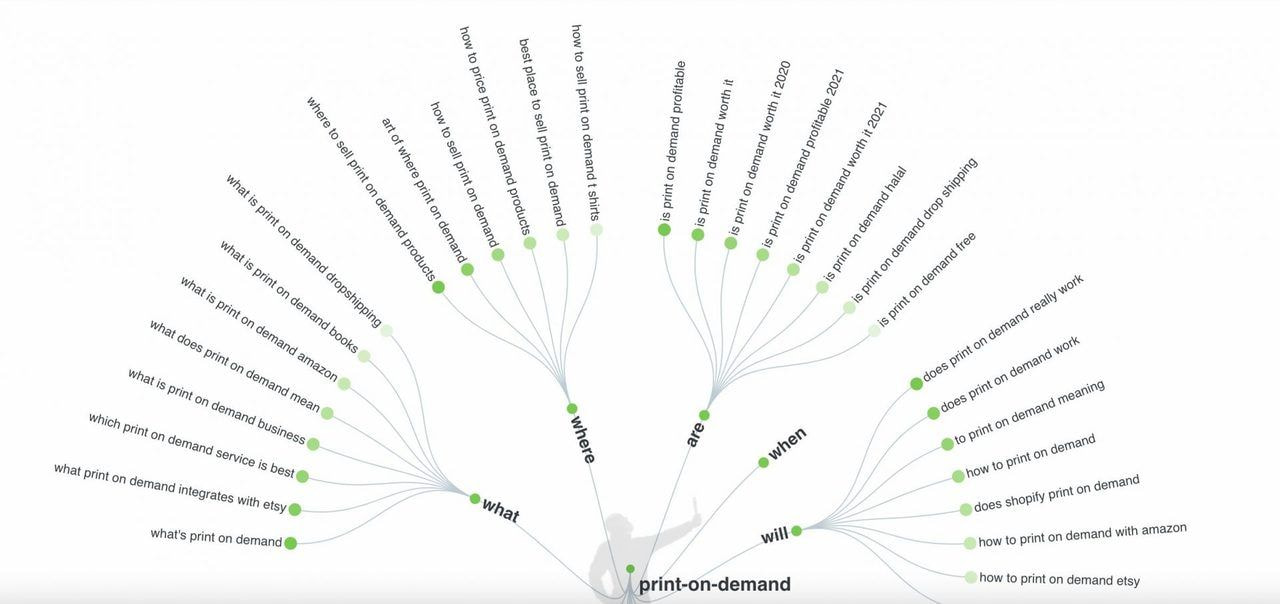 Features:
Let's you download data for later use
Has an interactive interface with different view options
Can hide suggestions that aren't relevant so you can easily find what you need
Drawbacks:
Limits you to 3 searches a day on the free plan
Doesn't provide a ton of keyword metrics (competition insights, cost-per-click value, etc.)
4. BuzzSumo
Best for: Audience insights, competitor analysis, brand management
Cost: 30-day free trial and paid (starts at $99/mo.)
BuzzSumo analyzes content from across the web so you can create relevant content of value for your customers. Similar to SparkToro, BuzzSumo gives you in-depth insights into your audience's interests and online engagement habits. Additionally, BuzzSumo gives you competitor content analysis, access to influencer marketing tools, and PR insights to help monitor and manage your brand's reputation.
Features:
Offers an extensive list of features compared to some of its competitors
Gives automated alerts in real-time to track competitor behavior and trending topics
Lets you customize your reports and dashboards to easily find what you need
Drawbacks:
Comes with a higher price tag than competitors like SparkToro
Keyword research findings and filtering are sometimes too broad to be useful
Social media monitoring and engagement analysis is limited to Facebook, Twitter, Pinterest, and Reddit
Because these tools are pretty straightforward, determining what to try depends on the features provided and the price point that fits your budget. Luckily, all the ones listed offer at least a free trial, so you can test them out before committing.
Content optimization tools
Now that you've done the market research, you'll need to make sure your audience can easily find and engage with your existing content. The tools in this section will help you analyze and optimize the content you create for maximum visibility and performance.
5. Google Analytics
Best for: Analyzing website traffic and user behavior
Cost: Free
With Google Analytics, you have tons of raw data available at your fingertips, and it's the most comprehensive free analytics tool there is. Connect it to your web pages, blog, social media accounts, and more to track traffic, user behavior, and website performance.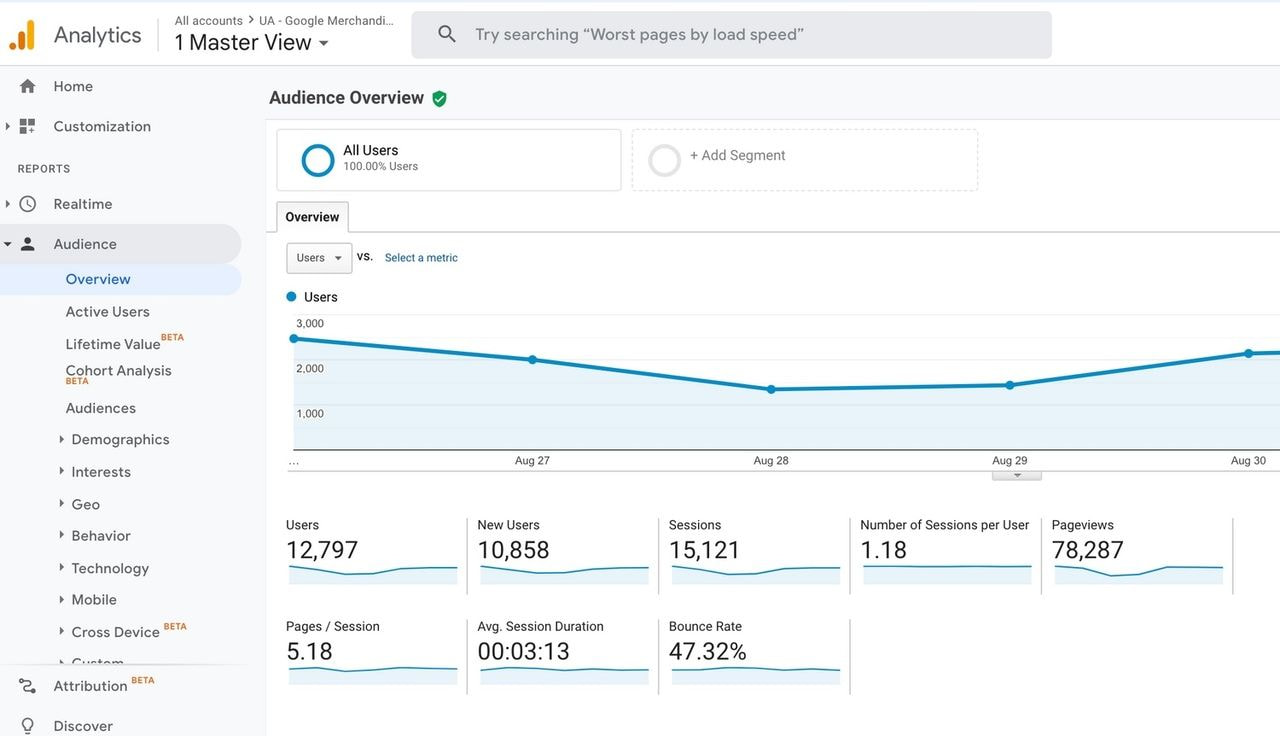 Features:
Detailed results on traffic sources, paid vs. organic search results, acquisitions, and referrals
Comparable data segments so you can see what's working and what's not
Trackable ecommerce conversion insights to help you boost sales
Website page flows to show how visitors move through your site
Drawbacks:
Unrecognizable traffic sources and some cookie settings can skew reporting
With so much data, there's a learning curve to getting started and making the results work best for you
May need a webmaster to help install the Google Analytics tracking code
Data on keyword search results is no longer provided through Google Analytics, so you'll need to connect Google Search Console to have this all in one place
6. SEMrush
Best for: Overall SEO and SERP ranking
Cost: Limited free plan, 7-day free trial, and paid (starts at $100/mo.)
With so much out there, a challenge for content marketers is to create content that gets noticed in the first place. SEMrush is one of the best content marketing tools to optimize your content and boost SEO. With performance audits, social media management, competitor and keyword analysis, and SEO tools, SEMrush's all-in-one online platform helps you create high-ranking, top-performing content.
Features:
Has a wide range of features to manage and improve content performance
Helps you identify spammy backlinks and other toxic elements that can harm your SERP ranking
Blog posts and tutorial videos help you learn your way around and get the most out of the platform
Drawbacks:
Not the most intuitive software, so it can take some time to figure out
Doesn't allow for subsequent logins, so if two are on the same account at once, one will get kicked off
7. InLinks
Best for: Optimizing internal website links
Cost: Free trial and pay-what-you-use
InLinks improves your website's internal linking to help both visitors and search engines easily find what they need. Use InLinks so website visitors will engage with your content longer and search engines will better identify topics to recommend. Both of these ultimately boost SEO and SERP rankings to drive your content marketing efforts.
Features:
Manual and automated options for linking recommendations—either have it find and implement linking opportunities for you or print out a report of suggestions to do yourself
Improves the semantic understanding by also focusing on the context of your content
Gives reports showing what topics visitors engage with most
Drawbacks:
Costs can be unpredictable with the pay-what-you-use pricing model
Learning curve to figuring it out so the results work best for you
Limited to English-language sites only
8. SurferSEO
Best for: On-page SEO
Cost: Paid (starts at $49/mo.)

SurferSEO is a content optimization tool best used for on-page SEO and improving your Search Engine Results Page (SERP) rankings. Surfer analyzes your content based on 5 main features:
SERP Analyzer: Insights on top-ranking content and what makes it top-ranking
Content Editor: Optimizes content in real-time as you write
Keyword Research: Keyword and search analysis to improve rankings
SEO Audit: Detailed suggestions to optimize content
Keyword Surfer: Chrome extension for keyword research and search volume data
Features:
Offers a full and thorough content analysis
User-friendly, visually pleasing interface, and several view options to choose from
Keyword Surfer Chrome extension can be used as a free tool on its own
Drawbacks:
No free plan or trial
Paid plans all have monthly limits on content editor and audit feature uses
Keyword search feature is underdeveloped
While all tools in this section will improve the performance of your content, each one has a slightly different, unique strength. Thinking about your budget and goals will help you narrow down which ones to try. Do you need an all-in-one platform or something more targeted?
Doing an honest assessment of your needs will make sure your budget is used on the tools that make the biggest impact on your business.
Project management and automation tools
9. Trello
Best for: Project management (visual workflow)
Cost: Free and paid (starts at $5/mo. per user)
Trello is a project management tool for more efficient team collaboration. With administrative access controls, you can easily manage team projects and boost productivity.
Create a board for each project and use lists and cards to break down tasks and manage roles and responsibilities. Trello uses a visual workflow to easily view all your tasks, see who's responsible for what, and move items based on progress.
Features:
Extensive free plan with unlimited personal boards, 10 collaborative boards, plus unlimited lists, cards, storage, and users
Can assign more than one person to a task
Drawbacks:
Only one power-up per board on the free plan (e.g. features like app integrations and task automations)
File sizes are limited per attachment based on the plan you go with
Only view option Trello offers without using a power-up is the visual board view
10. Asana
Best for: Project management (multiple workflow view options)
Cost: Free and paid (starts at $11/mo. per user)
If you like Trello's features, but prefer something less visual when project planning, give Asana a try. Asana has more flexibility with viewing projects and tasks—board, list, calendar, and timeline are a few of the options. With its wide offering of integrations, Asana is also a great choice for growing teams to scale as needed.
Features:
Generous free plan with unlimited tasks, projects, activity logs, and file storage
File size per attachment is greater with Asana's free plan compared to some of its competitors
Great for scalability as your team grows or increases capacity
Drawbacks:
Free plan only lets you collaborate with 15 teammates
Only gives you 100 MB per file upload no matter the plan
Doesn't let you have multiple assignees per task
11. Zapier
Best for: Marketing automation
Cost: Limited free plan and paid (starts at $20/mo.)
Zapier connects your apps and automates tasks so you can focus on running your business. Select your most-used apps and create connections (or Zaps) between them from your main dashboard. With Zapier, you can simplify your to-do list and streamline your workflows.
Features:
Integrates with most popular apps (e.g. ecommerce, email marketing, financial software, project management, calendars apps, etc.)
Zaps can range in complexity between one or multi-action steps (aka tasks)
Makes Zap recommendations for you based on your selected apps
Drawbacks:
Initial learning curve to get the hang of how to set up tasks and Zaps
Free plan only gives you 5 active Zaps at a time and 100 tasks per month
The tools above help with team collaboration, automation, and efficiency so you have more time to manage other aspects of your business.
For project management, Trello offers a visual work style, smaller price tag, and more administrative access controls while Asana has more workflow style options and greater scalability for growing teams. Because Zapier can be complex to set up, your biggest consideration is assessing your app use to determine if it's worth automating connections between them.
Text optimization tools
Communication is about being understood. When writing, you don't want your readers getting hung up on a typo, spelling error, or confusing sentence structure. And as a business owner, these errors can affect your bottom line. The following tools are here to help make sure your content is clear and error-free.
12. Wordtune
Best for: Text rewriting and rewording
Cost: Free and paid (starts at $10/mo.)
Wordtune helps you say what you mean. At its basic level, it suggests text rewrite options to enhance your writing. Use Wordtune to go beyond copy editing and clearly communicate your content ideas to your customers.
Features:
Works with many platforms like emails, social media posts, Microsoft Office, and Google Docs
Upgrading offers even more features like vocabulary alternatives, tone-of-voice recommendations, and sentence length suggestions
Drawbacks:
Only works with single sentences at a time
Free version limits you to 20 rewrites per day
13. Grammarly
Best for: Quick results, short to medium text lengths, team collaboration
Cost: Free and paid (starts at $12/mo. per user)
Grammarly is a must-have tool to catch typos, misspellings, and style errors as you write. With the paid versions, you'll also get features like vocabulary enhancement, plagiarism detection, and brand tone recognition.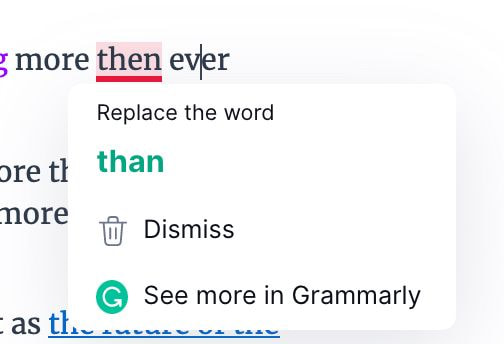 Features:
Offers a comprehensive free option that corrects as you go
Works with many platforms including email, social media, Microsoft Office, and Google Docs
Comes as a mobile app, desktop app, WordPress plugin, and browser extension
Offers customization options
Drawbacks:
Not always accurate, so check the suggestions before accepting
Reporting is not as in-depth as a competitor like ProWritingAid
Paid plans can get pricey since they're per user
Only works with English-language content
14. ProWritingAid
Best for: In-depth reporting, longer text lengths, individual use
Cost: Free grammar checker and paid (Pricing options are affordable and flexible—pay monthly for $20/mo., annually at $79/yr., or a one-time lifetime payment of $399)
ProWritingAid is an all-encompassing grammar and style tool to enhance communication with your customers. It catches grammatical and punctuation errors, optimizes word choice, and detects overused words, passive voice, unclear sentences, and incorrect tenses.
What sets ProWritingAid apart is its in-depth reports, instructional videos, and guides that help you improve your writing and develop your skills overall.
Features:
Pricing is affordable, flexible, and there's a lifetime option
Automatically updates with the latest changes in the English language
Works with many platforms including Microsoft Office and Google Docs
Drawbacks:
Doesn't correct as you go (copy and paste only)
Plagiarism detection tool costs extra
No mobile app
Only works with English-language content
As established, clear writing is important for your brand's credibility. Using any of the tools here will help you achieve that goal. Particularly between ProWritingAid and Grammarly, the one you choose depends on your budget, team size, length of texts you work with, and the amount of detail you prefer in reporting.
Even with its free option, Wordtune is a great complement to either Grammarly or ProWritingAid so that your communication with customers comes across error-free and as you intend.
Tools for visual content
Videos and infographics were in the top 3 primary forms of media used in 2021, with video being ranked as the no. 1 content type for the last two years in a row. Therefore, a well-rounded content strategy should also include visual content.

The tools below fulfill a variety of needs for creating visual content. Rather than an either-or selection, the ones here complement each other and can be used together for a more comprehensive visual communication plan. Free stock photography, background removal tools, easy video creation, and more, here are some of the best marketing tools to create visual content like a pro.
Image Tools
15. Unsplash
Best for: High-resolution stock photography
Cost: Free
Unsplash is an extensive library of high-resolution photos that you can download and use for free. Just remember to credit your photographer—while permission isn't necessary, attribution is good practice and helps artists get recognition for their work.
Features:
No permission needed and no sign-up required
Allows commercial and non-commercial uses
Moderated, curated community with an emphasis on quality
Drawbacks:
Has an alleged history of not compensating photographers well
Somewhat inaccurate keyword search results
Occasional slow image loading times
16. Canva
Best for: Visual content creation overall
Cost: Free and paid (starts at $13/mo. for up to 5 users)
Canva is the ultimate tool to easily make professional and beautifully-designed visual content. Because of its vast offerings on what you can create—social media posts, flyers, infographics, newsletters, blog headers, landing pages, invoices, and more—Canva is a must-have content marketing tool for you and your team.
Features:
Free plan with 8K+ templates and hundreds of photos and graphics
Content calendar to manage and schedule posts straight to social media
Paid version gives you digital asset management tools and brand kits
Drawbacks:
Design elements like lines, frames, stickers, and shapes are limited to what it gives you
Some layout discrepancies between the mobile and PC versions
Aren't many options to help keep content organized (folders, etc.)
17. Picsart
Best for: Video and photo editing and visual content creation
Cost: Free and paid (starts at $4.99/mo.)
Picsart is the world's largest platform of AI-powered tools for professional-quality image and video editing. Picsart also offers exclusive and customizable fonts, color gradients, backgrounds, stickers, and so much more, so you can create engaging content without design experience.
Features:
Huge content library

AI-powered smart tools that allow easy file customization, remove background from image files, and more

Free-to-edit templates from a library of user-generated content
Drawbacks:
Exporting and saving edits is limited in the free version

Once you save an edit, your image is permanently changed

The homepage is missing a search option
18. Slazzer
Best for: Background image removal
Cost: Free-trial and paid (pay-as-you-go starts at $7 for 10 image credits; subscription plans start at $13 for 100 credits/mo.)
Create a clean, uniform look to your product photos by using Slazzer to quickly remove unwanted background images and easily add new ones. Slazzer is the background removal tool with the ecommerce business owner in mind by offering convenient photo editing directly on your ecommerce platform.
Features:
Flexible, scalable pricing structure with subscription plans and one-time purchases
Generous bulk editing option
Easy to use even if you don't have any photo editing experience
Drawbacks:
No undo button to go back if you make a mistake
Detects the background automatically, so it doesn't always get it right
No advanced features to edit or adjust manually
Video Tools
19. Lumen5
Best for: Text-to-video content creation
Cost: Free and paid (starts at $11/mo.)
Particularly apt for social media, Lumen5 excels at combining visuals, text, and audio to easily create professional-looking videos regardless of your experience level. Upload your own media or use options from the Lumen5 library. The most unique feature is its text to video option, where Lumen5 uses AI to adapt your written content to video.
Features:
Free plan includes unlimited video creation
Recently added a voice-over feature for better customization
Variety of support and training options
Drawbacks:
Free plan videos are limited to a 720p resolution and have Lumen5 watermarks
Limited customization and advanced editing features
Personal branding and higher resolutions are only available on pricier plans
Retired the mobile app in May 2021
20. Sendspark
Best for: Engaging customers through email and social media
Cost: Free and paid (starts at $15/mo. per user)
Sendspark is a video content tool to help you easily connect with your customers. Create tutorial videos, showcase your products, introduce yourself, answer questions, and more. Share your final versions over email, your website, or social media.
Features:
Free plan gives you 30 videos per month
No time limits for videos
Includes analytics to track reach and engagement
Drawbacks:
Personal branding and call to action options are only available on paid versions
Free version has Sendspark watermarks and you can't download videos for later use
Longer videos tend to have long buffering times
21. Placeit
Best for: Showcasing and promoting products
Cost: Free trial, paid plans (starts at $15/mo.), and pay-as-you-go
Placeit is a video tool where you can make eye-catching product demos, Instagram stories and videos, slideshows, intro pages, and more. Because of its vast range of templates and ease of use for all skill levels, Placeit is a great option to showcase your brand and products to your customer base.
Features:
Can apply your brand's color scheme across all your creations
Includes an audio library to add an extra level to your creations
Drawbacks:
No advanced editing options
Pay-as-you-go option can be costly
Won't let you upload custom fonts, which limits branding abilities
The tools in this section offer a wide range of options so you can fulfill all your visual content needs. With most on the list offering a free version or affordable pricing, the main considerations for choosing will depend on your
goals and focus (promoting products, educating customers, providing customer feedback)
content mediums (social media, email, website, print)
resources you already have (in-house photographer, Photoshop pro)
Social media management tools
While the hottest platforms may change, the popularity of social media is here to stay for the foreseeable future. As a business owner, you're missing out on valuable engagement opportunities if your presence there is lacking or inconsistent.
The tools in this section will help simplify the process of creating and scheduling content so you can start increasing engagement and grow your social media presence.
22. Later
Best for: Social media content planning
Cost: Free and paid (starts at $8/mo.)
Most suited for Instagram, Later is a visually-focused, drag-and-drop social media publishing tool and content planner. Later works with Facebook, Twitter, Linkedin, Pinterest, and TikTok. Use its media library to upload, store, and organize your materials and its social media analytics tools for insights to drive your content marketing strategy.
Features:
Linkin.bio feature makes your Instagram profile interactive and trackable
Free version gives you 30 posts per month per social media platform
Paid plans give you best publishing times based on audience engagement per platform
Drawbacks:
No automated scheduling for stories, videos, or multi-photo posts
Only works with business or creator Instagram accounts
Can only connect one account per social media platform
23. Agorapulse
Best for: Managing and scheduling social media content
Cost: 14-day free trial, limited free plan, and paid (starts at $79/mo.)
Agorapulse is an all-in-one management solution for your social media content. It does everything from managing social mentions, planning and optimizing content, connecting with followers, and keeping up with conversations happening around your brand and competitors.
Features:
Organizes messages, comments, and reviews across social media in one inbox
Publishing tools for teams to plan, approve, and schedule posts
Optimizes content for best performance per social media platform
Digital asset management features in one place
Analytics tools on content performance, trends, and follower behavior
Drawbacks:
Free plan only gives you one user and 3 platforms
Difficult to reorder photos in multi-photo posts and to resize photos based on social network
No team approval process for responding to messages and comments
No option to save posts as drafts on the calendar tool
24. MeetEdgar
Best for: Recycling and repurposing social media content
Cost: Paid (starts at $19/mo.)
MeetEdgar may look like your standard social media scheduling tool, but it has a little something extra—it'll recycle your content and continue making posts for you to keep your audience engaged. While you'll need to schedule time slots for those posts and give it topic ideas, it does the rest for you.
Features:
Created specifically for entrepreneurs and small businesses
Alternate text feature suggests rewording ideas so your recycled content looks new
Provides insights like A/B and link testing options to monitor audience response
Drawbacks:
Overall features and insights aren't as robust (e.g. no brand monitoring or in-depth analysis)
No integration with YouTube
Growing your social media presence and effectiveness is an important step in reaching your audience and increasing engagement. Tools like the ones listed here will help boost those efforts. Base your picks on your content needs, preferred platforms, and where you'd like to see the most improvement.
If Instagram is your priority, Later is a good option for you. If you want an almost hands-off approach, MeetEdgar sounds like a great fit. For an all-in-one social media content manager, Agorapulse is the best option, especially with its free plan to start.