Marketing Your Online Store on a $50 Budget
Contrary to popular belief, you don't need to invest thousands of dollars to get your company off the ground. There are plenty of budget-friendly ways to market your products. The key is to invest your money into marketing activities that yield the biggest ROI (return on investment), while not spending money where you could learn to do it yourself.
We'll give you the low-down on many free tools you can use to cut costs for your marketing initiatives, as well as offer up some ideas for paid marketing that yields the biggest ROI.
Free tools for minimizing content creation costs
When on a budget, the most important would be to minimize costs where it's possible.
Create visuals with Canva
Canva is a free platform that helps you create different visuals using a simple drag-and-drop method. You can choose what sort of visual you're creating first (Facebook post, cover photo, etc.), and you'll be given a canvas that's already measured to size. You can get inspired by their pre-made designer examples, or totally go off on your own.
Free lifestyle images for your marketing materials
Lifestyle photos are a great way of giving soul to your marketing images. The problem is that to make your own they require a lot of funds and effort – not only staging a photo shoot, but also hiring the models and of course, the photographer.
Stock photos have come a long way and aren't the soulless garbage they used to be. There are many new platforms out there where photographers make their images available under the Creative Commons Zero license, meaning that you can freely use the images.
Here are some great sites to start with:
You can also check out this extensive list of stock images that's been put together by chamberofcommerce.org – it provides a list of over one million stock photos both free and paid.
Free mockup and product placement photos
It's important to show your products in use or in real life. Here are a few tools that will give you the chance to place your designs on mockups.
Make gifs/videos for free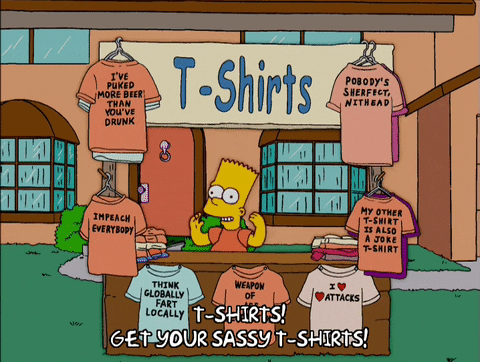 Videos are having a moment, there's no denying it. Both gifs and video content are great as they not only convey more meaning than an image, but they also catch your reader's eye as they're scrolling through their feeds.
Here are some Gif tools to consider:
Gifs.com

– create gifs out of existing videos (eg. ones available on Youtube)

Giphy slideshow – stitch together different images to create your own gif
Gifmaker.me – create your own gif by combining different images
Video tools to consider:
iMovie app

– available for iOS only, this is the lighter version of the iMovie OS software

Magisto – the app is free to download, it costs $0.99 to download a movie. Use it to compile photos and video material into a movie
---
Start your own clothing line with Printful
---
Free communication channels for content distribution
Rather than shelling out the cash to distribute your content through means like Google ads or other PPC platforms, take advantage of the channels that are free to use and make the most of them.
Here are some ideas:
No-pitch publications

– create stories and publish them on platforms that have a low barrier to entry. Here's a list of

10 platforms that will feature you

for free.

Reddit or relevant forums – forums a great place to spread the word about your product, because they already attract like-minded people. Just make sure not to come off too spammy. One rule of thumb is to always be helpful.
Social media – the obvious distribution platform that can be used for free. Take it a step up by using tools that the platforms themselves are pushing: Facebook Live, Instagram Stories, Facebook Stories
Paid marketing tools with a high ROI
There are countless directions you could potentially go in when you've got $50 set aside for paid marketing initiatives. Here are the ones that will give you the most bang for your buck.
Facebook retargeting
Facebook retargeting is the process of showing ads to people who have already visited your store. Visitors to a store that have been shown a retargeting ad are 70% more likely to convert to a buyer.
Why does this work?
Because you don't need to waste time (and resources!) explaining your brand, products or why new customers should care. They already know, and it's just up to you to give them a nudge to remind them why they visited your site in the first place (because your products are awesome and they need them, obviously!).
How to set up Facebook retargeting
Go to your Facebook Ads account and select "Audiences"

Click "Create audience" and select "Custom audience"

Select "Website traffic" from the options presented
Choose which visitors you want to retarget (you can choose all of your website visitors, visitors of a specific landing page, and more).
Create your pixel – you'll be presented with a short bit of code
Copy your pixel into your website
Create your ad
Copying the pixel into your website is different for every platform. Shopify has a space for your Facebook pixel that you can find under your preferences. WooCommerce, on the other hand, will require a plugin to add your pixel, like this one.
Use your retargeting ads to remind your visitors of the products they wanted. You can be creative with your messaging. See how we implemented retargeting for Startup Vitamins.
Targeted Facebook ads to a lookalike audience
A lookalike audience is an audience that Facebook generates that is similar to an audience that you already have. You can create a lookalike audience by uploading your email list or a list of your store's visitors, and then Facebook uses that to locate similarly profiled people to show your ads to. Chances are that they'll have similar interests, and therefore will also be interested in your products.
Take a look at our tutorial for creating lookalike audiences here.
Printful pack-ins
If you have $50 to spare try implementing pack-ins to your order. But not just any pack-ins. To make the most of this investment, they have to be pack-ins that bring a maximum return on investment.
We suggest adding a pack-in that has a far-reaching result. Here are some ideas:
Stickers: People love stickers. Not only is it a nice gesture, it's something that will likely get stuck somewhere, thereby furthering your brand. Plus, it might just result in a social media image + shoutout.
Discount code: Include a little paper thanking your buyer for the purchase, all of your social media info, and the pièce de résistance – a discount code. This will prompt repeat purchases, thereby increasing the value of one buyer.
---
Start your own clothing line with Printful!
---
Conclusion
You don't have to invest thousands of dollars to see results when it comes to marketing. By combining all of these elements into one digital marketing strategy, you've got one solid, and inexpensive campaign. Better yet – when you find a marketing channel that works, you'll be able to reinvest the income and thus exponentially grow your store's income.