Premium Images
The Design Maker's Premium Images section stores more than 80M photos and illustrations in countless searchable categories. These aren't editable, but make your t-shirt stand out with your dad's aesthetic and special interests.
Quick Designs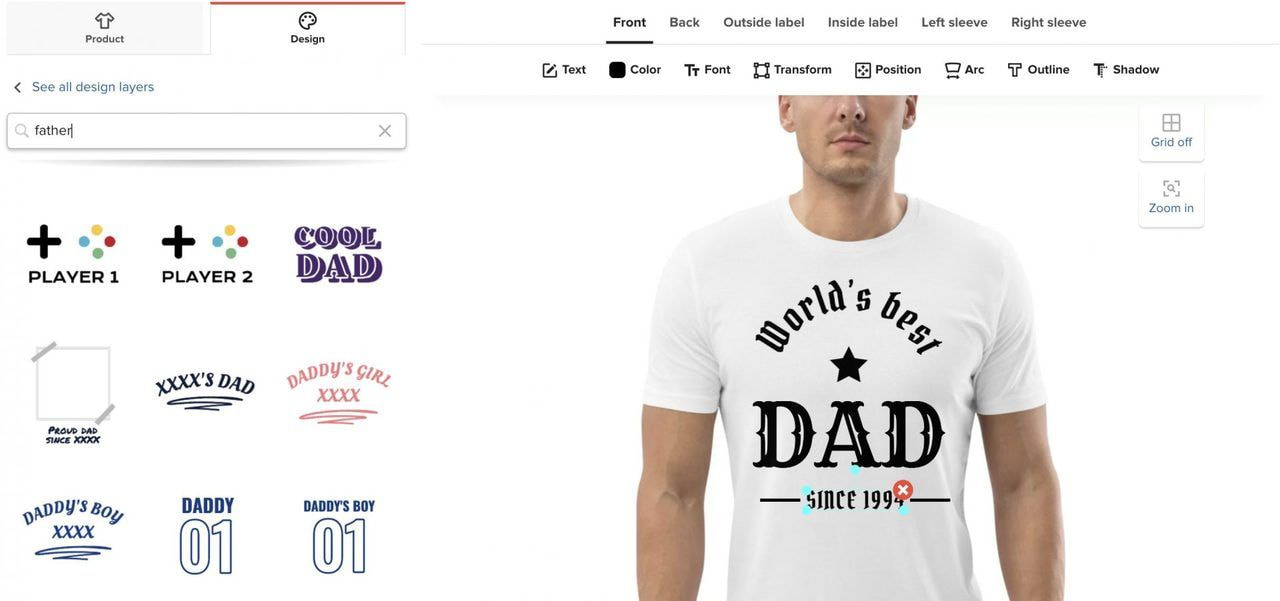 If you don't have time to combine text and clipart, try our Quick Designs. These are pre-made compositions of text and clipart. Think of your dad type and search through our Quick Designs using specific keywords.
Embroidery
Embroidery is a great way to infuse your dad's shirt with that extra-special something. When you browse the product catalog, you can select embroidery and display all t-shirts that support this customization type.
Custom embroidered shirts look stunning with minimalistic designs. When you add your design, you can see how it'll look with the embroidery in the Design Maker's preview.
Custom labels
Add secret messages using custom labels. Just as you can search for embroidery shirts, look for the inside labels checkbox. This is a fun little way to surprise dads when they least expect it. You can customize the inside label just like you'd customize your shirt. Click on the Inside label tab at the top of the Design Maker and play around with text and design elements.
If you want to know more about our Design Maker check out our article 10 Things You Didn't Know Printful's Design Maker Could Do, or just start exploring its features. The best way to learn is to try it out.
Gifts from the heart
No matter what you get dad this year, just make sure it comes from the heart and serves as a thank you for all their help and support. 
Father's Day in the US is the third Sunday of June, so order the gift early in the month so that it arrives on time. For more info about gifts you can order, check out our Father's Day gift page.
Our design team created some fun designs for you to help you get started for Father's Day. Feel free to download them or head to our Design Maker and create your own dad shirt design.
Read Next:
This article was originally published in June 2016; it has since been updated.