In addition to Black Friday Cyber Monday, there are a number of Q4 shopping holidays to add to your ecommerce calendar and make the most of the holiday season. In this article, let's focus on Alibaba's Singles' Day on November 11—a day that started as a cynical response to Valentine's Day in China and turned into a record-breaking shopping event.
Just last year, Alibaba raked in more than $84 billion worth of sales on November 11 across its online platforms—that's more than Black Friday, Cyber Monday, and Prime Day combined. And Single Day's popularity is growing more and more each year across the globe. 
Let's look at how Singles' Day came to be and how you can make the most out of it.
What is Singles' Day?
Singles' Day is a shopping holiday dedicated to celebrating singlehood. Created in 1993 by Nanjing University students, it was then called Bachelor's Day. As its popularity grew among Chinese youth, ecommerce giant Alibaba adopted it as a singles' shopping holiday in 2009. Alibaba renamed the holiday Singles' Day because the date, 11/11, represents 4 singles.
Singles' Day is on the rise in ecommerce
The explosive growth of Alibaba's Singles' Day shattered sales records worldwide—from $5.8 billion in 2013 to $84.54 billion in 2021—capturing the eye of the international ecommerce industry. The rise of Singles' Day can also be partly attributed to China's population of 1.4 billion. It is, after all, the world's biggest market and most populous country.
Singles' Day is becoming a worldwide shopping phenomenon, and there's now a whole shopping festival revolving around it—the 11.11 Global Shopping Festival. Major retailers like H&M, Nike, and Gap have successfully merged Singles' Day into their end-of-the-year sales. Even luxury brands like Gucci and Cartier are participating in this festival. Isn't it time for you to jump in on the trend too?
How did Alibaba's Singles' Day become such a big deal?
It all comes down to strategic planning, a clear marketing strategy, and sales promotion. Here's a breakdown of Alibaba's approach for Singles' Day: 
Offering an interactive and engaging shopping experience—from gamification elements to online fashion shows
Consistent multichannel selling and omnichannel marketing
Virtual reality experiences for customers—from interactive games to lucky draws
High-quality and affordable products
Mobile-first and in-app coupons
Customer loyalty programs with the chance to earn rewards, credits, and gifts
Alibaba's Singles' Day also combines shopping with entertainment—shoppertainment. What does this mean? Each year, big-name celebrities like Kim Kardashian and Taylor Swift have participated in holiday-related events and livestreams to generate buzz and boost sales. 
Last year, however, event organizers chose to endorse social welfare initiatives instead of focusing on record-breaking sales or entertaining shoppers. For example, there was a three-hour-long livestream to help raise money for an elephant reserve in China's rural southwest.
6 Singles' Day marketing ideas to increase sales
Most business owners probably can't get A-list celebrities to promote 11/11 sales, but there are plenty of other strategies you can use to make the most of this global shopping day. Let's go over some effective Singles' Day marketing ideas.
1. Give your customers Singles' day deals
As with any shopping event, discounts are the main attraction, so consider organizing a sale or giving your customers a good deal for the occasion. Before setting your prices or deciding on a discount, check out our guide on how to price your products. After all, being profitable is more than just making sales.
Now, let's take a look at some examples of deals you can offer.
1.1. Sitewide sale
One of the strategies is to offer a discount on everything you offer. This gives your customers a lot of freedom. Since profit margins for every product differ, calculate how much of a discount on average you can afford to remain profitable.
1.2. A bundle deal
You can offer various bundle deal variations: buy one, get one free, buy one, get the second one at a reduced price, or buy two of the same kind and get a discount, etc. 
There isn't one right way to do it: if you want to find out what your customers value the most, run a small poll on your social media. That way, you know you're giving them what they want.
2. Create an email discount campaign
Since Americans check their phones 96 times a day on average (nobody can resist the temptation of a new notification), sending a thought-out email campaign is a great way to reach your audience. In fact, according to HubSpot, 73% of millennials prefer communications from businesses via email.
Read also: Email Copywriting Tips to Keep Customers Happy
The most effective way to get your audience's attention via email is to create a sense of urgency with a campaign. The best way to do this? A limited-time offer (see an example below). You can also reward your customers with a Singles' Day coupon code. For example, on November 11, most international brands offer 11% or 22% off. 
In addition to giving your customers a good deal, you can use email to showcase some of the products you're selling. Pick the most profitable products and bundle them together, as the brand Quiksilver did.
You can also get new people to subscribe to your email list by offering a discount code in return. Setting a time limit will create urgency and incentivize them to act swiftly.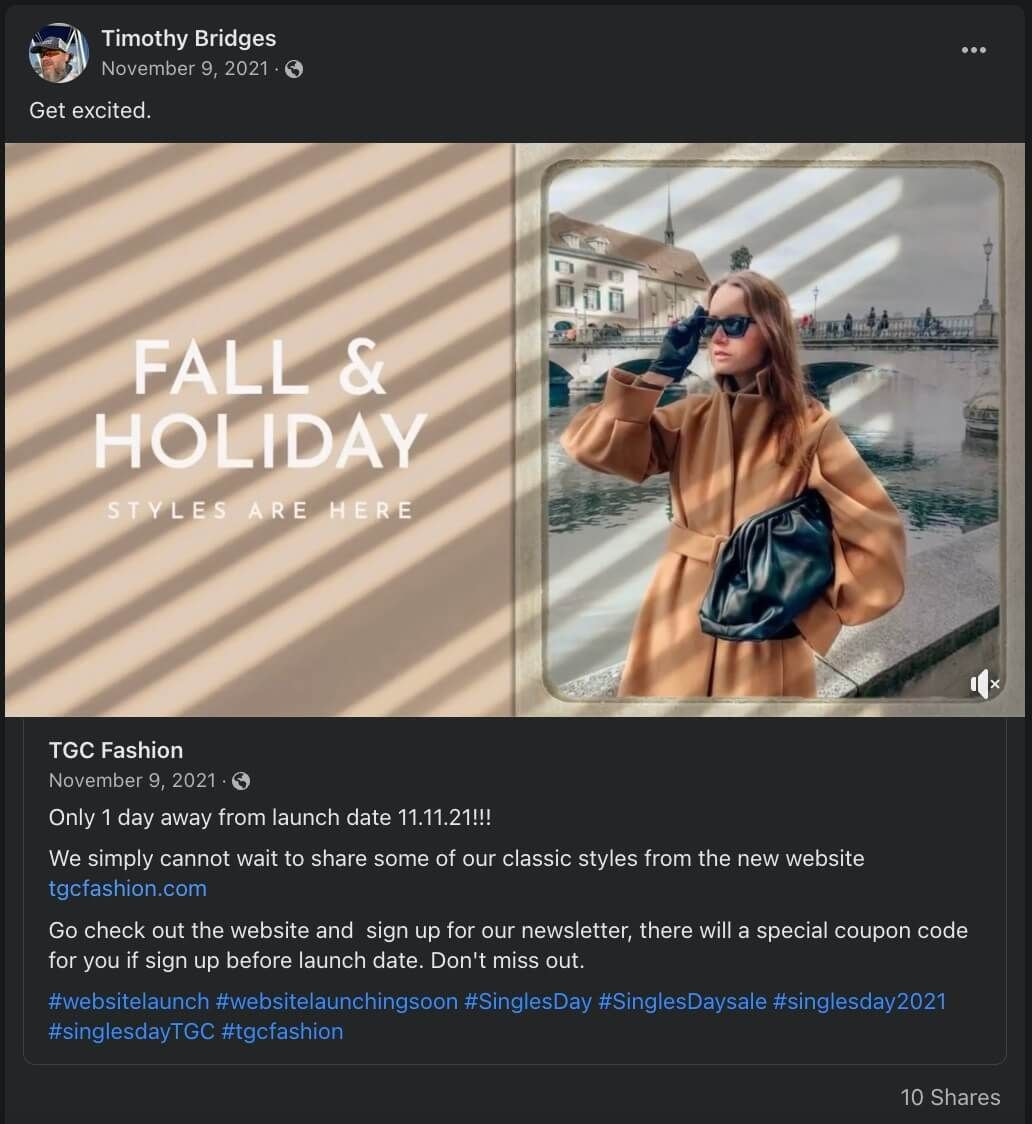 Aside from product discounts, some brands also offer free shipping, which leads to reduced cart abandonment and increased sales. Nearly all shoppers value free shipping, so it's a great marketing tool to boost customer loyalty. As an extra perk for your customers, offer a discount and free shipping to ensure customer satisfaction.
Examples of Singles' Day deals offered by well-known brands
Sources: Milled, Edited, Aldo
This shopping holiday is the perfect occasion for self-gifting, a trend that's on the rise among Millennials and Gen Z. Why not follow suit and offer your customers products promoting self-love? 
Think about t-shirts with simple, heartwarming designs. The idea of Singles' Day is to celebrate yourself, so shoppers will appreciate styles that do just that.