Who uses TikTok?
Before advertising on TikTok, it's crucial to understand its demographics and whether they match up with your target audience.
TikTok demographics
In the beginning, TikTok became a hot trend among women. But now the number of male users is higher in all groups. 
According to Vox, 66% of TikTok users are younger than 30. However, research shows that TikTok caters to a specific demographic: nearly half of its users (41%) are between the ages of 16 and 24 (Gen Zers).
Here's why TikTok is so popular with youth:
1. TikTok creators have a deep understanding of Gen Z's behaviors, interests, and preferences. This helps them create a social media app that gives their target audience exactly what they're looking for. 
Look at how TikTok entered Japan. The director of TikTok Japan had been working and studying in the country for 17 years before joining the company, and the rest of the team are either Japanese or have studied in Japan. Using insights into the local culture, they designed contests that allowed students to join interest groups like cheerleading, driving a lot of traction for TikTok in Japan. 
2. TikTok brings users an experience-directed feed based on algorithmic observation and inference. The first time you open the app, you see a page called For You. The pool of videos is enormous, and most of those videos are incredibly addictive. This can explain why millions of teens are obsessed with the app.
3. Teens love challenges. The brain of a teenager is compelled to seek out new experiences. TikTok understands that, so it gives teens new, fun challenges they can't find anywhere else.
Which countries use TikTok the most?
With TikTok, you have an opportunity to reach audiences around the world. TikTok is available in 155 countries and currently supports 75 languages. 
Among TikTok's 800 monthly active users, 500 million of them (equal to 60% of the total) live in China. However, Indian users have made the main contribution to the number of TikTok downloads across the App Store and Google Play, with 466.8 million in 2019. This number is equal to 31% of all unique installs coming from the country. 
How do American teens use TikTok?
In October 2017, there were 2.6 million adult US TikTok users. A year later, that number increased to 7.2 million. By the end of 2019, the US generated the third-largest number of TikTok downloads with 37.6 million or 7.4% of all global installs. 
The Tonight Show starring Jimmy Fallon was considered one of the main contributing factors of TikTok's sudden rise in popularity in the US. In the show, he encouraged viewers to join a TikTok challenge with the hashtag #tumbleweedchallenge. The challenge eventually drew more than 10.4 million engagements and over 8,000 submissions.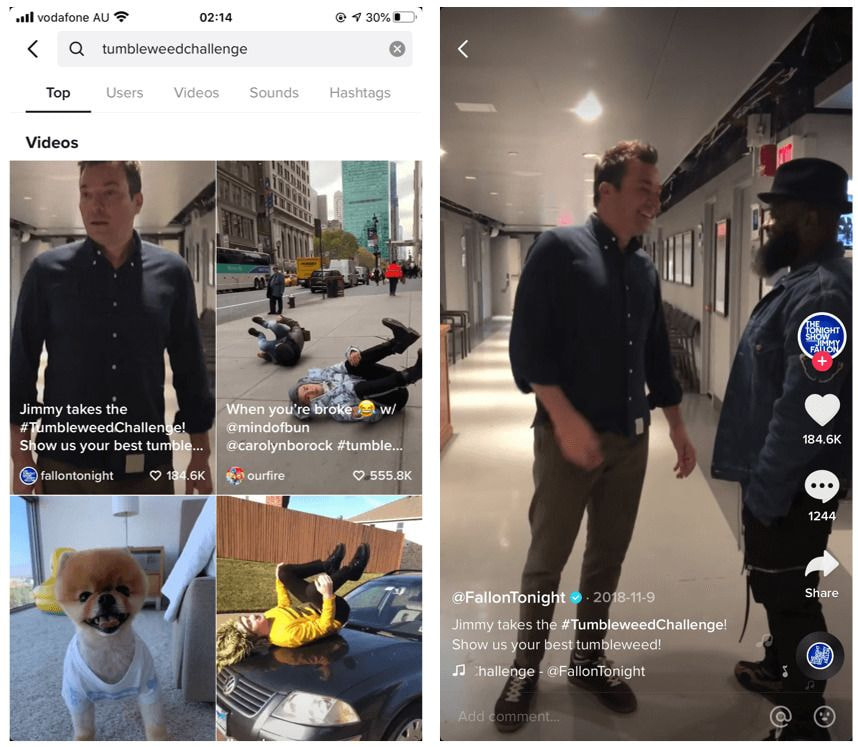 The popularity of TikTok in the US is supported by teachers at many schools. A lot of educators even set up their own accounts and encourage students to use TikTok for assignments. These positive reactions towards TikTok in the US are what brands should bear in mind. If you find a way to resonate with the target audience through the app, TikTok advertising can be a smart move. 
Benefits of advertising on TikTok
Here are some advantages of promoting products on TikTok:
Easy to reach young audiences
Teens love TikTok, so this platform is an ideal choice for brands whose target audiences are younger consumers. Some brands have already achieved tremendous success with TikTok. 
Elf Cosmetics, a brand that's popular among teens, for example, hired an agency to produce the song "Eyes Lips Face". The song title is based on the brand name's acronym and inspired by Kash Doll's 2018 hit "Ice Me Out". The brand then worked with some influencers to create the TikTok hashtag campaign #eyeslipsface.
As for the results? More than 2 million videos were created using the Elf Cosmetics' song, and as of now, the #elfcosmetics hashtag has 4.6 billion views. 
When used effectively, TikTok can help you tap into one of the most lucrative pools of users and increase engagement with your brand.
Improve brand awareness
TikTok's hashtag system labels content and makes it easier to explore. Brands can use trending TikTok hashtags or create their own to include in their videos.
Yves Rocher is a good example of using TikTok to increase brand awareness. Their campaign targeted Gen Z women and focused on the message that it's OK to be imperfect. This In-Feed Ads campaign helped Yves Rocher drive a CTR of 1.55%. 
How to advertise on TikTok
In early 2019, TikTok launched a beta version of its ads offering. TikTok's ad platform is already available in certain regions such as the US, EU, India, Vietnam, Thailand, and Indonesia. You can access TikTok Ads if you're based in these regions.
TikTok Ads are similar to Facebook Ads with features like custom audiences, lookalike audiences, a tracking Pixel, or a three-part ad structure (campaigns, ad groups, and ads). However, regarding ad types, TikTok Ads are different.
Where TikTok differs is their ad types. Below are the TikTok ad types that work best for brands:
In-feed ads
An in-feed ad appears as a full-screen native video and is embedded within the For You feed. It has the sound automatically played and allows users to comment, share, like, etc., directly from the feed.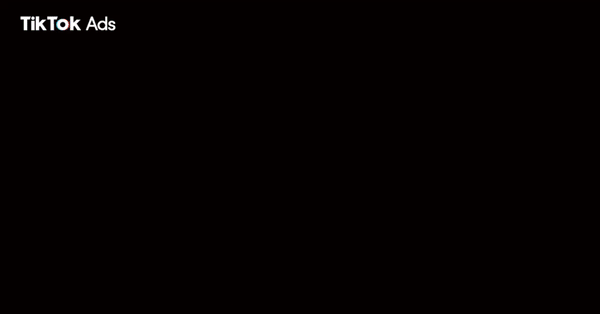 Using in-feed ads is a good way to drive traffic to internal pages (like hashtags or challenges) or external landing pages (like websites).  
Brand takeover
A brand takeover ad is a full-screen ad that pops up when a user first logs into TikTok. It lives on the first screen they see when opening TikTok. Simply tap the ad, and they'll be directed to the brand's website. A brand takeover ad can be an image or a 3-5 second GIF/video. 
Top view
A top view ad showcases your brand as soon as users open TikTok, which helps reach and engage audiences in a visually impactful way. It's a version of the brand takeover ad unit that fades into an in-feed video ad, lasting 15 seconds in total. 
Branded hashtag challenges
Branded hashtag challenges help you maximize engagement by tapping into user-generated content. You can choose a branded hashtag, create a challenge, and encourage users to join your challenge as well as include your branded hashtag into their post. 
According to TikTok Ads, "the branded hashtag challenge is a new and unique way to engage users. It taps into users' passion for creation and expression by inviting them to join in on a collective movement. Over 50% creators have participated in a hashtag challenge with an average engagement rate of 8.5%, generating huge brand buzz and affinity."
How much do TikTok ads cost?
There are 4 different advertisement goals (bidding methods) based on what your campaign anticipated results are. Use CPC (cost-per-click) goals to get more clicks or any of the view objectives to increase awareness and gain more ad impressions.
CPC (cost-per-click): Pay for clicks. Acquiring more clicks will serve as the optimization goal.
oCPC (optimized cost-per-click): Pay for clicks that lead to conversions. The system optimizes delivery to get more conversions (e.g. app download, purchase, or sign-up).
CPM (cost-per-mille): Reach and thousand impressions are the optimization goal.
CPV (cost-per-view): Pay for every 6-second video viewed. 6-second video views will serve as the optimization goal. 
TikTok ads are new and at the moment they might be less affordable for smaller businesses or any other brand that has a shoestring marketing budget. 
TikTok Ads come at a premium cost that starts at an average of $10 per CPM and require a minimum investment of $500. For larger campaigns, the cost for TikTok Ads can go up to $300,000 in total. 
Advertising on TikTok in 2022: 5 things to note
To make sure your TikTok advertising strategy is on the right track, you should these things in mind: 
You're on TikTok, not Instagram or YouTube
It's worth repeating that TikTok is a unique platform. So, never reuse your Facebook ads or Instagram ads for TikTok ads and vice versa. 
Leave your aspirational content on Instagram and your polished video on Facebook. TikTok content is ultra-creative, genuine, intriguing, and funny. TikTok users and video creators, don't take themselves too seriously. 
Make your approach authentic
TikTok doesn't help you increase sales directly. On Instagram, you can add promo code or use gifts to encourage purchases. But these incentives may not work on TikTok ads. 
Your approach to TikTok advertising should be authentic. Your goal should be about engaging with the audience in creative ways, not pushing sales. Everything in your ad campaign needs to align with the nature of the app. TikTok isn't the place for heavily commercial ads—at least for now. 
Influencers, influencers, influencers
Influencers are a big deal on TikTok. According to Madison Bregman, CEO of youth marketing consultancy GirlZ, "TikTok is a platform where we're part of a generation where every single kid wants to be an entrepreneur or an influencer." The app makes it easy for aspiring Gen Zers to have their post go viral and become an influencer only with some videos. 
That's why brands should think about a TikTok influencer marketing strategy to advertise their products. When working with influencers on TikTok, you should ensure they understand your marketing campaign's main goal and the message you want them to convey, then give them space to free their creativity. 
Music is the key
TikTok amateur creators can create viral videos thanks to using remixed songs. 
Before approaching TikTok Ads, brands should choose the right approach and align it with today's youth. Video content showcasing "behind-the-scenes" footage or bringing an ordinary aspect of your brand to life through music and motion can get your ad campaign to stand out.  
TikTok isn't for every brand
TikTok's predominantly Gen Z user base should make it clear that the platform isn't a good fit for every brand. 
If your brand is targeting GenZ and younger millennials, advertising on TikTok is worth considering. It can even be an essential addition to your marketing mix. The platform is also the right choice if your products are related to fashion, food, travel, retail, and music. 
However, the platform may not be the right choice for brands that target older generations. Brands in this category should consider other platforms. 
TikTok advertising case studies
Big names like Nike, Danette, Maybelline, Clean & Clear, Oppo, and Rexona have created compelling TikTok ad campaigns to promote their products. Let's take a look at some TikTok advertising success stories:
#1 Maybelline
Goal: Win the hearts of a younger female audience. 
Advertised product: Volume Express Hypercurl Mascara.
Influencer: Reiko. 
Video theme: Mascara Boyfriend. 
Ad type: In-feed ad. 
Results: 48,700 likes, 2,907 comments, and 709 shares within 1 day.
#2 Danette
Goal: Reach a younger Gen Z audience. 
Influencer: seven French influencers (with 6M followers in total).
Ad type: Branded hashtag challenge, brand takeover, and in-feed ad. 
Results: 40 million views in the first week of the campaign and 17,000 TikTok users took on the challenge. 
#3 Clean & Clear
Goal: Increase brand awareness and engagement among Indian female teens.
Advertised product: My Swag (limited edition). 
Influencer: 5 female influencers (with 5M followers in total).
Ad type: Branded hashtag challenge.
Results: 1.96B views and 2.62 million user-generated videos.
These brands killed it with their TikTok advertising campaigns. One thing to remember is that TikTok isn't just for big names. The platform can work wonders for small businesses as well, so it's not early to get in there and test the waters. If it does take off, you'll be well ahead of your competitors.
Your turn
What do you think about advertising on TikTok? Do you have a plan to promote your product on this platform? Let us know in the comments below!
Read next: How to Make Money on TikTok: 7 Tried and Tested Ways