There's nothing worse than ending up empty-handed for the holidays. You're unhappy you couldn't deliver, the customer's upset and not likely to buy from you again, and the gift recipient's left without your amazing product. But with carefully set order deadlines, you can avoid this problem entirely and even boost profits. 
Last year, the shopping frenzy kicked off as early as November 6, signaling an extended holiday shopping season. The same is coming this year—50% of consumers expect to start shopping for gifts in November or even earlier.
So, stay one step ahead and inform customers about upcoming deadlines now. If your customers know the very last day to order your products, you can forget about having unpleasant conversations with angry shoppers about late gifts.
But how can your sales benefit from this information?
It's pretty simple: deadlines create urgency that, in turn, increases interest and engagement. When potential customers see that time is running out, they're more likely to buy your products. You just need to make sure that your order deadlines are visible in all essential customer journey touchpoints.
How can you communicate holiday order deadlines to your customers?
Will my gift arrive in time for the holidays? This is the question that crosses the mind of many potential customers.
Your best bet is to share holiday order deadlines across all platforms through which you engage with your consumers.
Keep in mind that:
Not all of your customers see your order-by date announcements on social media or via email, so having order deadline info just in those places won't reach everyone

Some of your customers might land on a specific product page, so keeping your deadline announcement just on the homepage won't do the job either
To reach the largest volume of customers possible, rethink your approach. This year, use evergreen tools and trendy ideas to make your deadline communication strategy bulletproof. Ready to roll?
If there's one thing customers tend to read when shopping, it's the product description. That makes it the ideal place to add delivery estimates and cut-off dates.
A simple message will work just fine, for example:
Order by [date] to get this [product] by Dec. 25 in [country]
Order by Dec 7 to get this mug by Dec. 25 in the US
If you offer express and standard shipping in your store, then specify that too. For example:
Order by [date] to get this [product] by Dec. 25 with [method] in [country]
Order by Dec 12 to get this mug by Dec. 25 with Standard shipping in the US
Pin the order deadlines on the top of your listings to be 100% confident that shoppers will notice. Just remember to remove the disclaimers once the holidays have passed.
Once buyers have made their selections, the shopping cart is the last stop before you can celebrate a successful sale. But, many customers tend to abandon their carts before hitting the pay button. So here's your chance to convince customers to complete the order. An order deadline can give your potential shopper a much-needed nudge to not put off their purchase for later. 
Keep it short and snappy, like: 
Order until Dec. 10 to get your gifts in time for the holidays.
2. Create holiday order FAQs and update policies
To make shoppers feel safe, it's a good idea to create a dedicated holiday FAQ on your storefront. Besides holiday order-by dates, you can also remind your customers about your store policies and acknowledge that shipping may take time. 
Include the following information in your holiday order FAQs:
The order-by dates. If you sell just one or two product categories (mugs and wall art, for example), then a few sentences about order dates should cover it. If you sell various products, go for something similar to what we use for our holiday order deadlines.
Anticipated questions. Think of possible concerns your customers might have and write down the answers to reassure them. For example, can I order after the deadline? Put yourself in your customers' shoes and address as many questions as you can. 
Don't forget to update your store policies with information about:
Returns
Order tracking
Shipping options and delivery times
Lost or damaged packages
3. Display deadlines on store banners
With holiday shoppers on the lookout for gifts, you can expect your online shop to receive more visitors. A potential customer will often look around and gather information before heading to the checkout. 
By displaying your order deadlines on the home page, you have a higher chance of converting the customer during the first visit. Since there's not much room for text in a banner and there are a lot of order-by dates to cover, you have two options to share the dates there.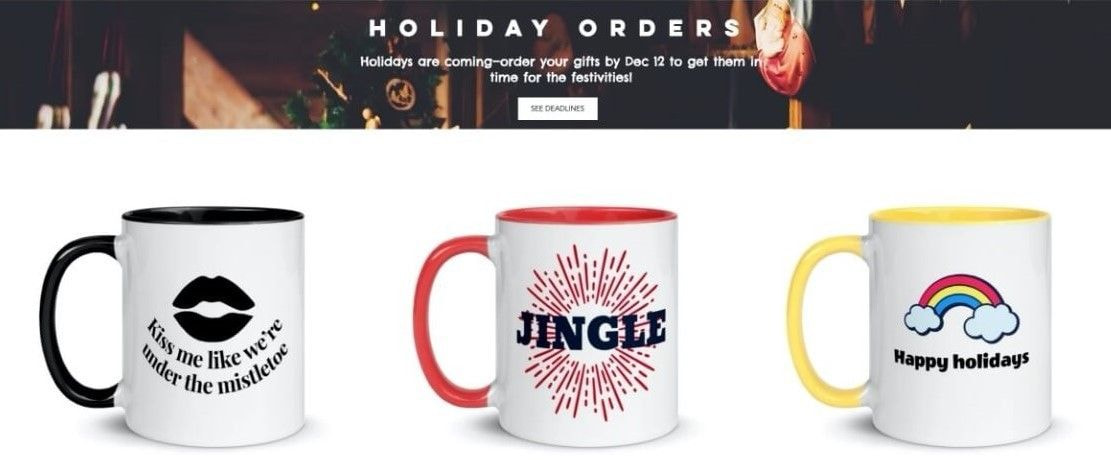 Option 1: Inform customers that they need to order by specific dates to get their gifts on time.
Let readers know that deadlines for each product are displayed on the product page. Or, better yet, add a call-to-action button that directs customers to your holiday order FAQ page.
Option 2: Be precise and share your order deadlines on the banner. This option works well if you sell limited product categories to a specific geo-based market. For example, you sell wall art to customers in Japan. In that case, you can display a single date for the specific product.
When you've covered all the bases on your storefront, it's time to create promotional content for external communication channels.
There's no better way to attract a new audience to your store than ads. More specifically, well-targeted video ads. Recent trends show that customers engage more with video ads, so your engagement rate will go through the roof if you create a video displaying your gift-worthy products.
Running ads about order deadlines will make your customers think about timely gift shopping. It's a powerful way to create urgency and convert those indecisive shoppers into customers. 
If you want to take your promos a step further, throw in a free shipping offer or a discount deal. A tempting discount and a limited-time offer is a match made in heaven.
While you're at it, consider retargeted ads. When a customer visits your store, they're already interested in your brand. So even if they're not convinced by your in-store deadline promotions and leave without buying, you can still remind the customer about your products with a last call for orders. 
You can set ad triggers based on behavior, like if a customer viewed a product or left the shopping cart without buying. Then your ad will pop up on social media to remind them about your products.
5. Send out email reminders about the last chance to order
Email marketing is a highly effective tool to boost sales. People are more likely to buy a product if they receive an email offer. 
When you're preparing your email copy to communicate order-by dates, remember that you can use this space to also promote your shop and offer special deals. Here are some ideas where you can incorporate order deadlines:
Holiday gift bundles

Gift guide

Holiday order countdown

Free shipping or special deals (like coupons, flash sales, or "buy one, get one free" promos)
When the order deadlines come closer, send out a re-promo campaign. Some of your customers might've opened the first email and thought, "Hmm, this could be an option for my holiday gifts . . ." but didn't act on it. That's where you sneak in with a re-promo email and remind them about your store.
Your potential customers are actively searching for products and deals on social media. So build up your 2023 social media trend knowledge and create your own viral content.  Social media is very visual, so don't cut corners when creating your photos, designs, and videos.
Think of fun, engaging activities you can play out with your audience. For example, offer holiday giveaways—it's a great way to engage with your audience while giving a little back to your community. Let your creativity flow!
If communicated with special deals, order deadlines can create FOMO or fear of missing out. So your goal should be to create social media posts that customers can't resist. Set frequent reminders about upcoming cut-off dates on your social media platforms to keep the excitement high. 
How can you create social media buzz? 
One idea is to include a countdown, like the 12 days of Christmas, until the last moment you can shop. Then, offer a giveaway on one or two days, and the rest is seasonal product content. By including the deadlines in each post, you'll both tease the audience and create urgency.
Put your order deadline knowledge to use
With all this information at your fingertips, you can now apply it to your store. 

Source: Printful
Create a list with your products on one side and leave space for deadlines on the other. Then go to our holiday order deadlines page, select the country where you plan to sell, find your product category and fill in the blank spaces in your own list with the cut-off dates that you found on our page. After that, all you have to do is create a game plan for your promos, and off you go.