3. Choose products
Based on your audience and your supplier's offering, you'll need to start thinking about the products that will represent your online clothing business. What do you have in mind? Are you playing it safe with creative t-shirts or trying out an entire collection of athleisure apparel with hoodies, sweatpants, and leggings? Would you like to include some accessories to raise your store's numbers?

There's a whole universe to explore. In this section, you'll find some ideas to fill up your online store's "window" and captivate potential customers with some classic and unexpected options.
T-shirts and shirts
There's no better way of starting this list than with the number one staple item for any wardrobe—t-shirts. They're winners for any clothing store and, with the right design, can match any style.
Since you don't need to worry about buying inventory, you can experiment with different colors, materials, sizes, and, if your clothing manufacturer allows, printing methods (DTG, embroidery, all-over print)—not to mention inside and outside labels.
Source: Etsy
Wanna go the extra mile? Your fashion brand can also offer polo shirts, 3/4 sleeve shirts, long sleeve shirts, tank tops, and crop tops.

Looking for inspiration for your custom t-shirts? Read next: 50 T-Shirt Design Ideas for Every Occasion.
Hoodies and sweatshirts
We're sure that 20 years from now everyone will be talking about how athleisure like hoodies and sweatshirts were a hit in the 2020s.

These cozy, practical, stylish items have been a staple since lockdown and are a mark of younger generations. Proudly worn by everyone from big tech entrepreneurs to young TikTokers, they're everywhere—and would be the perfect addition to your storefront!
 
Source: Jinquedai
Just like t-shirts, hoodies and sweatshirts can carry custom designs in the front, in the back, or on the sleeves to rep your brand's message wherever they go.
Check out more examples of custom hoodies in the article 32 Hoodie Design Ideas to Get You Inspired
Jackets
With their rock'n'roll, college, or sporty vibe, jackets and vests never go out of style. Find the type that best suits your audience—denim, bomber, leather, windbreaker—and give them an even cooler twist with custom embroidery, if you work with POD.

Another idea is adding patches to your online store so that your customers can personalize their jackets themselves.


Personalized jacket with embroidery and patches. Source: Denim and Bone
Pants
Let's not forget the bottoms, essential items for a complete collection. In this category, we're not only talking about basic denim, but also sweatpants and joggers, or even leggings!
Source: Instagram @kailyecaswell
 If your niche calls for bold design choices, don't be afraid to include colorful all-over print models in your catalog.
Shorts
As the sun comes out the cold temperatures are a thing of the past, the days get longer and our pants get...shorter! That means the perfect opportunity to launch a seasonal collection— another advantage of the dropshipping business model. You won't need to worry about getting rid of leftover stock when the spring/summer season is over.

Choose colors and patterns that relate to your brand identity from the options available in your supplier's inventory, or create your own shorts using print-on-demand.

Custom shorts. Source: Printful
Swimwear
Speaking of the warmer days, swimwear is another option you can consider for your clothing store. Pro tip: don't forget to take into account different sizes and body types. This can have a direct impact on whether or not your products sell, and your clothing company's overall profit.

Source: Printful
Skirts
Skirts can bring a whimsical, delicate touch to any casual or elegant outfit. Long or short, loose or fitted, they can be exactly what your clothing brand needs to stand out in the clothing industry.
Dresses
Dresses can also be the stars of your dropshipping clothing store, and you don't have to be an experienced fashion designer to make that happen. Just find a clothing manufacturer that works with dropshipping and has these items in their catalog.

Custom Skater dress for dropshipping. Source: Printful 
Underwear
Yes, you can also include an underwear collection in your clothing store or focus 100% on it if you like. Just look at brands like Calvin Klein and Intimissimi and how they turned these clothing items into a valuable business.

Source: Printful
Kids' and youth clothing
So far, we've been focusing on the grown-up crowd, but the little ones can represent an important market share, especially if they're related to your chosen niche.
Indeed, selling kids' and youth clothing can be a fun challenge, but it can also become a profitable business. Want proof? Just take a look at big brands like Gucci who are branching out into this niche, offering luxury clothing items for babies and toddlers. The popularity of unique clothing for kids can definitely translate to the realm of dropshipping as well.
Source: Gucci 
Pro tip: if you decide to sell baby clothes in your clothing store, be extra careful with the material used by your supplier. These special clients have sensitive skin and parents are always looking for safe, quality choices.
Accessories
No outfit is complete without matching accessories. And your clothing brand sure can benefit from that. Add accessories like hats, beanies, socks, shoes, and bags to your listings, suggest them to buyers as add-ons during the purchase process, and watch your company's numbers grow.

Source: Printful
4. Set up your online clothing store
Once you get to this step, you already know what you're going to sell, how, and to whom. The question is where will you build your dropshipping clothing store?
The short answer is: wherever your target audience is. You probably have that information from your initial market research, but if you don't, there's nothing wrong in investigating a little more.
Building your own ecommerce website from scratch can be expensive and hard to do by yourself. Luckily, there are many easy-to-do options for anyone who wants to start a clothing company online. Below we discuss the most common ones.
Ecommerce platforms
Setting up your own online store on an ecommerce platform has many benefits. The main one is that they usually have templates you can use to create an original website, with your brand identity as the focus, and without needing much background knowledge on programming or design. Don't forget to buy an official domain (e.g. myclothingstore.com) to give your business a more professional look.
Example of a clothing store template for ecommerce platforms. Source: Colorlib
Another advantage is the fact that you have the whole space for your clothing brand. This gives you the opportunity to shape a unique experience with potential customers, guiding them through the buying process in a personalized way. You can also use plug-ins for payment, cart recovery, contact forms, or discount coupons, for example.
Building all that may be a little time-consuming so be ready to spend some hours or days on it to get to the results you want. Also, it'll be up to you to attract visitors to your store through SEO and ads. Don't worry, we'll talk about it soon.

Online marketplaces
Online marketplaces work like shopping malls in an online environment. It's a space where the user can find many different stores, some of them selling the same products or services, and others offering original items, all in one place.
They're usually easier to set up than ecommerce platforms, mostly because there isn't much room for personalization. The basic layout is pretty much the same for every store, but sometimes there's space to add your logo, your business name, a presentation and your product listing with photos and descriptions.
Marketplaces are a good option for small businesses that are just starting to build their brand because it has all the features you need to sell your products. Plus, it gives you the chance of being discovered with minimal effort since the platform does the marketing to attract people to its space.
On the other hand, it might be difficult to stand out in a sea of brands fighting for customer attention and competing on price.


Source: Business Insider
Social media platforms
Social media has played a big part in the economy for years, so it's no surprise that the companies that run these platforms found a way to keep the money in house. Thanks to social commerce, users can buy and sell products without leaving their favorite accounts, making it possible to buy that dress from that post you just saw in a few clicks.
Even if you have your own website or an account on an online marketplace, using social commerce in your marketing strategy is a must these days. Remember what we said about being where your audience is? This is what we're talking about. Use it well and you'll be able to convert followers into buyers.
Here are the most popular social commerce platforms you should keep in mind:
Instagram
Facebook
TikTok
Pinterest
Spotify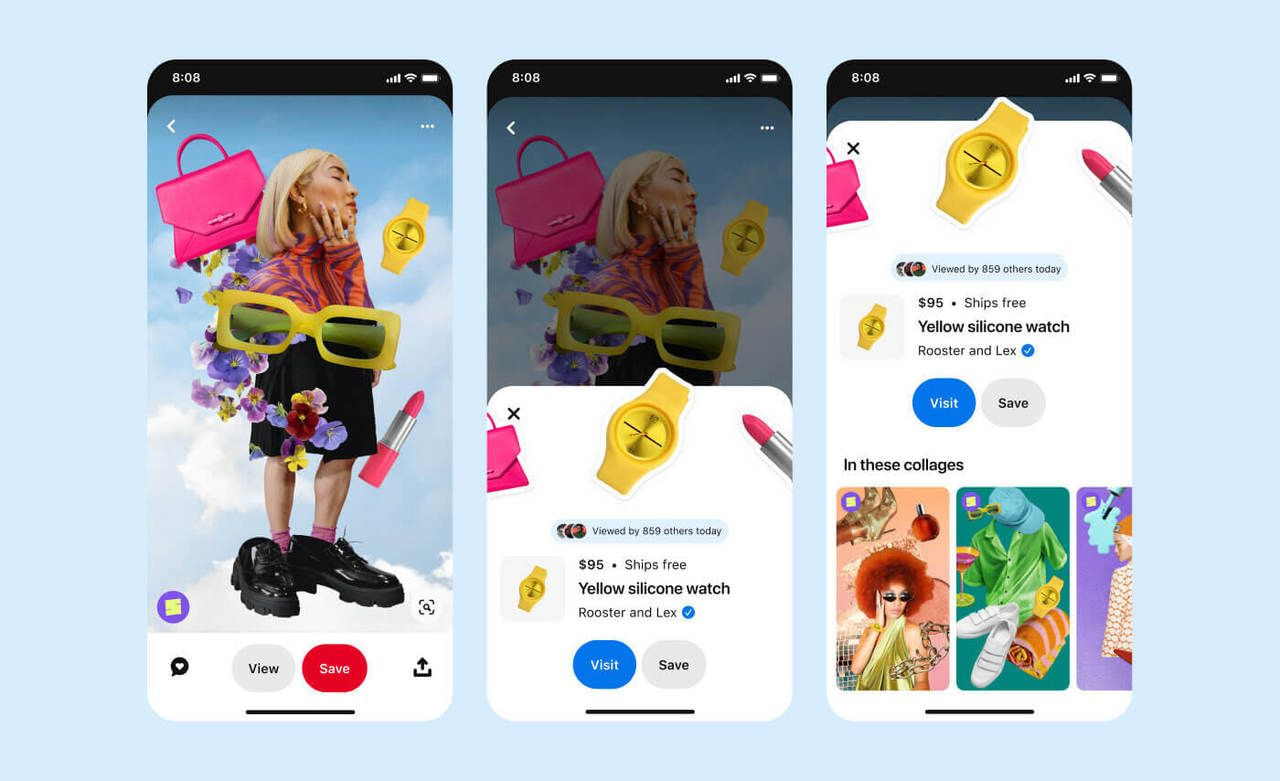 Source: Pinterest
Read more about selling on social platforms in the article Why Social Commerce is a Must-Have Marketing Strategy
How to choose the best option
First of all, you don't need to stick with just one option. You can sell on different platforms if you want, having various stores under the same brand. For example, there are stores that have their own website or an account on a marketplace, but also do social selling on Instagram. This can be great for boosting sales. 
But having your own website plus an account on a marketplace can also be time-consuming, not to mention risky in terms of splitting your audience's attention. 
How can you choose then? Assess what's most popular to your target market, where your potential customers prefer to shop, and check which platforms your dropshipping supplier connects with.

Printful has integrations with the most popular platforms and marketplaces out there, so you're free to choose what best fits your needs. You can even take a test to find out what would fit your business best.