Print-on-Demand Industry and Product Statistics
The digital printing industry started in 1993 and grew exponentially to be worth $187.7 billion in 2018, just 25 years later. (ComCap)
From 2017 to 2020, the print-on-demand apparel industry grew at a compound annual growth rate of 12%. (ComCap)
Search interest for print-on-demand rose dramatically at the start of the COVID-19 pandemic in March 2020. It also spiked in January and April of 2021. In 2022, it still remains above the pre-pandemic level. (Ahrefs)
Print-on-Demand During COVID-19 and Beyond
COVID-19 didn't leave any person or industry unchanged. It forced us to adapt to a new way of life in the face of personal and professional uncertainties.
One of the ways people tried to increase their financial security was by starting a side hustle. In 2020, new business creation in the US rose by 42%. And due to the unfortunate massive layoffs during the pandemic, as many as 56% of Americans expressed that they felt safer when working for themselves instead of having a traditional job.
This shift towards owning your own business instead of working for someone else had a huge impact on the print-on-demand industry. Back in March 2020, the first red flags of the pandemic started to rise and so did interest in print-on-demand. In March, Google search volume for the "print on demand" keyword rose by 10,000 monthly searches and continued to grow until August.
Why did print-on-demand gain such interest during the pandemic? It makes setting up a fully functioning business fast and easy. With a design or a design idea, you can have products ready for sale in a matter of a short lunch break. And what's really important with a highly contagious virus lurking around—you can set up your store from the safety of your own home.
But it wasn't just the print-on-demand industry in general that gained online attention. A sudden increase in search volumes also happened for specific print-on-demand products, like custom stickers and personalized gifts. Unsurprisingly, the fastest-growing print-on-demand product (based on Google search volumes in 2020) was custom face masks. In January 2020, the keyword "custom face mask" had a humble 345 monthly Google searches on average. By April, the monthly search volume had reached a whopping 172,000. The numbers continued to grow, reaching a record-high volume of 224,000 in July 2020. Afterward, the trend rapidly declined, falling to just 6,000 monthly searches in July 2021, just a year later.
Digital Textile Printing Market Statistics
Historically, screen printing has been the preferred technique. However, over the last few years, there's been a shift toward digital printing because of its affordability and little to no order minimum requirements. (ComCap)
The crucial advantages of digital printing are the sharpness and high-quality nature of the prints, as well as reduced operational costs due to lower consumption of resources. (Fortune Business Insights)
Clothing had the largest digital textile printing market share in 2020, followed by soft signage (i.e. banners, flags, etc.), home decor, and others. (Fortune Business insights)
Web-to-Print Industry Statistics
Dropshipping Statistics
Home & Wall Decor Market Statistics
Custom T-shirt Printing Industry Statistics
In 2020, the global custom t-shirt printing market size was valued at $3.64 billion. From 2021 to 2028, it is expected to grow at a CAGRof 9.7%. (Grand View Research)
Print-on-Demand Predictions
By 2024, retail-focused ecommerce is predicted to amount to $7 trillion in annual sales or 25% of total retail sales at that time. (ComCap)
The web-to-print market is poised to grow by $528.71 million during 2021-2025, progressing at a CAGR of 7.99% during the forecast period. (Research and Markets)
By 2028, the global print-on-demand software market is expected to grow at a substantial CAGR of 33.5%. (Digital Journal)
Printful Print-on-Demand Statistics
As one of the largest on-demand printing companies, we're always on the lookout for new print-on-demand industry trends.
We've surveyed our customers about a variety of POD-related topics, including the effect of COVID-19 on POD business owners, ecommerce holiday marketing, and the importance of sustainability for print-on-demand businesses.
Check out our company statistics and survey findings for a more in-depth look at the industry from our customers' perspectives.
Printful Company Statistics
Printful Survey: POD Businesses During the Pandemic
In early 2021, we surveyed Printful store owners who had sales within the last 12 months, asking them how COVID-19 affected their businesses. We got 485 respondents who shared their experiences. Survey timeframe: March–April 2021. Source: Printful
Here are our findings about print-on-demand businesses operating during the pandemic:
A quarter of respondents started their online business due to the pandemic
66% of business owners were affected financially by the pandemic
38% introduced new designs inspired by the pandemic
During the pandemic, face masks (38%) were the most-added new product for online store owners
60% ran their business as a part-time side hustle, but more than half (68%) of the part-time entrepreneurs wanted to go full-time
Almost half of the business owners saw an unexpected surge in sales (45%)
The majority of business owners relied on social media (75%) to find info on how to run their business more effectively
93% used social media to promote their products
40% spent between $100–500 on marketing activities
Email marketing (52%) and website analytics tools (53%) were used the most to improve business operations: to grow and reach the target audience, increase sales, optimize website traffic and performance, etc.
Printful Survey: Print-on-Demand Businesses During Cyber Week 2020
Following Cyber Week 2020, we surveyed print-on-demand business owners to see how successful their Cyber Week promotions were. Survey timeframe: December 2020–January 2021. Source: Printful
These are the key findings about Cyber Week ecommerce marketing:
For the majority (79%) of the responding store owners, this was their first Cyber Week ever
Most of the respondents (69%) decided to prioritize Black Friday over other Cyber Week holidays
Over 20% of store owners prepared for Cyber Week 3 weeks in advance
43% decided to launch early promotions for Cyber Week
33% of store owners added new products specifically for Cyber Week
Black Friday sales turned out to be the most successful for respondents (38%), closely followed by Cyber Monday (27%)
Using social media (71%) was the go-to approach for running Cyber Week promotions
Printful Survey: Print-on-Demand and Sustainability 2021
In this "decade of action," consumers are taking more interest in making eco-conscious choices. To that end, the demand for sustainable products and packaging is growing.
In our 2021 survey, we asked 3,587 print-on-demand store owners about how sustainability has affected their business. We found out that over half of them communicate about sustainability (59%) to their customers. The majority of store owners agree that both eco-friendly products and packaging are important to them as well as to their customers.
Here are some more findings from the survey (Source: Printful):
For nearly half of the business owners (55%) sustainability is part of their business focus
59% communicate about sustainability in their marketing materials and on their websites
About 40% of respondents say it's very important that the products they sell are eco-friendly
Products made from natural, organic (80%) materials are considered by respondents to be the most eco-friendly
Exactly 50% say it's very important that product packaging is eco-friendly
Recyclable packaging (79%) is considered by respondents to be the most eco-friendly
Nearly 40% of respondents claim it's very important that the production process is carbon neutral
Key Takeaways: Print-on-Demand Trends to Remember in 2022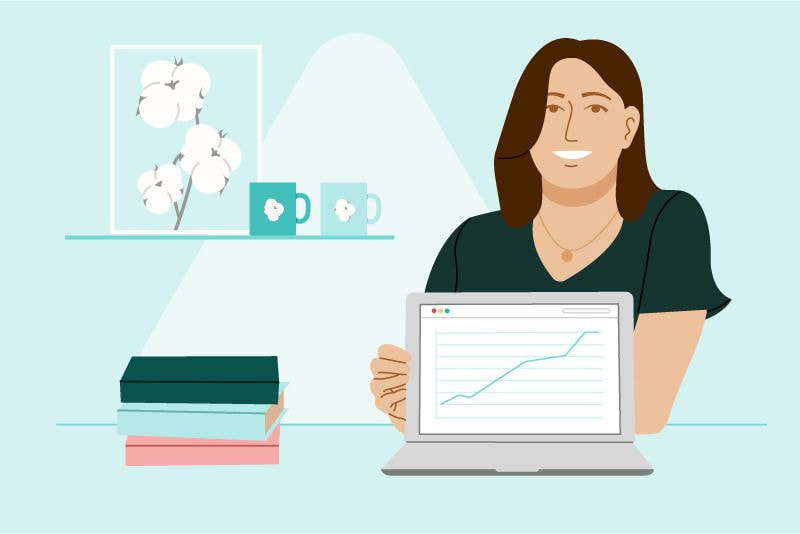 To recap—here are the main trends in the world of print-on-demand and ecommerce:
The print-on-demand market size continues to grow, even during the pandemic
Search interest for print-on-demand rose dramatically at the start of COVID-19 in March 2020 and, in 2022, it's still above the pre-pandemic level
The pandemic prompted the need for a steady side income, and starting a print-on-demand business became one of the top methods of achieving this
The demand for custom products continues to increase and customers are willing to pay more for them
There's also a growing demand for sustainable products, packaging, and shipping
Got some more print-on-demand industry insights? Share them in the comments below.